10 Questions: Steve Cohen, The Millionaires' Magician
February 27, 2017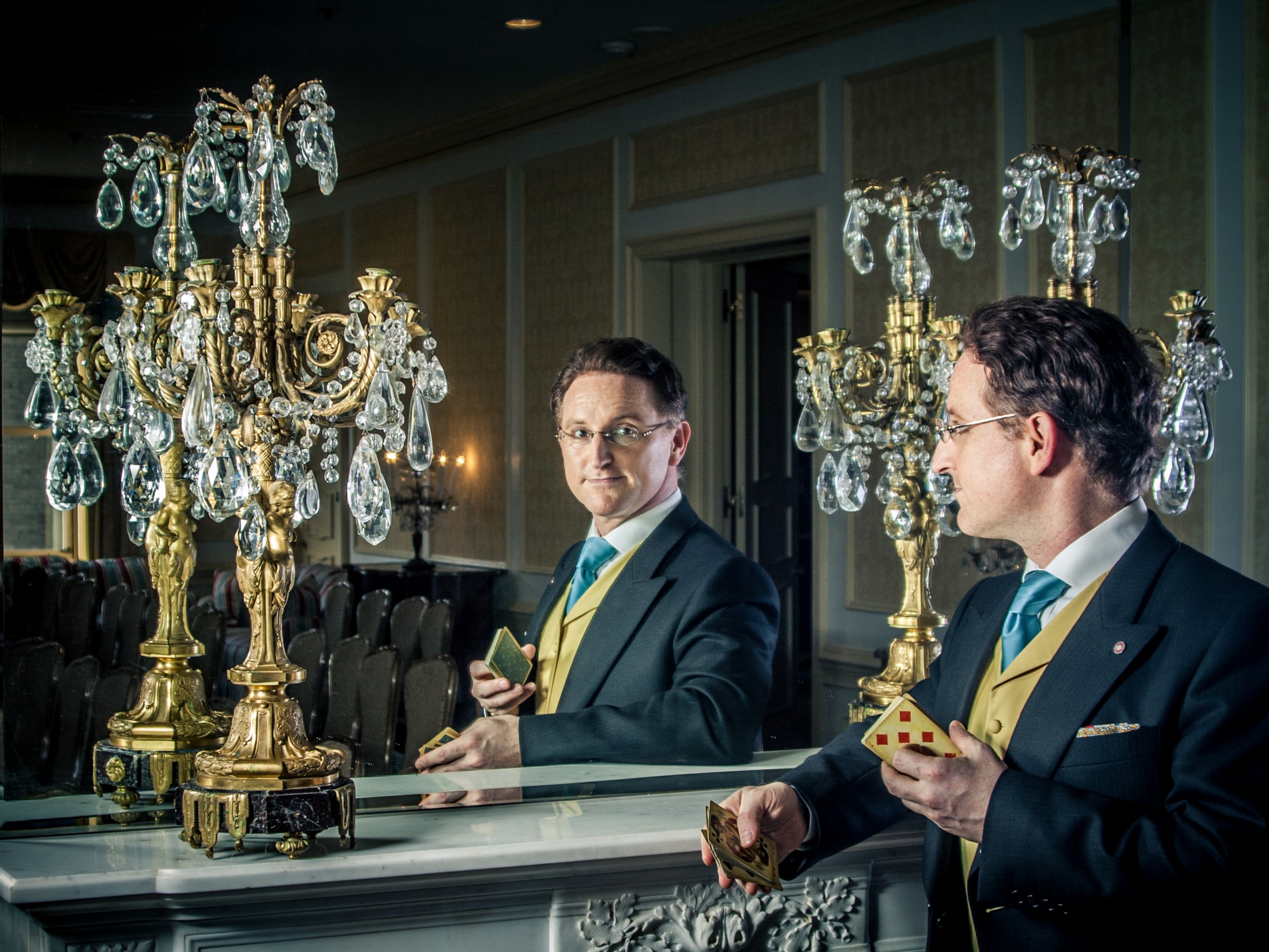 Written by Ariel Kanter
He's the billionaires' magician, too.
For 16 years, magician Steve Cohen has wowed audiences in a plush suite at the Waldorf Astoria—including celebrities like Woody Allen, who called the performance "a religious experience." Now you can get a behind-the-scenes look at how Cohen got started, what keeps him motivated and a few of his magician quirks, as well.
Give us the elevator speech of what you do for a living.
I am a professional magician. For the past 16 years I've starred in my own show at the Waldorf Astoria hotel in New York City. I've been on Letterman and have my own TV special, Lost Magic Decoded, on the History Channel. My most famous trick is called "Think-a-Drink," in which I pour people's favorite drinks, over and over again, from the same teapot. Whiskey, beer, juice, cocktails—they receive any drink they request!
What would you be doing if you weren't in your industry?
I'd probably be a physicist. A magician is aware of natural laws and tries to use theatrics to make it appear that those laws are being broken. Of course scientists don't try to break the natural laws—they work to observe them. I was pretty good at science in college, but the allure for show business was stronger.
Give us one humblebrag. 
Although I'm known as the "Millionaires' Magician," I have actually performed for more than 50 billionaires, including Warren Buffett. He flew me to Omaha to perform magic at his best friend's birthday party. He still sends many Midwesterners into my show in New York. I know this because people often tell me, in a hushed voice,"Warren sent me."
If you didn't live in NYC, where would you live? 
I speak, read and write Japanese fluently, so I'd probably live in Tokyo. I've lived there before, and love the artful aesthetic of daily life. My wife is Japanese and we have two bilingual children, so living in Japan would feel right at home.
What would be your death-row meal? 
Appetizer: Matzo ball soup
Main course: A giant platter of the freshest sushi from Tsukiji market in Tokyo
What was the last ticketed event you attended? 
I attended Penn & Teller at the Marquis Theater on Broadway. Even as a veteran magician, I loved every minute of it. Teller is a personal friend, and I consider him one of the greatest magicians who ever lived.
What is a song that really gets you moving? 
Before every show, I listen to La Campanella, composed by Franz Liszt. It is an immensely difficult piano piece, and requires virtuosity that comes only through a lifetime of practice. This music inspires me to be precise in my own movement on stage.
What's the strangest thing currently in your home? 
I am one of the few magicians in the world who has successfully attempted to perform the notoriously dangerous "Bullet Catch" trick. In my house, I have the bullet that was fired at my face.
What is one super power you wish you had? 
When I'm performing, I always get to pretend that I have super powers, including telepathy and levitation. If I could have one super power that worked even when I'm off stage, it would probably be flight. I've had recurring dreams of flying since I was a little boy.
Can you describe your very first magic performance? 
Picture this: It's 1981. I was hired to perform in a living room at the birthday party of four-year-old Danny Gerstenzang. (Amazing how that name has "stuck" with me all these years!) Although I was only ten years old, I had cobbled together a 45-minute show. What has also "stuck" with me is that the parents, standing together at the back of the room, were also amazed. The approval of those adults gave me a clue that I had a future in this business. (P.S. I got paid $25, a princely sum for a ten-year-old.)