American Airlines Inflight Magazine: Grand Illusions
July 2, 2017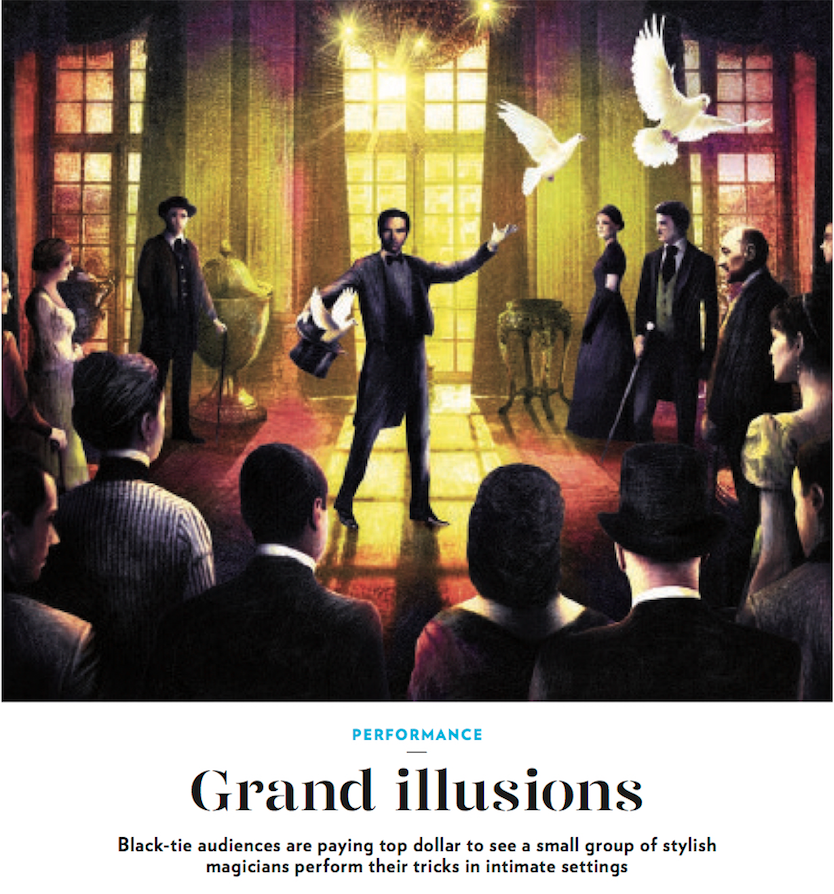 By Larry Olmsted – CELEBRATED LIVING magazine (July-August 2017)
Steve Cohen performs in bespoke trousers and morning coat from London's venerable Gieves & Hawkes, a vest from another top English tailor, Buckleigh, and antique eyeglass frames from the 1920s—the Golden Age of Magic. From tails to top hats, there is nothing new about stylish magicians; what's different is that Cohen's audience follows his lead, with jackets for matinees, black tie and cocktail dresses for evening performances. Cohen's nickname, the Millionaires' Magician, refers to his exclusive spectators, just 64 guests in a posh New York City hotel suite.
For 18 years, he mesmerized five times weekly at the Waldorf Astoria, where his Chamber Magic shows entertained billionaires, royalty and countless celebrities. With the Waldorf closed for renovations, he has moved to the New York Palace, where his shows continue to sell out.
A century ago, magicians Harry Houdini, Dante, Howard Thurston, Carter the Great and Dai Vernon were household names. But now, 90 years after Houdini's death, live magic is enjoying a renaissance—especially at the high end. "Magic goes in waves," says Cohen, whose luxury model helped usher in a new era of high-class prestidigitation. "For years it wasn't cool, it was corny. My goal has always been to make magic comparable to ballet, with a rarefied air—that's why I have the dress code."
It's not just New York that is feeling the magic. Chicago's Hilton Palmer House debuted its weekend Magic Parlour dinner theater, where only 40 guests per show enjoy up-close tricks by Dennis Watkins. At the Four Seasons Beverly Wilshire in Beverly Hills, Ivan Amodei has followed Cohen's lead with an often sold-out, upscale, in-suite show, Intimate Illusions. America's most famous house of prestidigitation is L.A.'s Magic Castle, a private club in a Victorian mansion full of secret rooms and multiple performance venues. It's the members-only clubhouse for The Academy of Magical Arts, but non- members can attend by staying at the nearby Magic Castle Hotel: When you book, staff will check availability for the three nightly dinner shows.
Television has helped pull in a new audience, especially the popular competition show America's Got Talent. Magicians have done well, but Mat Franco was the first outright winner, in 2014. This landed him his headline gig at The LINQ hotel in Las Vegas, Magic Reinvented Nightly, recently named the city's Best Magic Show. "Magic transcends any language or culture," says Franco. "People come to my show to escape into an alternate reality where anything is possible."