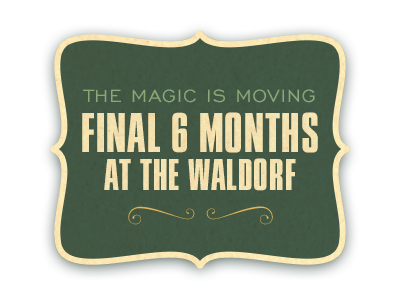 It has been a pleasure to perform Chamber Magic at New York's legendary Waldorf Astoria New York for the past 16 years. The show started on a dream and a shoestring budget, and it's now ranked as the 9th most popular theatrical event in New York City on TripAdvisor. I've entertained more than 500,000 people in the Waldorf, including billionaires, celebrities, royalty, and heads of state.
As you may have read in the media, the hotel will undergo a massive renovation starting in the spring.
As a result, there are only six months remaining to see Chamber Magic at its original venue, the spectacular Waldorf Astoria.
Book your tickets now to see the show at the hotel where it became famous! I will perform the last show at the Waldorf on February 25, 2017.
Read the full post »