2015 Year in Review
January 6, 2016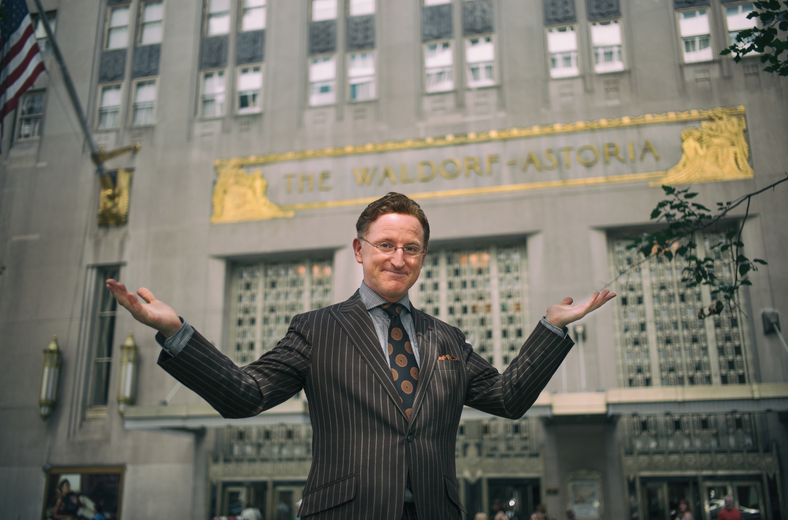 As we look forward to the promise of a new year, it's easy to forget the special moments and accomplishments of the previous twelve months. Allow me to wax nostalgic with a rundown of my 2015 highlights!
232 Chamber Magic performances at the Waldorf Astoria New York
14,000 visitors to Chamber Magic
15 national and international performances
Magazine Feature #1
I was interviewed in the ultra high-end Manhattan Magazine, Jan/Feb 2015 issue. Ethan Hawke appears on the cover.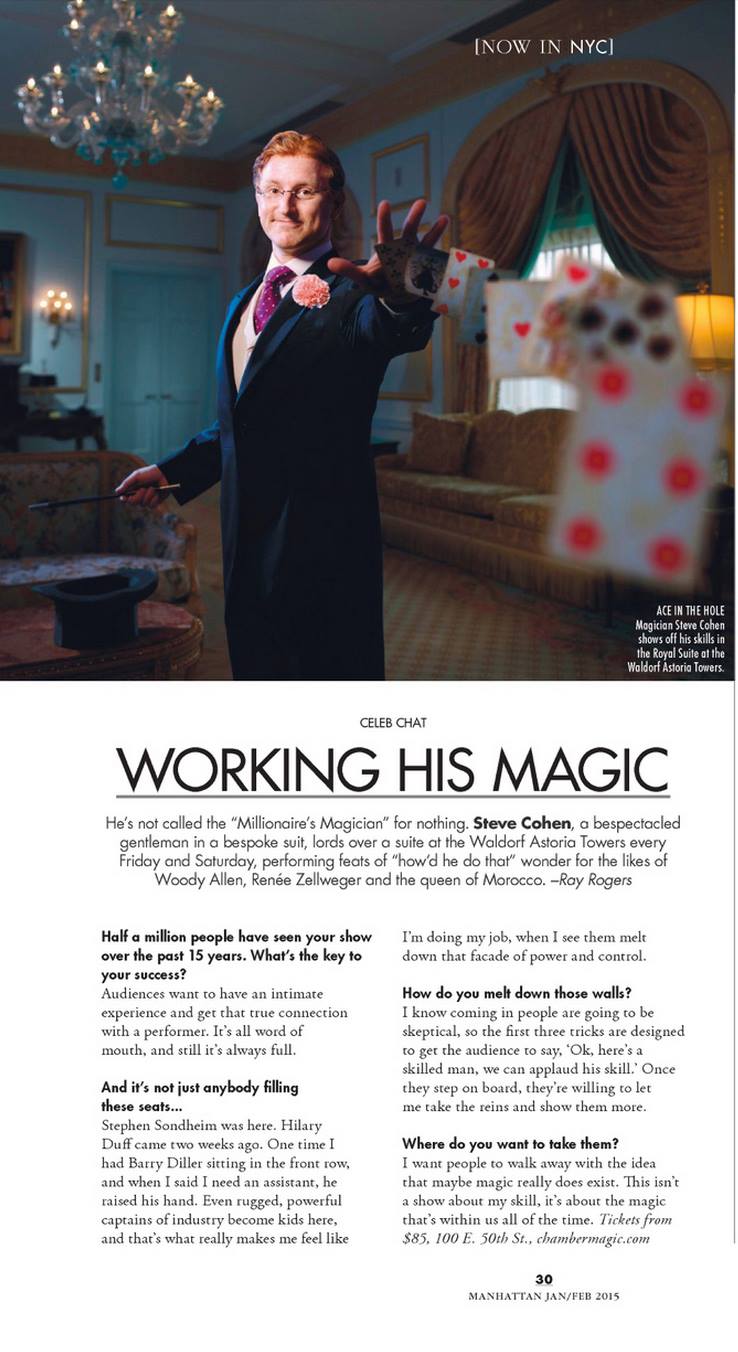 Chan Canasta Art Exhibition
I launched a one-day art exhibition as a tribute to Chan Canasta, an admired magician who left show business to follow his passion as a painter.
Canasta died in 1999, and I recently became friends with his widow Renata. We worked together to locate nearly 40 of Chan Canasta's paintings, and I displayed them in my suite at the Waldorf Astoria. Approximately 150 people attended, and the event was a fantastic success. Throughout the afternoon I performed some of Chan's card magic, and also screened television footage of Chan so visitors could see him "at work."

NBC Television Spotlight
Chamber Magic was featured on NBC television, New York Live. Watch the full video here.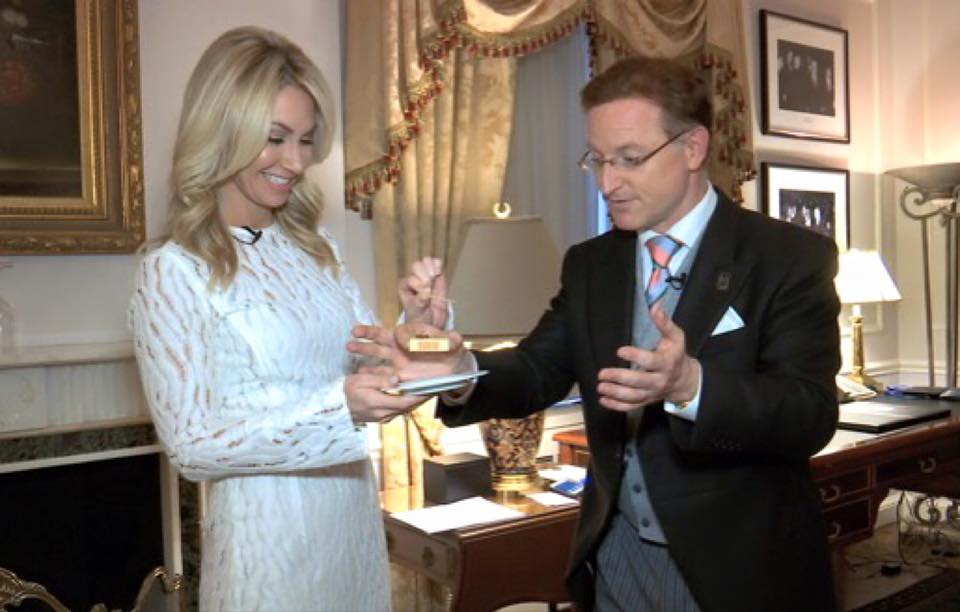 TENYO-ISM book has arrived!
I've translated all of Tenyo's instructions from Japanese to English since 1997. It is an honor to be included in the new Tenyo-ism book by Richard Kaufman, with my own page.
This book set is unbelievable. A massive, heavy, and ultimately invaluable piece of magic history. I assisted in translating many pages from Japanese to English. If you have even the littlest interest in Tenyo magic, this is an incredible investment that will delight you for years!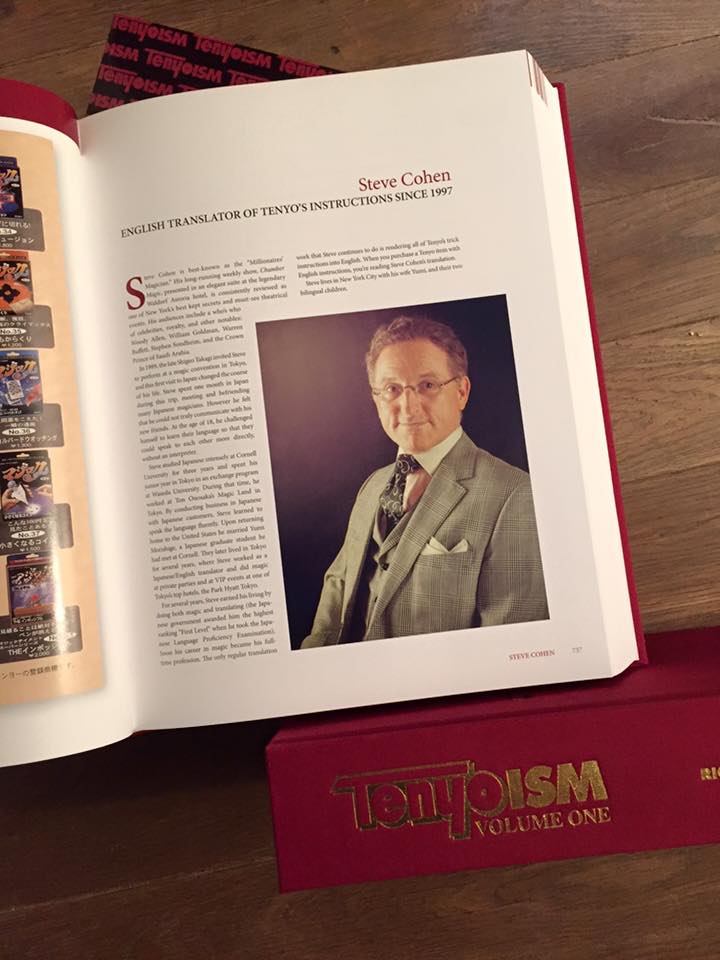 Magazine Feature #2
A "local boy made good" article in Westchester Magazine.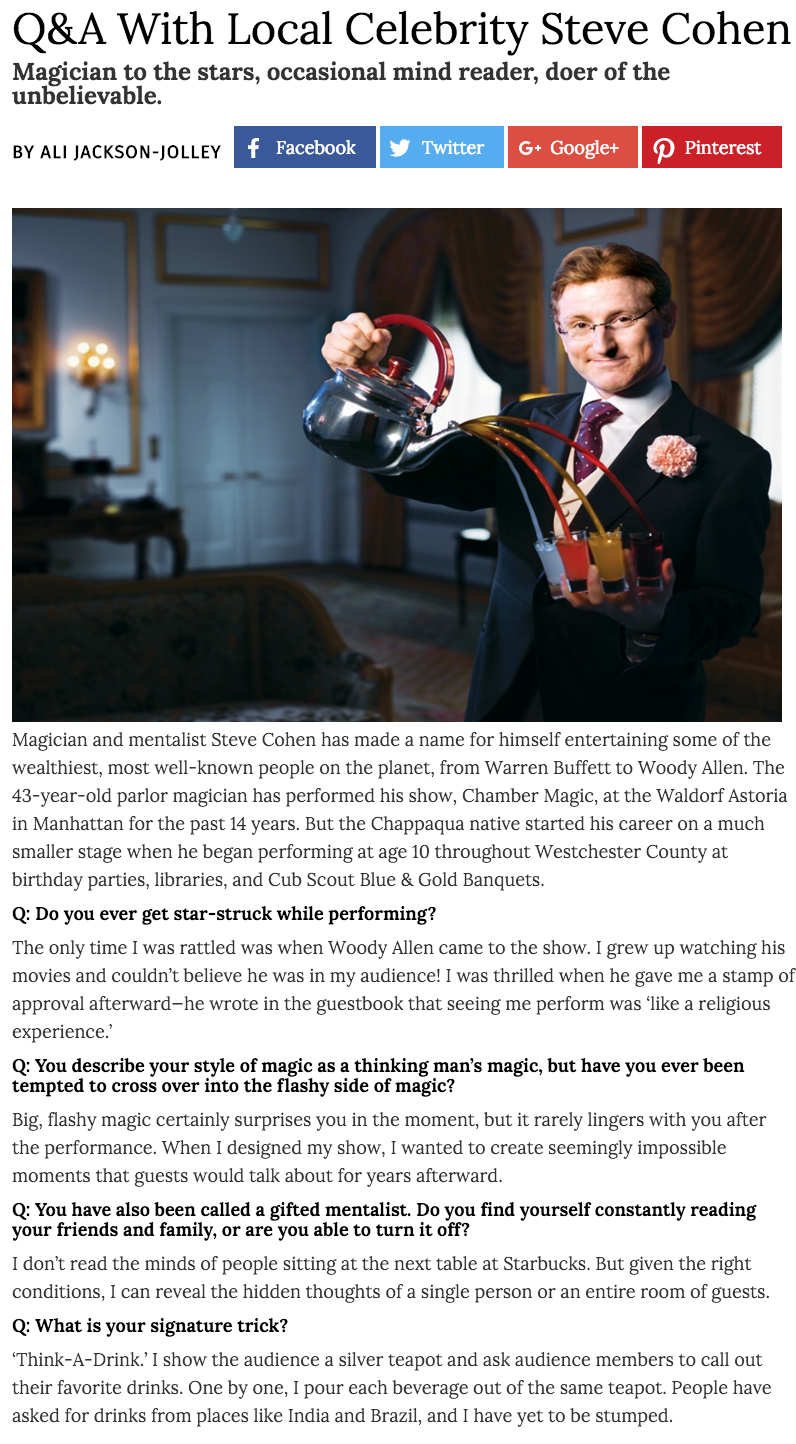 Award of Excellence from Linking Ring magazine
I published an article titled "The Eleven Commandments of Parlor Magic" and was delighted to receive an award from the International Brotherhood of Magicians for this piece.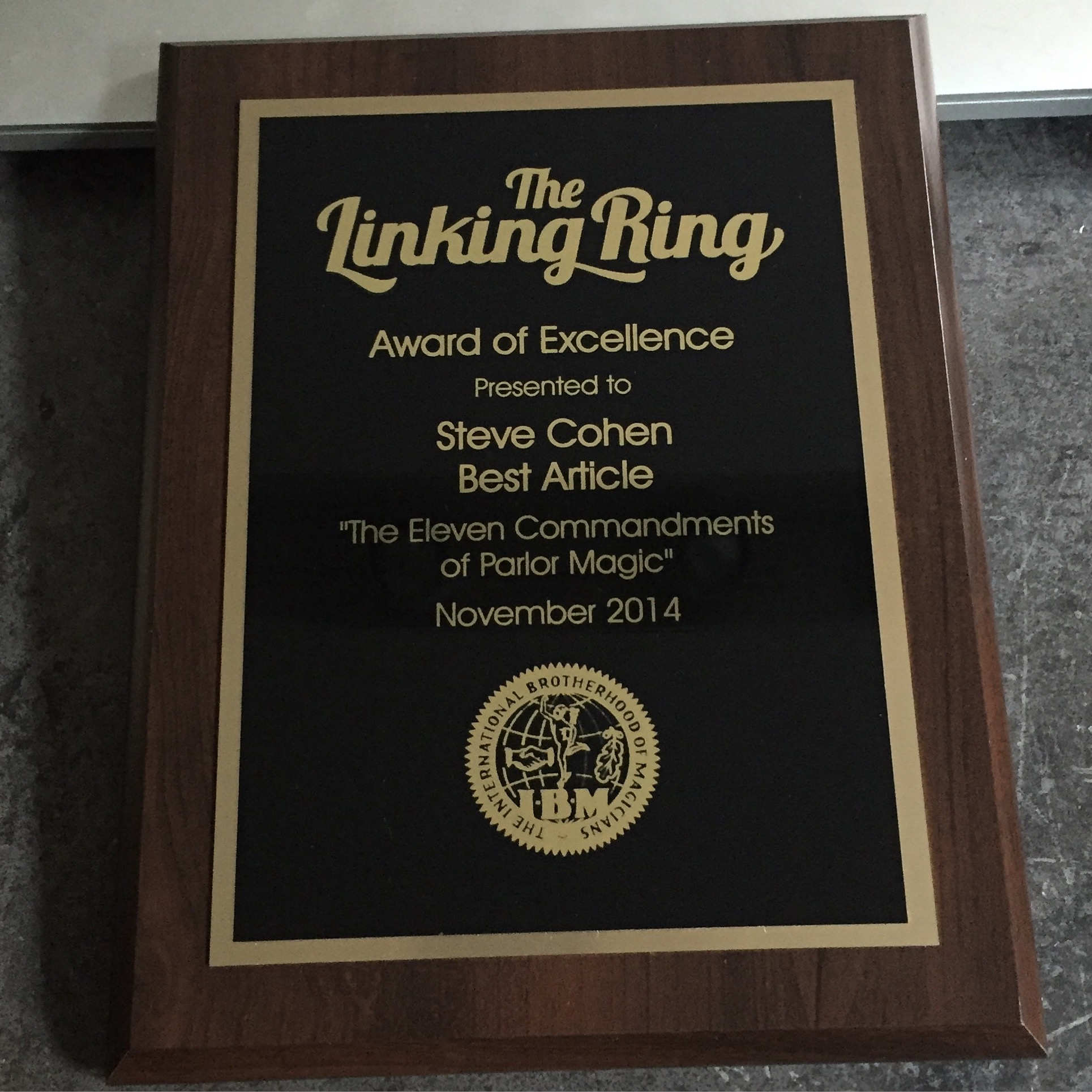 Visited Houdini's gravesite
A friend from Japan visited New York so I took him to many Houdini-related spots, including Houdini's home on West 113th Street, and Houdini's gravesite in Queens.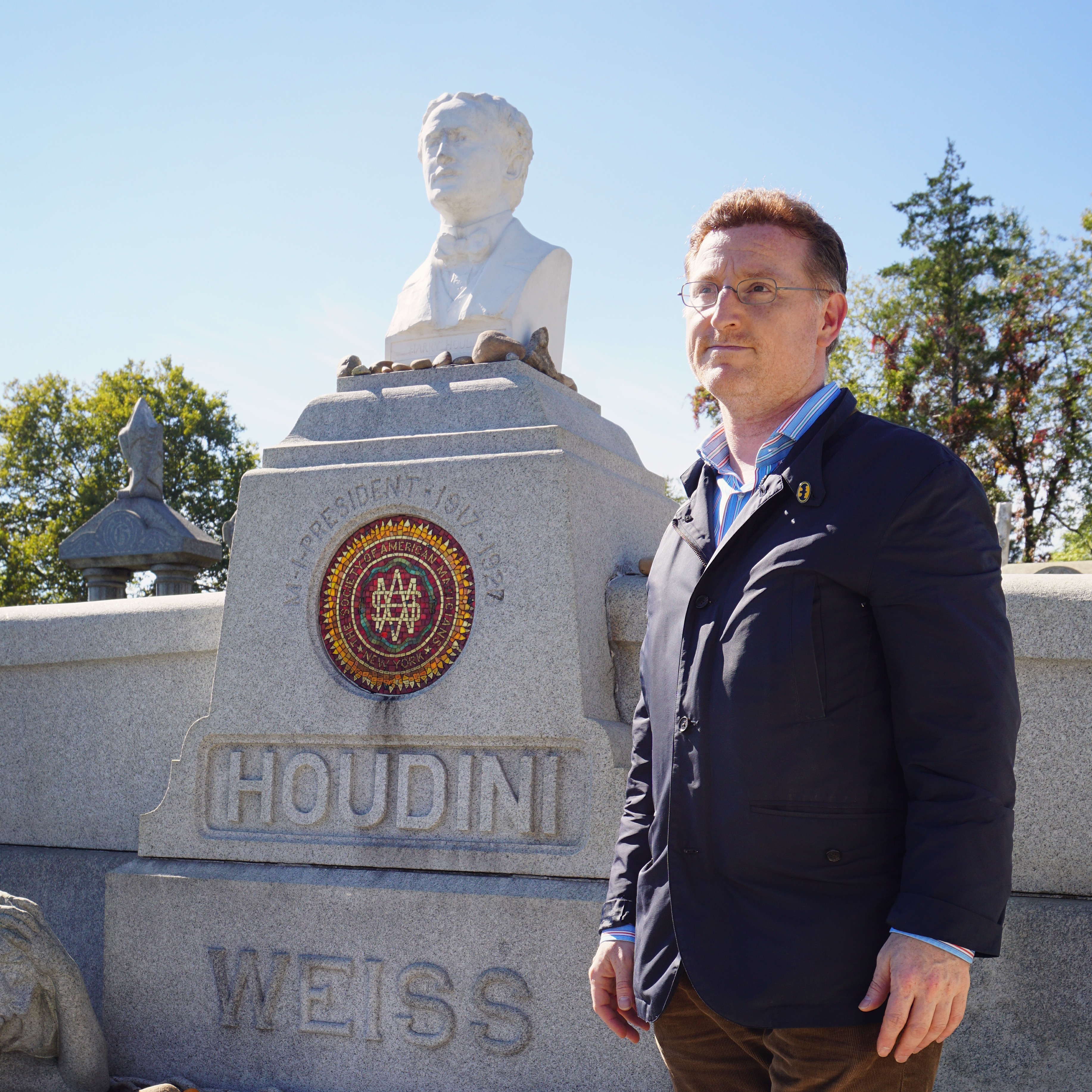 #10 top show in NYC on TripAdvisor
When I started Chamber Magic in New York 16 years ago, my goal was to help raise public respect toward magic as a performing art. I wanted people to consider going to a magic show instead of the opera, or the ballet. It is highly gratifying to see that my vision has been recognized by so many others.
According to TripAdvisor.com, the top 10 Theater & Concerts in NYC are:
1.Lion King
2. Jersey Boys
3. Wicked
4. Beautiful – The Carole King Musical
5. The Phantom of the Opera
6.Kinky Boots
7. Radio City Music Hall
8.The Metropolitan Opera
9. Les Miserables
10. Steve Cohen's Chamber Magic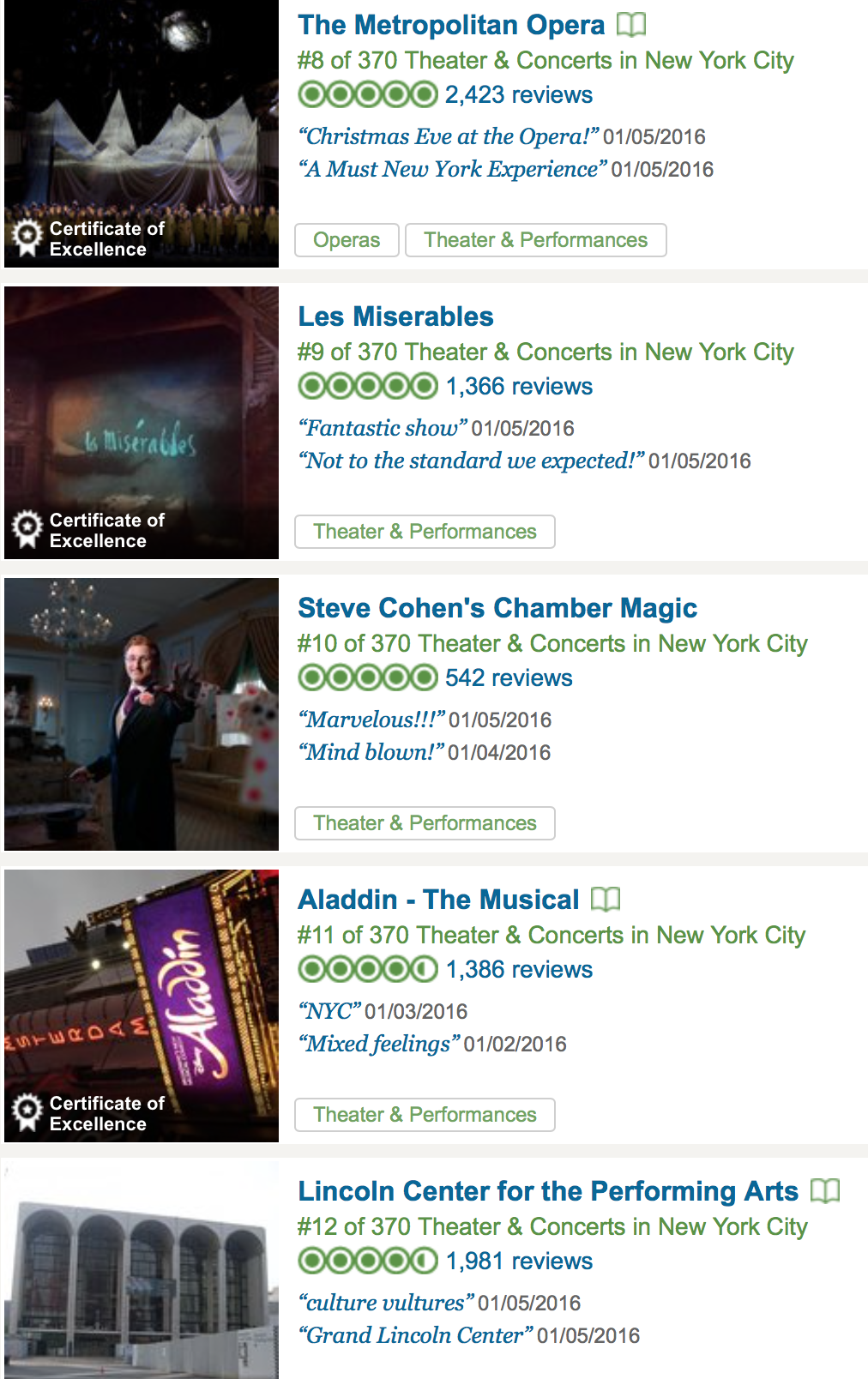 Japanese book reprinted
My book "Win The Crowd" was reprinted in Japanese with a new cover. My friends at Tenyo told me that my books are stacked on the main shelf (the best position) in bookstores across Japan.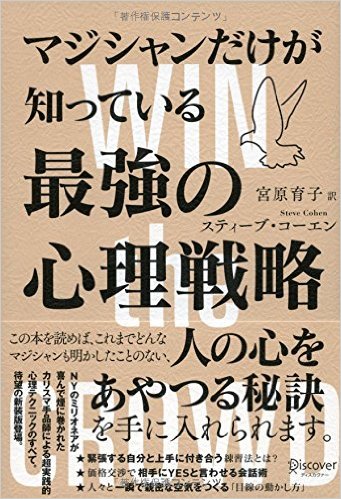 "Priceless" MasterCard review
Chamber Magic "Priceless" review by MasterCard website: "Your mind will be blown, no matter how skeptical you are."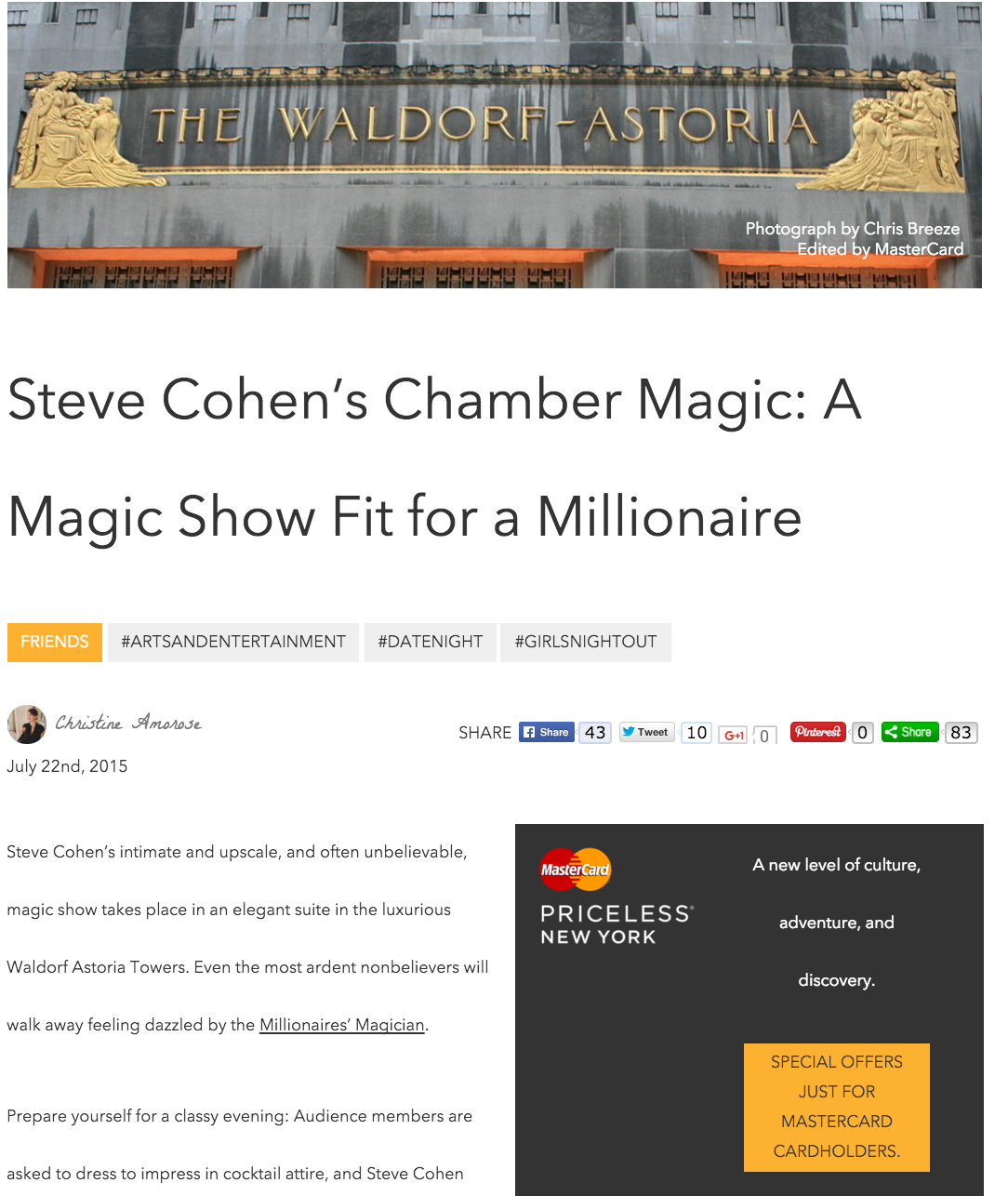 Premiere League Soccer meets Magic
We had a family dinner in NYC with Christian Fuchs, a pro soccer player on the English Premiere League team Leicester City. He is a fun, dynamic, and talented guy who has helped my son grow as an athlete. Christian is the captain of the Austrian National Soccer Team.
Of course I showed everyone some magic and Christian reciprocated with some awesome soccer ball juggling.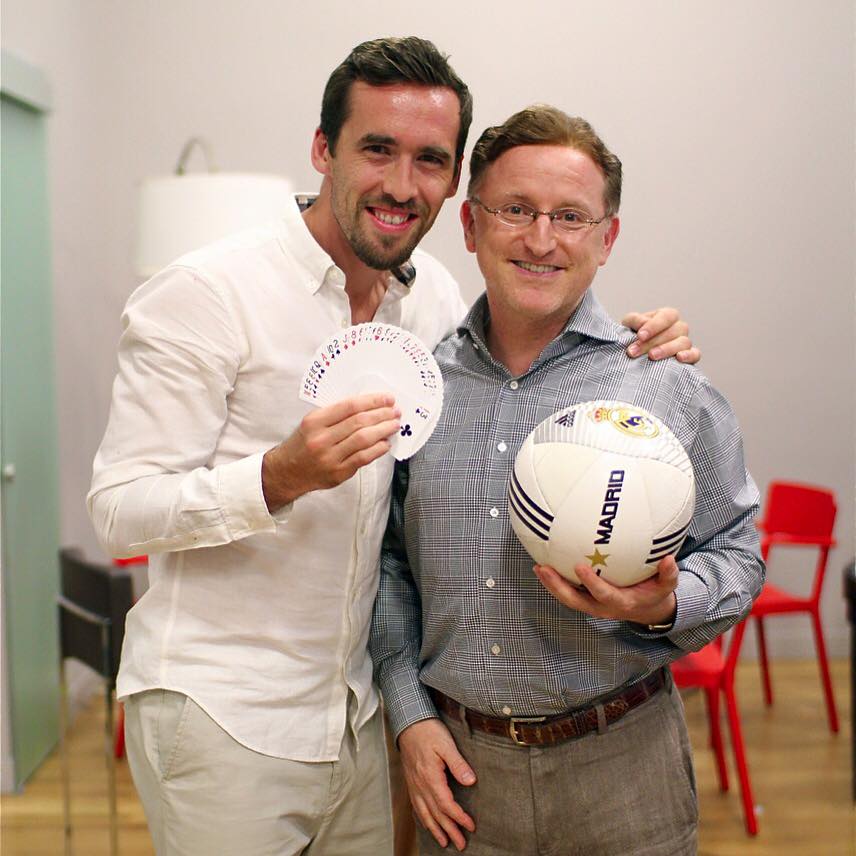 Tony Award Winner
Broadway and Younger star Sutton Foster sat in the front row at Chamber Magic. A true delight to meet her, and we enjoyed a chat afterwards. Months later she told the Huffington Post that Chamber Magic is her favorite date night in New York City.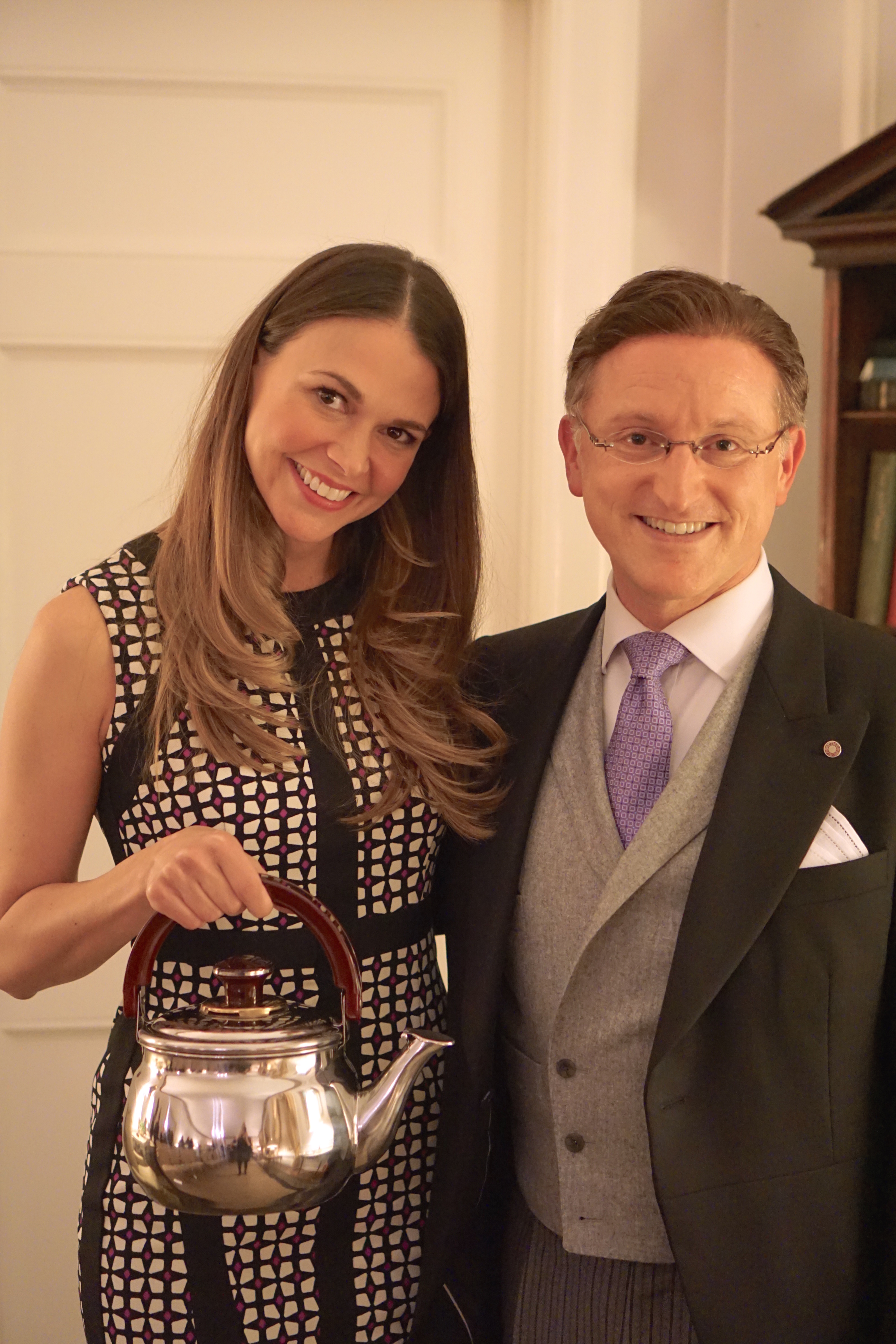 Magic Mentor Monday Series
I researched and published a series of well-received articles on my blog, centering around my magical mentors. Each Monday for two months, I released a new long-form article that covered the teachings of beloved magicians from yesteryear: Max Malini, Johann Hofzinser, Jean Eugene Robert-Houdin, Charles Bertram, Think-A-Drink Hoffman, Albert Goshman, and Harry Lorayne. I will continue this series in 2016 with future articles about Mark Sicher, Danny Kaye, Sammy Davis Jr, Willy Wonka, and more.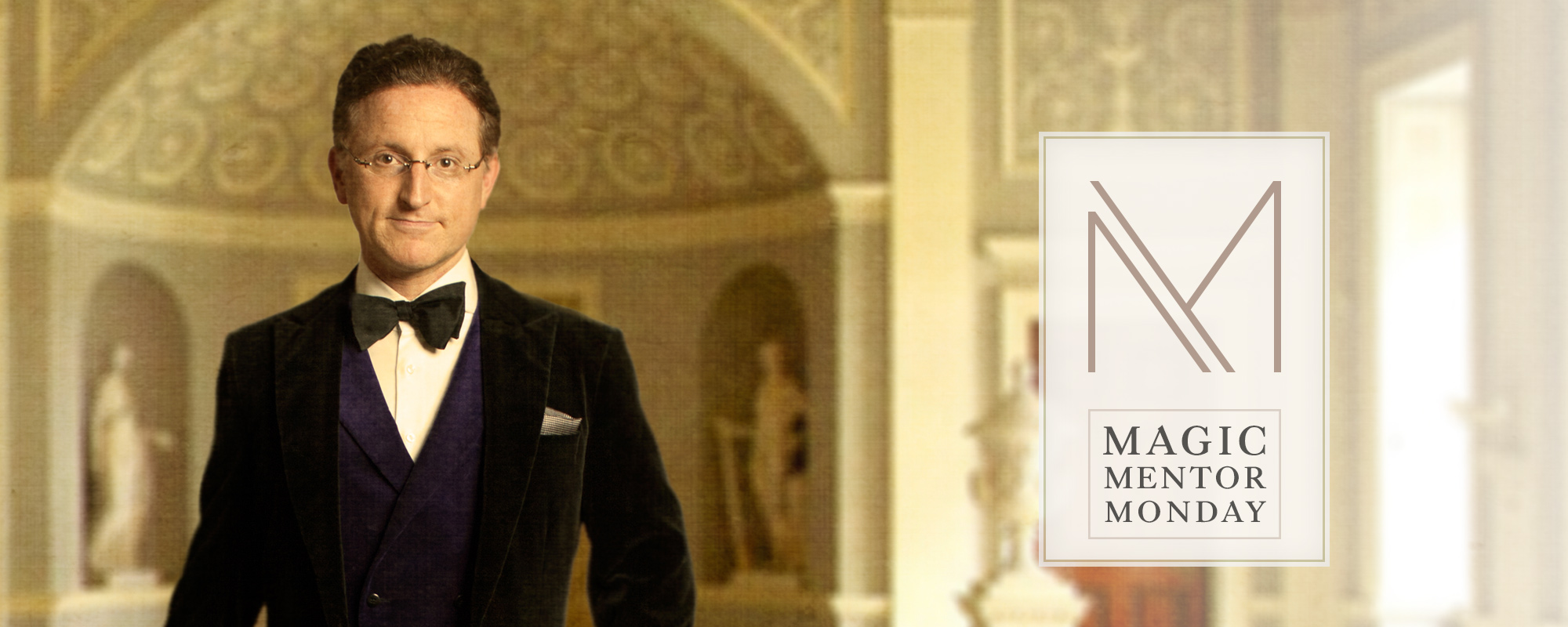 Black TYCOON Cards released
TYCOONS, my custom playing cards co-created with Theory 11, received such accolades from discerning card players and magicians that we decided to release a new edition in black. I use all three editions in my show: red, blue, and black.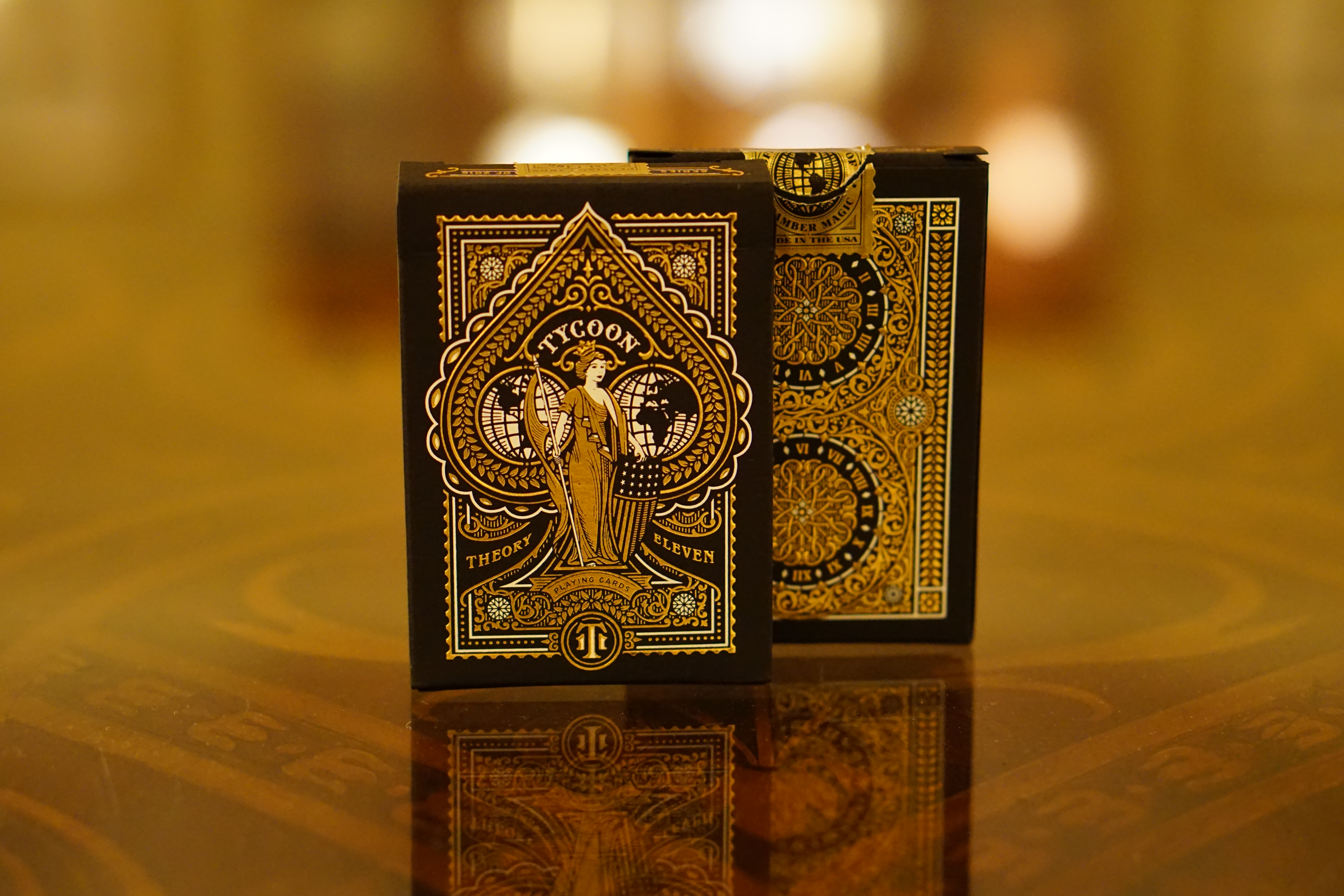 My Newest Secret Project Started…
And finally… I've begun work on my latest project, a graphic novel titled The Millionaires' Magician, which will be released in 2016. Together with a team of incredible artists and writers who work for Marvel and DC, I have created an origin story for my performing character, presented in a 100 page graphic novel in full color. You are not going to believe how gorgeous this book will be! Much more to come in the coming year.
Thank you, everyone, for your ongoing support of my show. I look forward to sharing more magic with you in 2016.