Chamber Magic®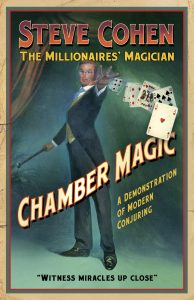 The Chamber Magic® program
Chamber Magic®, Steve Cohen's dazzling live show, performed weekly in an elegant salon in the Lotte New York Palace hotel, features conjuring, mind-reading, sleight of hand, and an astonishing trick called Think-A-Drink. A celebrity favorite, Cohen baffles guests with magic up close as he recreates parlor entertainment that characterized Manhattan in the early 20th century.
Guests are invited into an elegant salon in the legendary Lotte New York Palace, dressed to impress in cocktail attire. The adults-only audience for each performance is limited to 64 people, guaranteeing each guest an intimate view of every mystifying maneuver.
Come see why Steve Cohen's Chamber Magic® has confounded the likes of Warren Buffett, Stephen Sondheim, the Queen of Morocco, and Woody Allen, who called the show "a religious experience." Now, discover NYC's most magical night for yourself!
Show length: 90 minutes
"I used to think Saturn V was a miracle. But this show was a real miracle!"

- Buzz Aldrin
Steve Cohen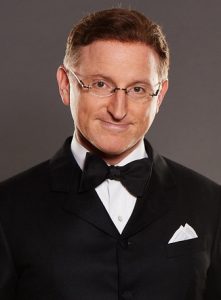 "The ultimate showman"
- GQ
Steve Cohen has delighted and mystified audiences all over the world. His long-running weekly show, Chamber Magic®, previously at the Waldorf Astoria and now at the Lotte New York Palace, is consistently reviewed as one of New York's best kept secrets and must-see theatrical events. His audiences, now totaling more than 500,000 guests, include a who's-who of celebrities, royalty, and other notables: Woody Allen, William Goldman, Warren Buffett, Stephen Sondheim, the Queen of Morocco—the list goes on.
In 2012 he starred in Lost Magic Decoded, a two-hour special on the History Channel, and Theater of Wonder, a sold-out solo show at Carnegie Hall. His work has been featured on CBS Sunday Morning, CNN, and Late Night with David Letterman and in numerous publications including The New York Times and Forbes Magazine.
Cohen earned a psychology degree from Cornell University and studied at Waseda University in Tokyo. He holds the esteemed rank of Member of the Inner Magic Circle with Gold Star, awarded by The Magic Circle in London. His book, Win the Crowd, in which he explores the power of suggestion and how it can help people in their everyday lives, has been published in seven languages. Confronting Magic, a coffee table book from luxury publisher Assouline, was released to celebrate the show's twentieth anniversary.