Chan Canasta Art Exhibition in New York
April 29, 2015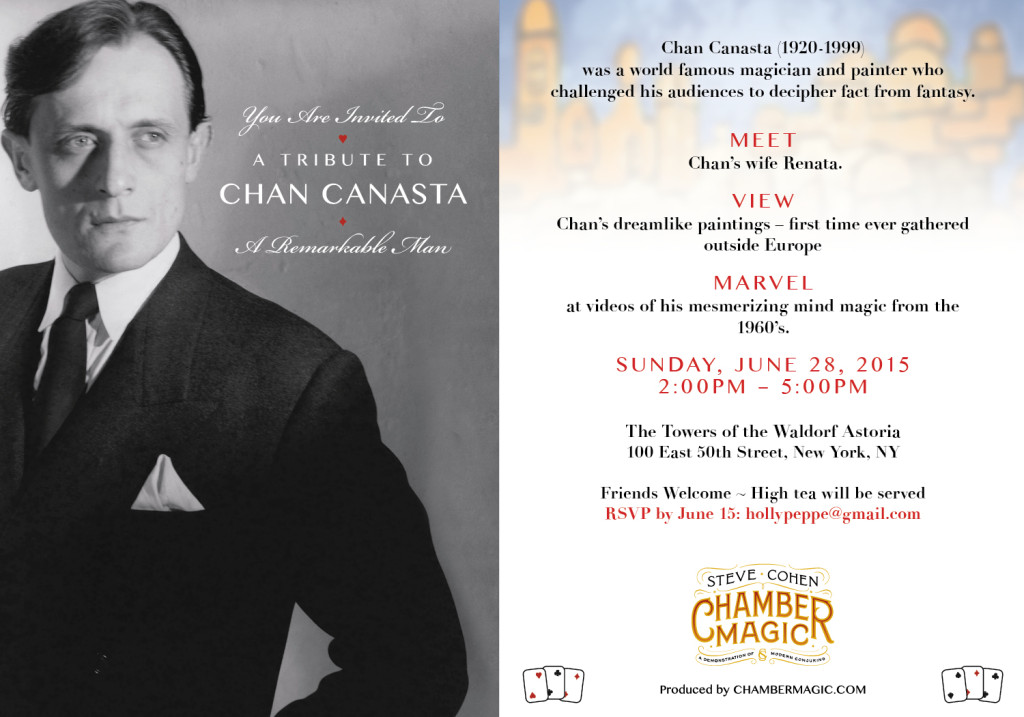 Chan Canasta (1920-1999) is one of my heroes in magic. In front of live audiences he took major risks that are breathtaking to behold. Sometimes a trick wouldn't work and his entire presentation failed. Unlike a traditional magician, Chan Canasta was fine with that. Failure was an acceptable outcome. But when he succeeded, ah! The outcome was gloriously impossible. This was part of the public's fascination toward Chan's brand of psychological illusion – they were keenly aware that his experiments could fail, so they believed he was real. His approach elicited empathy, and audiences earnestly wanted him to succeed.
"Failure only makes the successes more exciting." -Chan Canasta
In the 1950s and 60s, Chan appeared on hundreds of television shows in England and the United States, including the Ed Sullivan show and The Tonight Show with Jack Paar.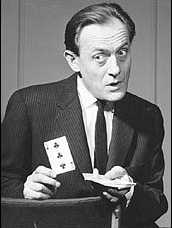 Later in life, he left the world of public performance and focused on another lifelong passion – painting. As artists evolve, they often find new outlets to express themselves. Chan put down the deck of cards and picked up a paintbrush to stimulate audiences in a fresh way. His paintings presented the world in a dreamlike fashion, challenging viewers to discern the difference between reality and illusion.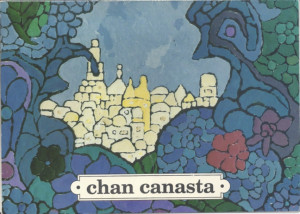 Today Chan Canasta paintings are seldom seen – most are held in private collections spread across the globe. I encountered my first Chan Canasta painting in 2004 hanging on the wall of Derren Brown's flat in London. It made an impact on me because I knew that the canvas behind the plate glass had been personally touched by our mutual hero. Although Chan died in 1999 and I had never met him in person, I felt his presence while standing in the same room as his painting.
Years later, I chanced across an eBay auction containing twenty Chan Canasta paintings. At the time I wasn't in the market to purchase art, but I felt a sudden inspiration to create screenshots of each painting. I saved those digital files and later posted them in a blog post on my website, dated April 13, 2010. The dealer selling these paintings was located in Brussels, Belgium, and I instructed my blog visitors to contact this dealer via eBay if they wished to purchase an original Canasta.
After a week of being listed on eBay, something magical yet disturbing happened. Not only did the auction listings end, but the Belgian art dealer himself had vanished. There was no way to track him down on eBay, since he had used an untraceable screen name that didn't correspond to any known galleries.
I continued to host the twenty images on my blog. Five years passed.
On January 9, 2015, I received an email from a lady named Renata Kadrnka who explained that she was Chan Canasta's widow. The day she wrote would have been Chan's 95th birthday and she was reminiscing about life with her late husband. Renata had searched the Internet for articles about Chan, and stumbled across my blog post.
To my knowledge, Renata has had no contact with magicians or show business folk since Chan died. I would venture to say that nobody in the magic business even knew she existed.
This fortuitous email was the beginning of a long conversation that continued for months. As we wrote and spoke with each other, I asked Renata if she would be interested in presenting an exhibition to feature Chan's artwork and to celebrate his life. Renata lives in Europe but had been planning to visit the United States with her daughter, so together we decided to launch a special exhibition during their stay.
My Chamber Magic shows at the Waldorf Astoria hotel are held on Friday and Saturday each week in a spacious suite in the Waldorf Towers. I explained to Renata that this would be an ideal location for our event, so we decided to host it in my familiar environs.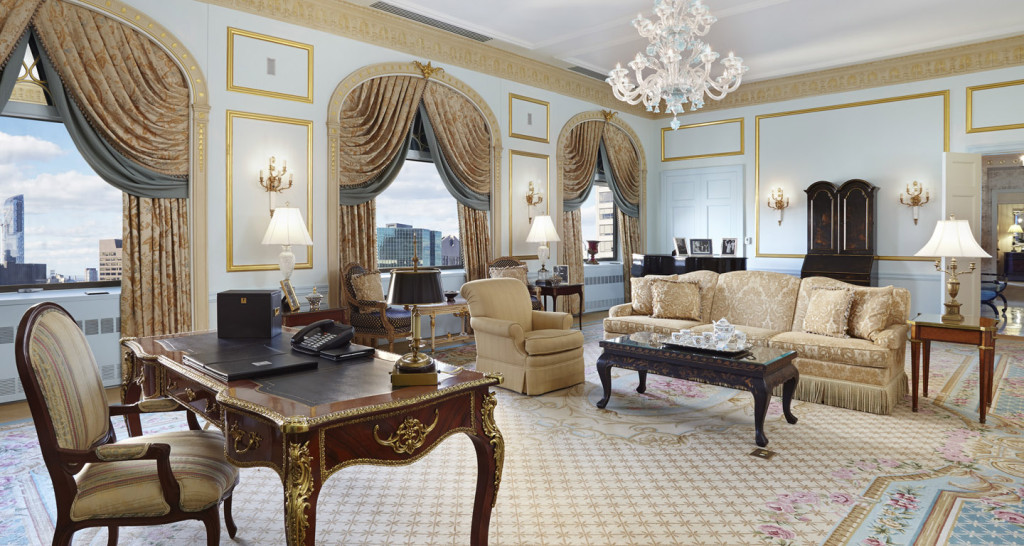 Once the ball began rolling, all sorts of developments began to surface. Renata tracked down other fans and friends of Chan's, several who own paintings they have agreed to loan to our exhibition. Most recently, she even located the Belgian art dealer who has been storing all twenty of the eBay paintings in the basement of his gallery! He has graciously agreed to ship those paintings to New York to add immeasurable breadth to our exhibition.
One exciting development is that Renata has located TV footage of Chan's appearances that has not been viewed since the 1960s. This footage is currently being transferred to DVD and will be screened at our event.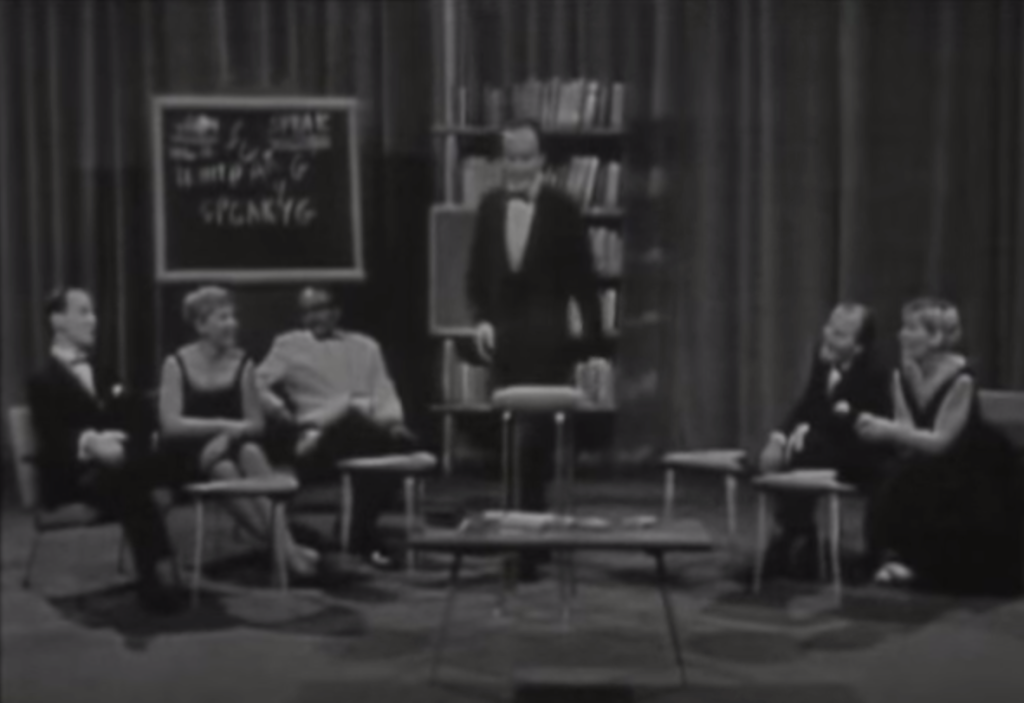 The date of this historic celebration is Sunday, June 28, 2015 from 2pm to 5pm in my Waldorf Towers suite; Renata will be there to greet visitors and talk about her husband's life and work. If you plan to attend my Chamber Magic show earlier that weekend at the Waldorf Astoria, I suggest you make plans soon since those shows (June 26 and 27) will sell out quickly. The Chan Canasta event on Sunday is free, and some paintings will be available for purchase.
Throughout his career, Chan Canasta was known as a remarkable man. I guarantee he will continue to dazzle and delight modern audiences and viewers with the wonder of his timeless artistry.
Details:
Date: Sunday, June 28, 2015
Time: 2pm to 5pm
Address: The Towers of the Waldorf Astoria, 100 East 50th Street, New York, NY
RSVP by June 15th to: hollypeppe@gmail.com