Grand Unveiling of Joachim Marx Painting
May 22, 2018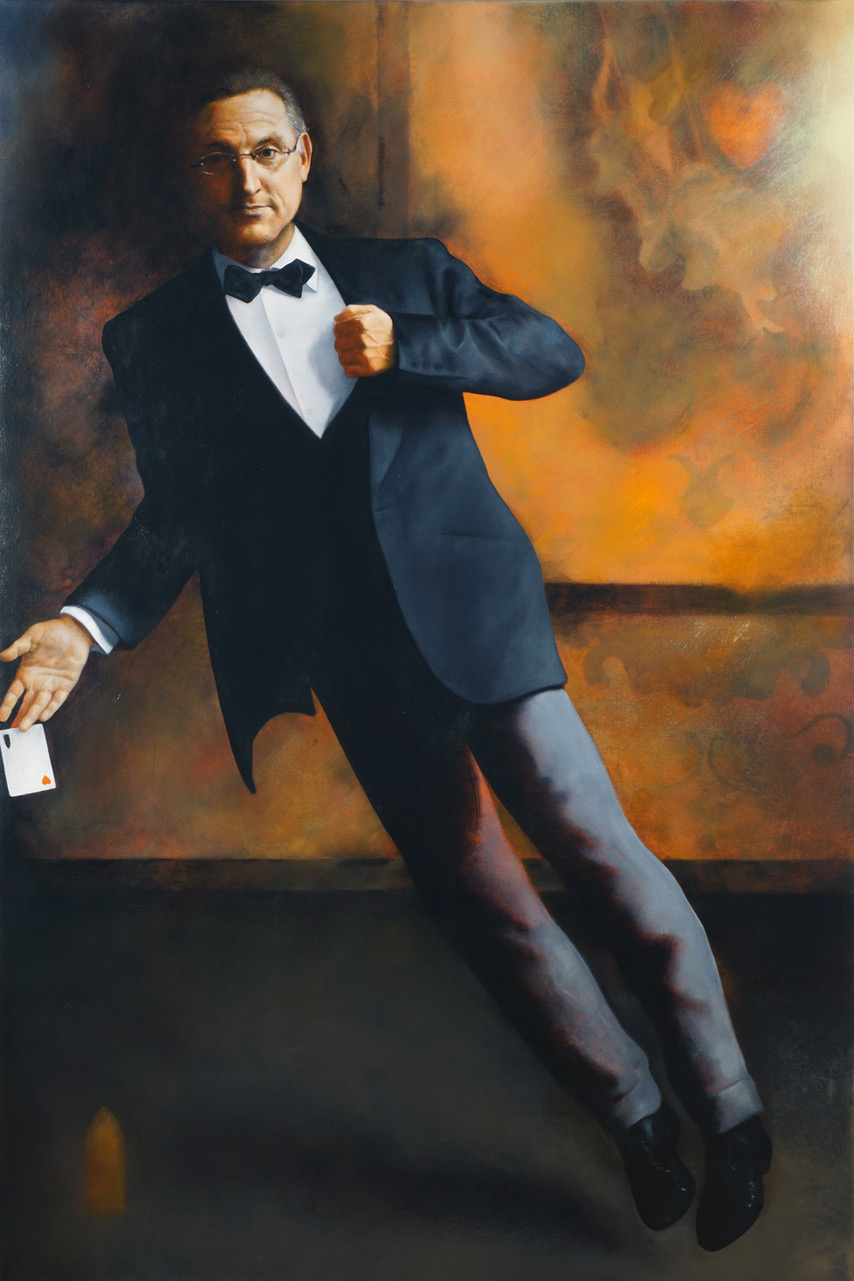 Portrait artists often labor to look past their subject's appearance in an attempt to discover the human inside.
I was approached by German painter Joachim Marx in October 2017, requesting me to be the subject of his next major project. He wanted to paint a life-size portrait of me for an annual competition sponsored by the National Portrait Gallery in London. Several months later he completed the portrait. Although it did not win the highly competitive prize, Joachim's painting received a proper unveiling and public ovation in front of my Chamber Magic audience last Saturday, May 19, 2018, at the Lotte New York Palace hotel.
Joachim introduced his painting, titled "Still Twelve" with the following explanation:
"Twelve Have Died" is the title of a book that recounts stories of magicians who have attempted the Bullet Catch – a bullet is shot at the magician and, by the power of magic, he catches it with his hand or teeth. And yes: twelve have died trying.

For a master magician like Steve Cohen, this was a challenge he could NOT ignore.

In his History Channel documentary "Lost Magic Decoded," a bullet was shot at Steve – and I don't give too much away when I tell you: he is still with us today. Steve DID catch the bullet with his teeth, but something did go wrong… Nevertheless, he accomplished the feat and is listed among the greatest ever of his trade: those who have performed the Bullet Catch.

It was a big scare though, as a husband and father. He decided to never perform this one again – too dangerous and not fair to his family.

I actually first met Steve as a fellow dad, not as the great magician. Our daughters were in the same kindergarten class.

When considering how to capture Steve Cohen, his decision to perform the Bullet Catch and then NOT to perform it any more, was where I could have them both: the magician Steve Cohen and the MAN Steve Cohen. That is what a portrait painter wants: to show the greater, more complex picture. Who is in there, behind the surface? Who are we actually looking at?

As you will see in a moment, Steve's hand is right at the edge of the canvas. It is unclear whether the card he holds is about to slip away. And it's not an ordinary card from a regular deck anyway: the symbols on the opposite corners of the card, are a BULLET and a HEART. These symbols are repeated on the opposite corners of the painting as well, capturing his love for both: his family and his art.
Here are some close-ups of the gorgeous artwork.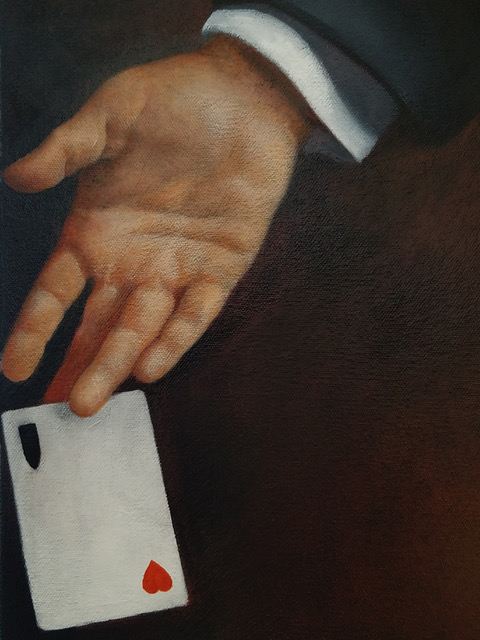 It's extremely difficult to paint natural-looking hands. This representation of my hand looks just like the real thing. I am impressed by the softness of his brushwork to capture the contours.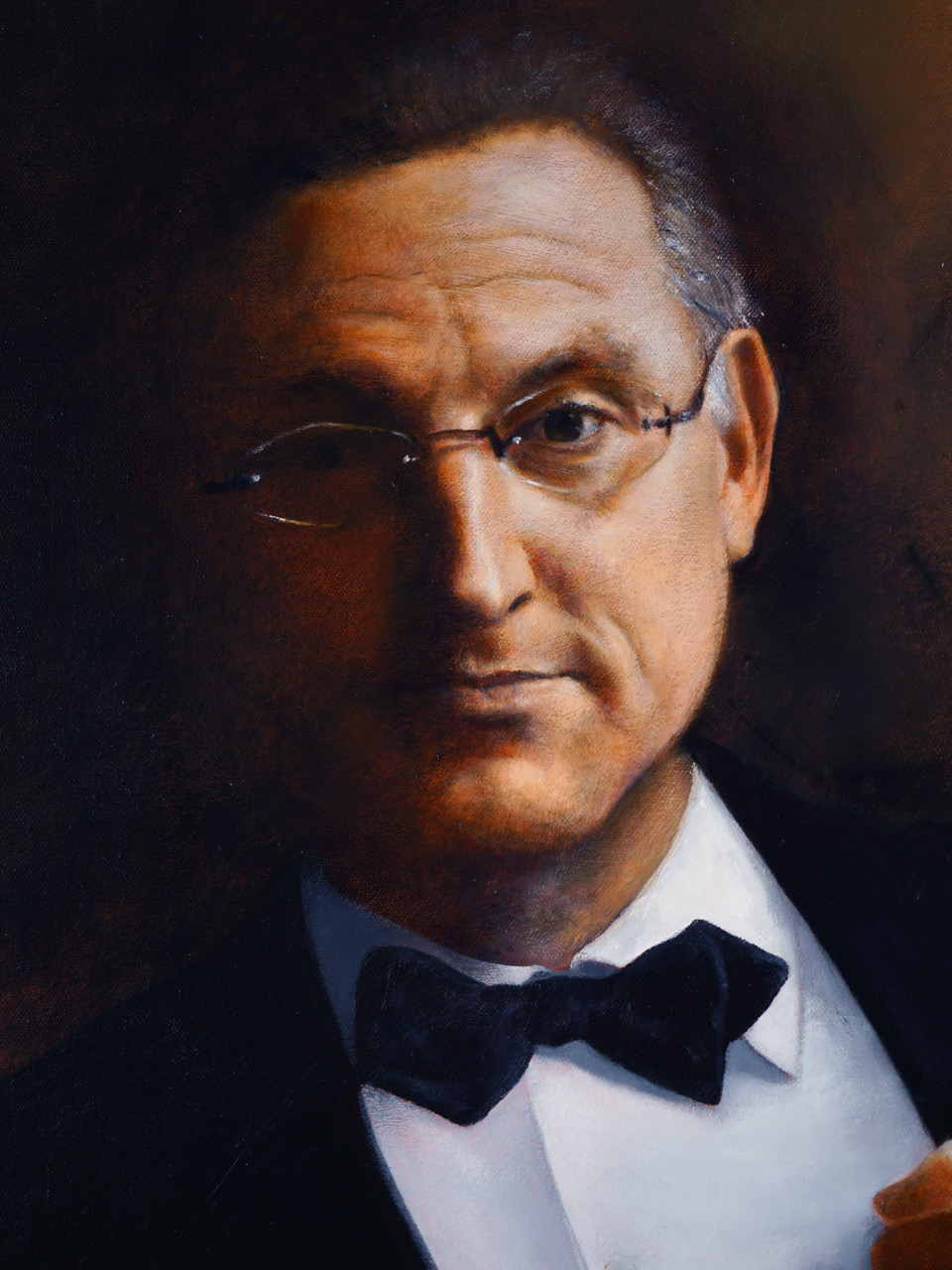 Standing with Joachim Marx, after the unveiling ceremony: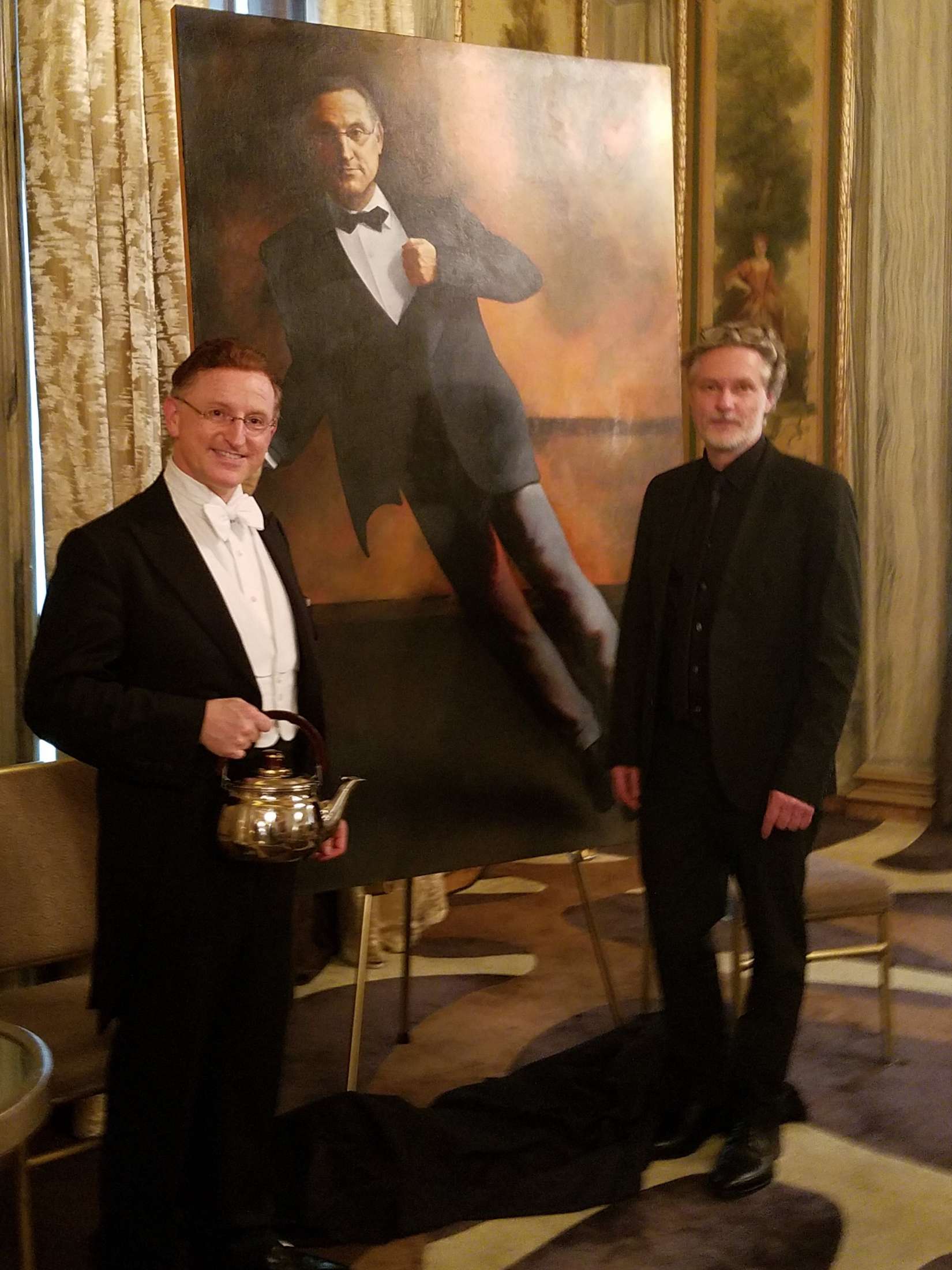 A behind-the-scenes photo from Joachim's studio in Long Island City: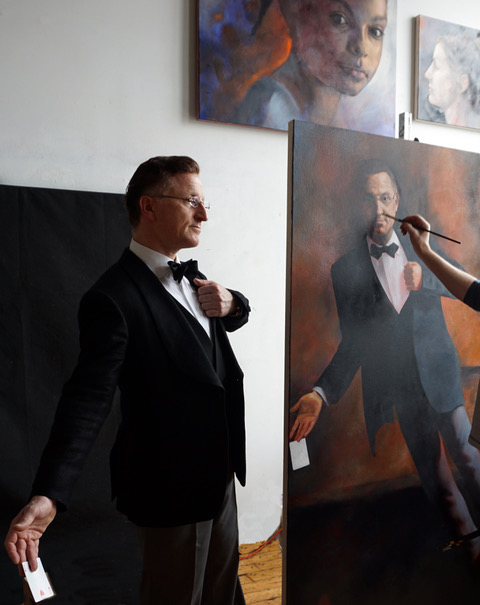 You can see the scale of the portrait (6'x4′) when it hangs next to a tall ladder.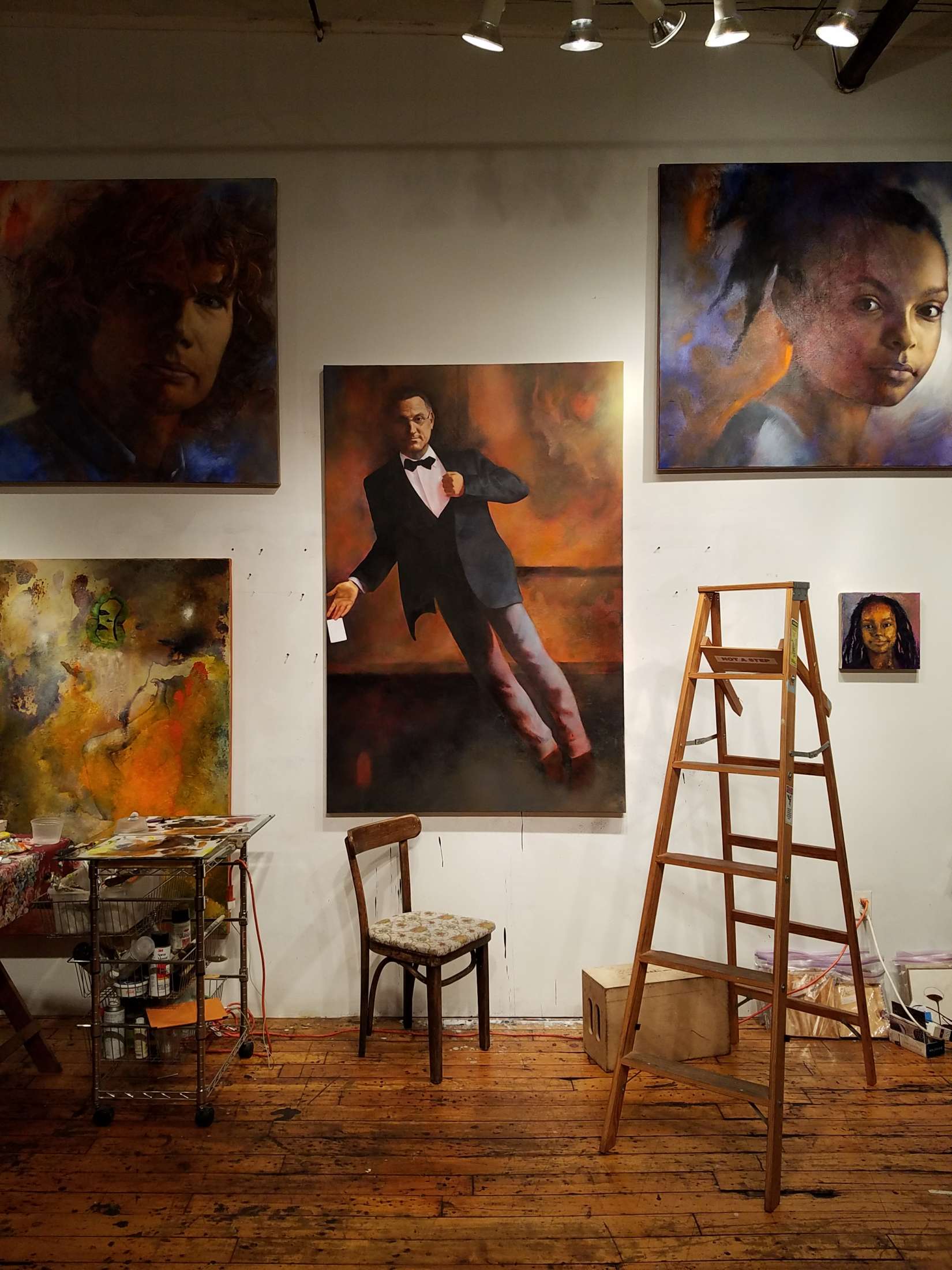 We kept the portrait on display for all three Chamber Magic performances, and audiences were impressed by its intricacy. Note the reference to the swinging woman in the upper right corner — it is a nod to the painting permanently displayed on the Madison Room wall.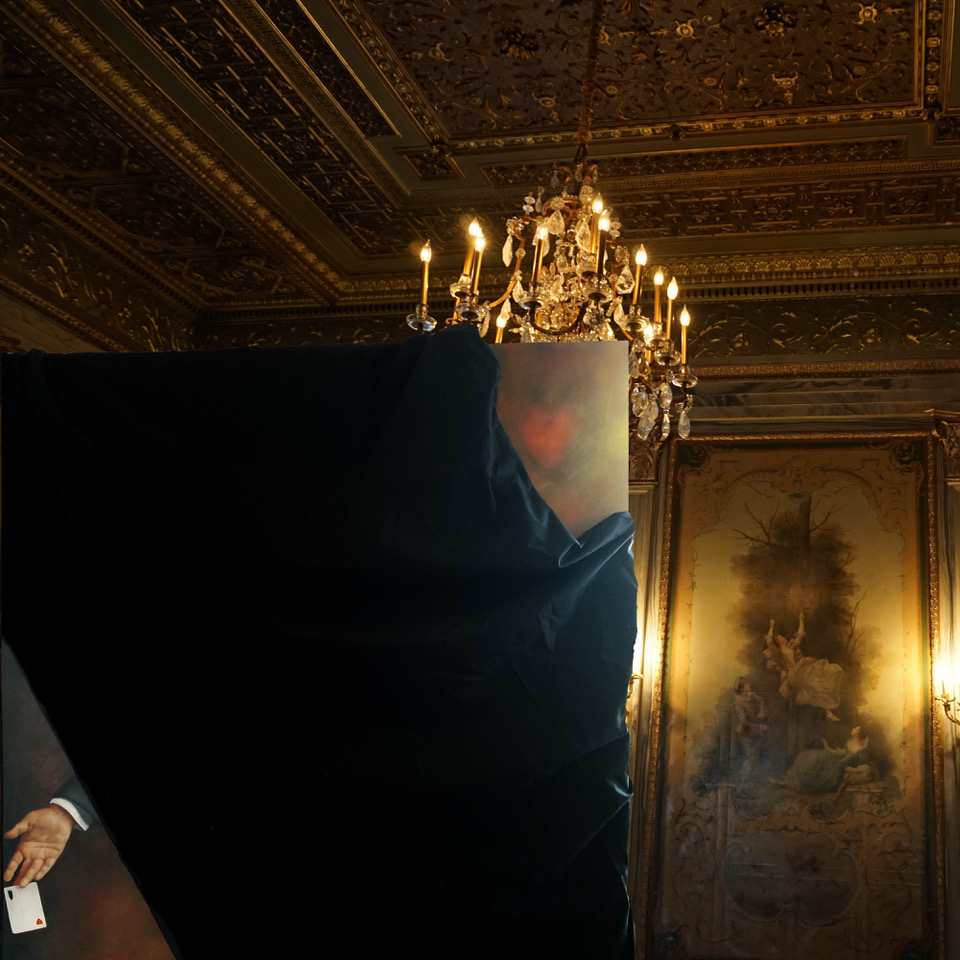 In the upper right corner, you can see the same swinging woman faded into a soft, misty background.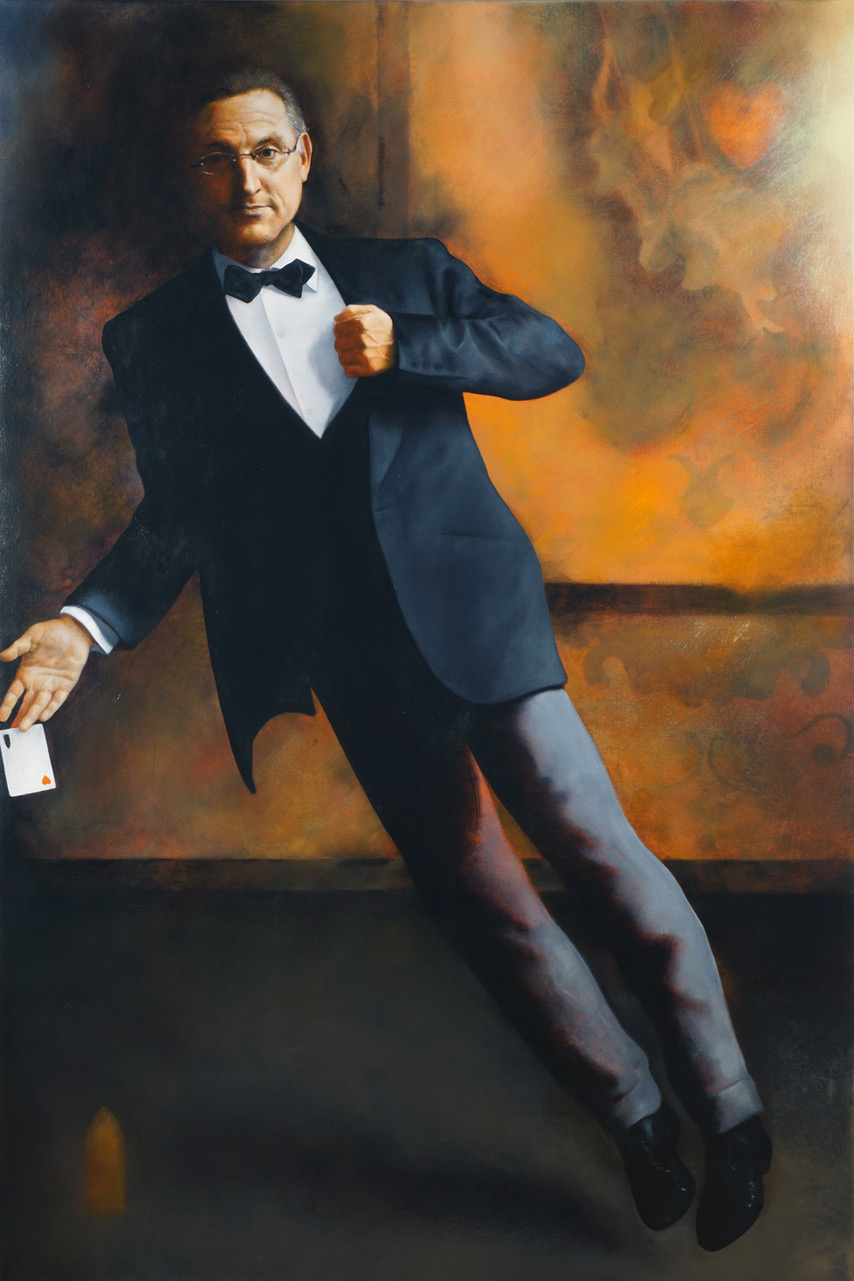 I highly recommend working with Joachim if you are interested in having a portrait of your own, or as a gift for a loved one. It was an honor collaborating with him.