90th Birthday Party for HARRY LORAYNE
May 11, 2016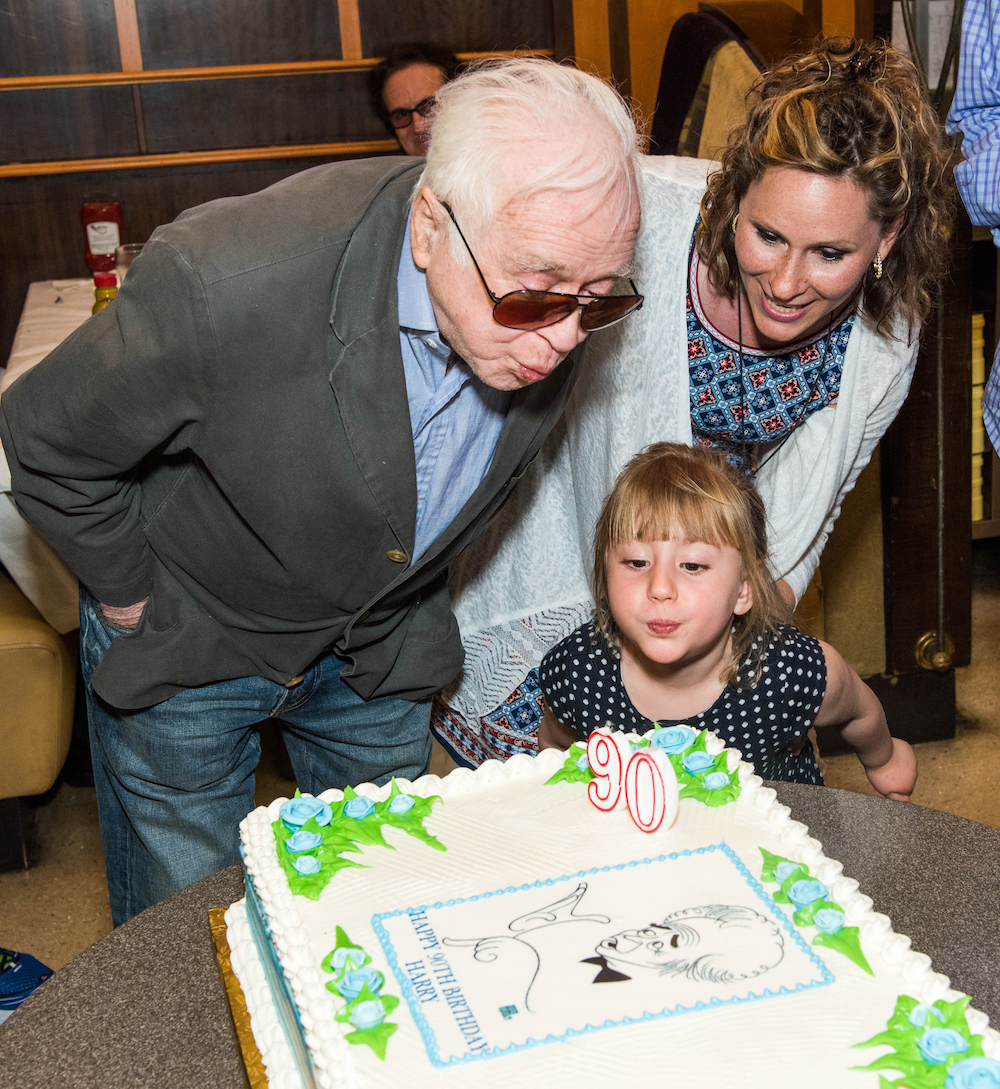 (May 1, 2016) Over the course of his decades-long career as an author and performer, Harry Lorayne has connected with millions of people. For his ninetieth birthday, he was reminded of how many lives he's touched. Nearly one hundred people gathered in New York City to celebrate Harry's birthday, and it was a joyous occasion.
At the party, Michael Vincent turned to Harry and said, "You were my best friend long before you knew I existed."
This sentiment resonated with many, because we all felt close to Harry long before meeting in person, through reading his books. Harry's writing style is so conversational it reads as if a friend is chatting with you, offering private lessons.
To my knowledge, Harry currently gives actual private lessons to only one person, his accountant Alan Frankel. Alan and I have struck up a friendship over the past few years, and together we decided to co-sponsor Harry's ninetieth party as a way of thanking him for his friendship and inspiration.
Too often we wait too long to tell people how much they've meant to us.
Not this time. People traveled from England, France, Finland, China, and all over the United States to attend.
The guest list read like a Who's Who of New York City's magic scene, and beyond. Many told me that it was the greatest "three-hour magic convention" they've ever attended.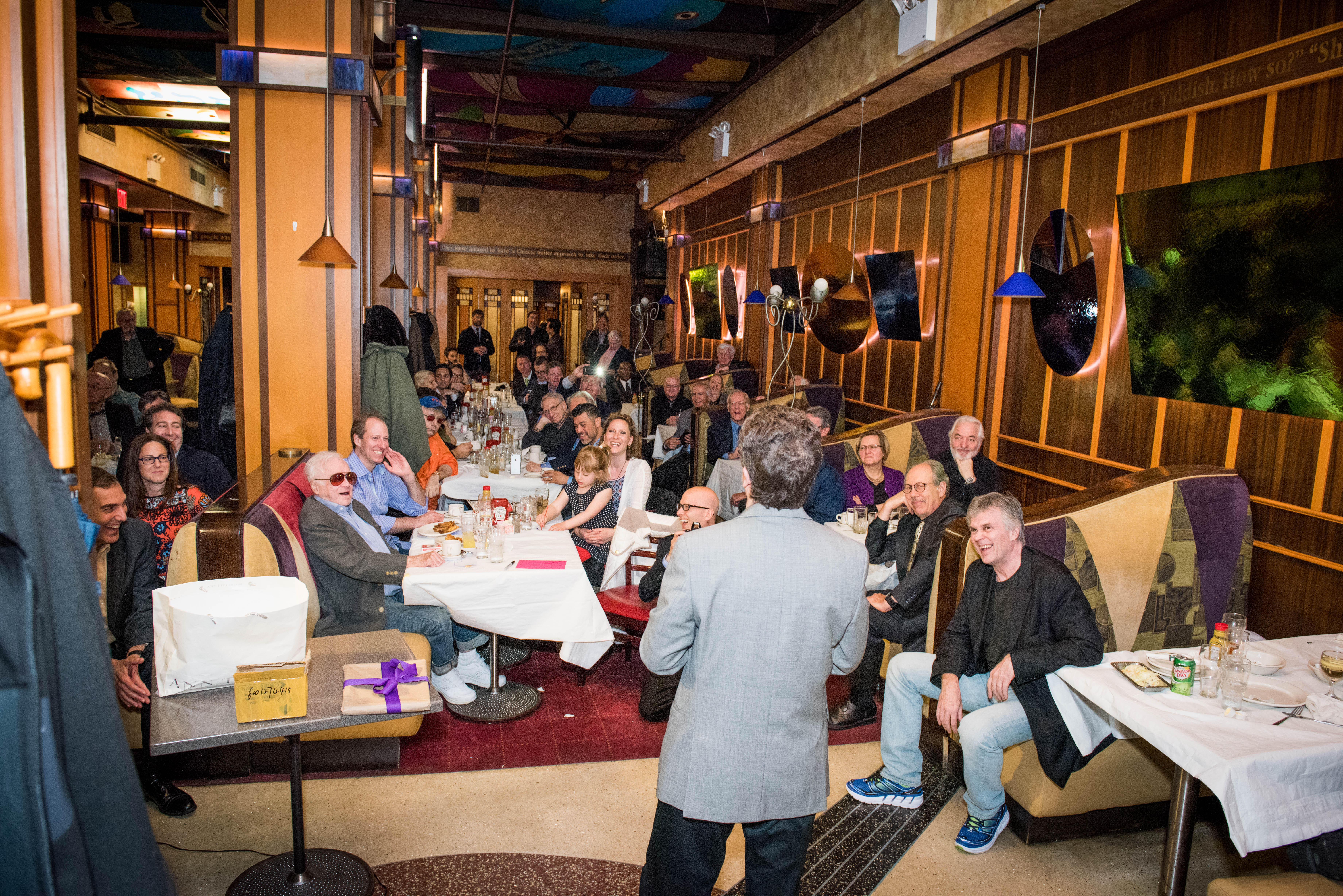 Among the notables who attended:
Adam Rubin, Allan Kronzek, Andrew Pinard, Barbara Greenfader, Belinda Sinclair, Ben Nemzer, Bill Kalush, Christian Engblom, David Kaye, David Regal, David Roth, Denny Corby, Doug Edwards, Gabe Fajuri, Gary Weissman, George Schindler, Herb Scher, Jay Sabatino, Jean-Jacques Sanvert, Jed Smith, Jeff Moche, Jeffrey Dobbins, Jerry Deutsch, Joe Monti, John Graham, Jon Racherbaumer, Joseph Gabriel, Joshua Jay, Ken Weber, Mahdi Gilbert, Mark Levy, Mark Mitton, Mark Setteducati, Michael Chaut, Michael Vincent, Nick Conticello, Noah Levine, Paul Gertner, Paul Ginsberg, Paul Gordon, Peter Kougasian, Peter Samelson, Raj Madhok, Regina Reynolds, Rene Clement, Richard Kaufman, Rick Silberman, Ricky Smith, Roger Dryer, Roger Seiler, Rudy Tinoco, Sandy Marshall, Scott Mero, Seth Kramer, Sol Stone, Stanley Hersch, Steve Cuiffo, Steven Conner, Stuart Slotnick, Tang Daly, Ted Greenberg, Thomas Churchwell, Victor Sendax, Vinny DePonto, Wesley James
• • •
When I conceived of the party six months ago, my first instinct was to hold it in my suite at the Waldorf Astoria. But Mark Levy had a better suggestion – find a Jewish deli, reminiscent of Reuben's, and hold the party there. For twenty years, Harry spent every Saturday in Reuben's, meeting magicians who were eager to get their ideas published in Apocalypse magazine. His birthday party needed to be held someplace with a similar vibe to Reuben's, somewhere that Harry would feel "at home." Mark suggested Ben's Kosher Delicatessen. They have the same type of food as Reuben's, a similar color scheme, and identical wise-cracking waiters. Perfect.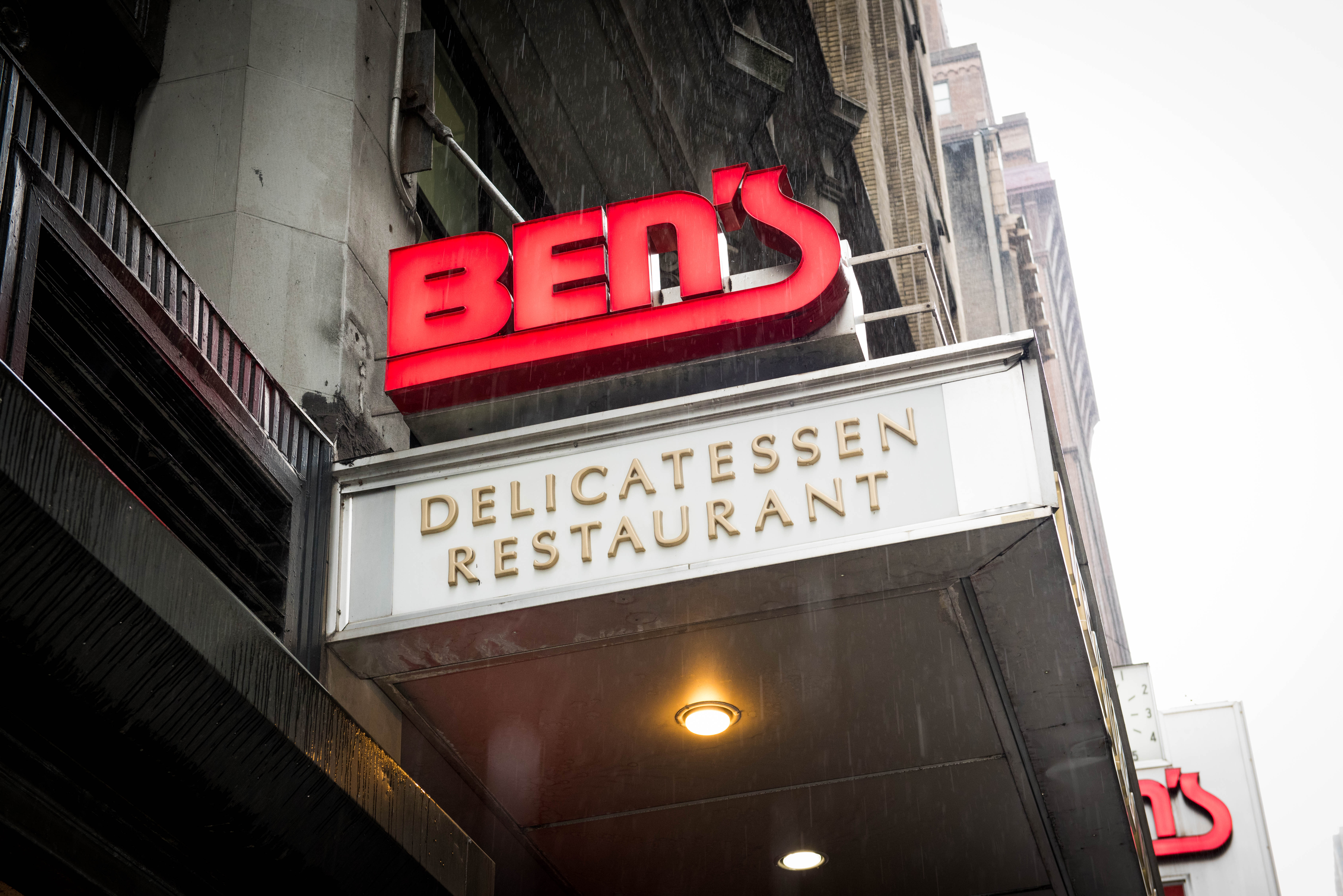 Harry now lives in Newburyport, Massachusetts so we drove him and his family down to Manhattan, and put him up in a midtown hotel for the weekend. He got, and deserved, the royal treatment. Ever the showman, Harry decided that he wanted to make "an entrance" so he arrived fashionably late. When he walked through the revolving door into Ben's, the place erupted.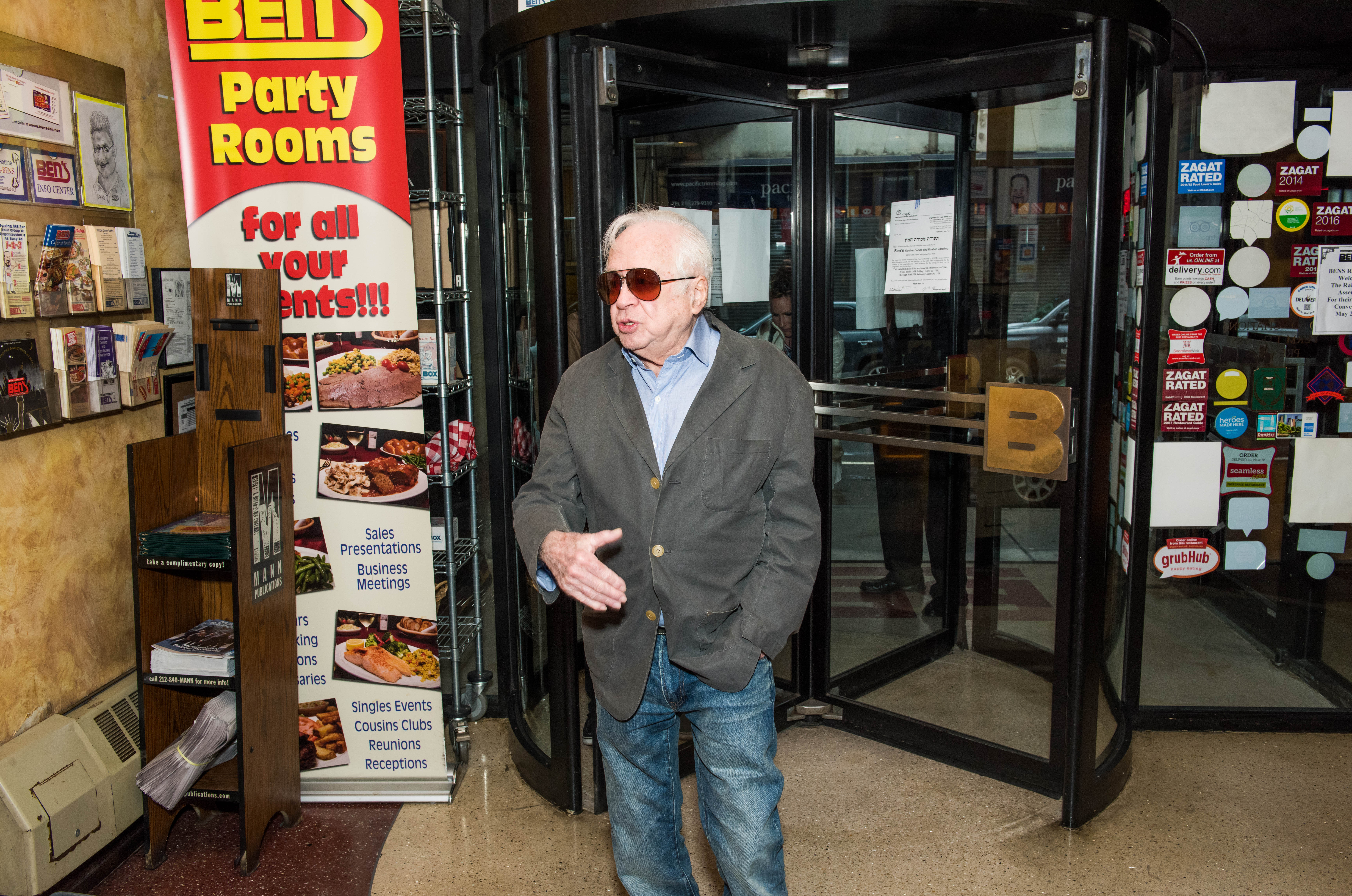 After cocktails and appetizers, we settled down at tables to eat lunch. Following the meal, we watched a video tribute to Harry Lorayne, projected onto a large screen. He received birthday greetings from some of the greatest magicians and entertainers in the world:
David Williamson, Juan Tamariz, Mel Brooks, David Copperfield, Alan Alda & Arlene Alda, Dick Cavett, Eugene Burger, Mac King, Penn & Teller, Johnny Thompson & Bob Massey, Derren Brown, David Blaine, David Berglas, Dynamo, Max Maven, Dani DaOrtiz, Boris Wild, Eric DeCamps, Meir Yedid, Richard Osterlind, Pop Haydn, Jeff McBride, Bill Malone, Charles Greene, Darwin Ortiz, David Ben, John Carney, Michael Ammar, Rafael Benatar, Simon Aronson, Gaetan Bloom, Sammy Smith, Stephen Minch, Allan Ackerman, Allen Okawa, Andi Gladwin, Martin Lewis, Bernard Bilis, Curtis Kam, Timothy Wenk, Michael Rubinstein, and Steve Valentine
(Click HERE to watch this incredible video)
• • •
Three live performances followed, by Michael Vincent, Jean-Jacques Sanvert, and David Regal. Each of these gentlemen flew in from great distances to attend the party (England, France, and Los Angeles, respectively). Michael Vincent performed his refined handlings of two Harry Lorayne tricks: Controlled Spelling, and Foursome.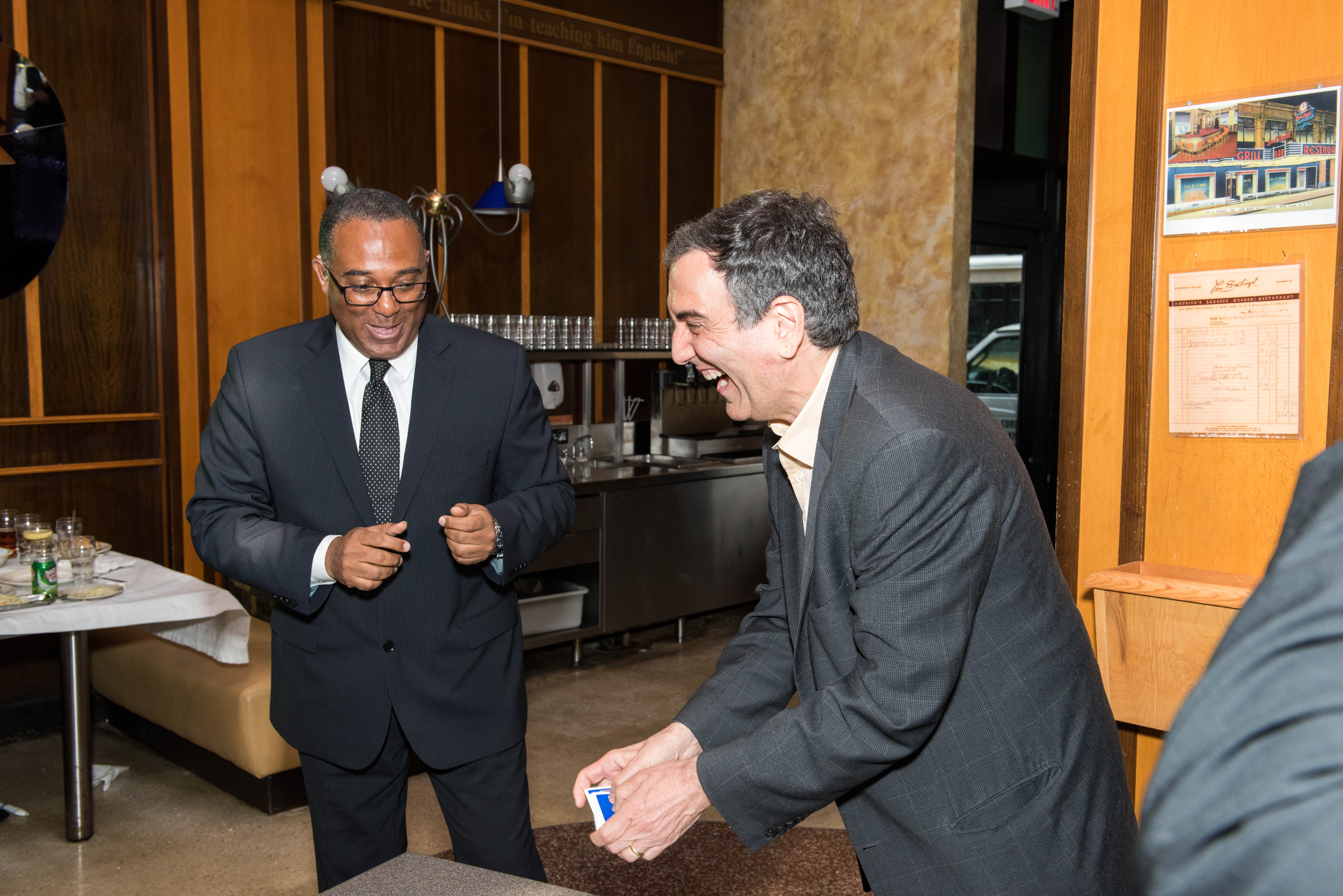 Jean-Jacques Sanvert performed a Cannibal Cards routine that brought great laughter.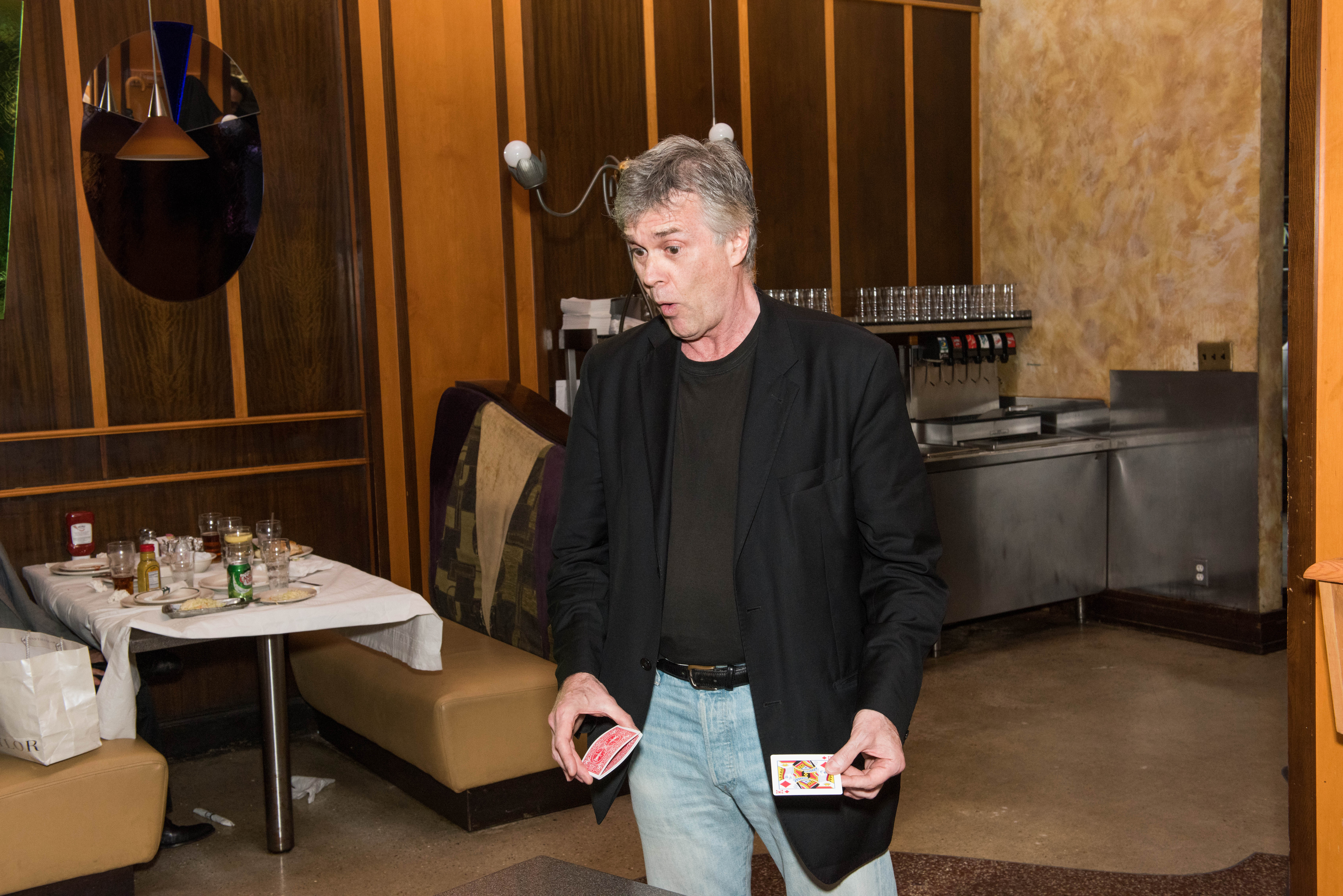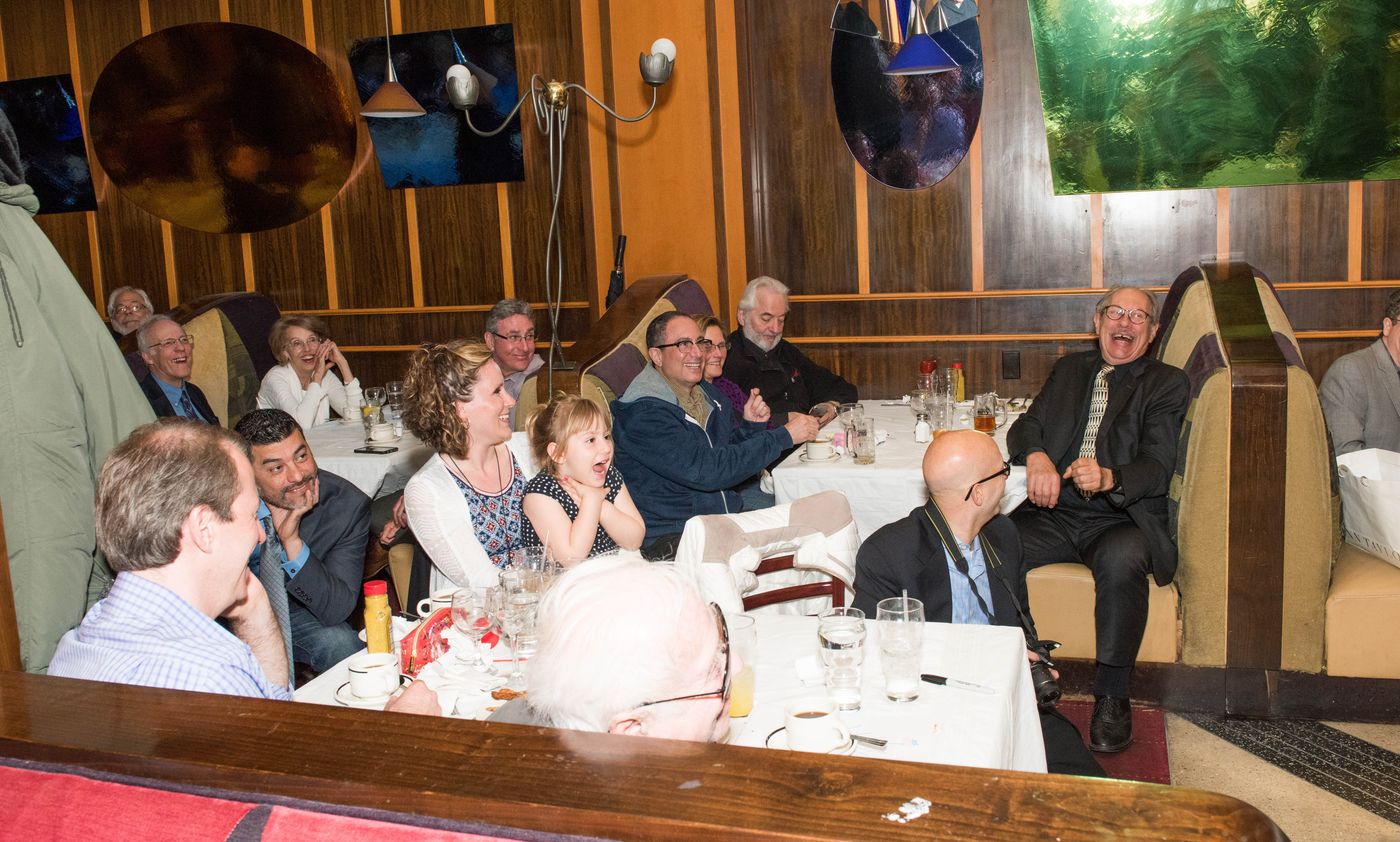 David Regal claimed that he had hired a team of private investigators to track down the original deck of cards used by Harry Lorayne to create all of his classic card tricks. That deck, he claimed, should be in the Smithsonian. The investigators "found" Harry's deck, dog-eared and water damaged, stuck in the back pocket of his jeans. David returned the crappy deck to Harry, and presented him with a brand-new deck of Bicycle cards as an upgrade.
Regal then performed a hilarious piece of magic in which a sheet of Karl Fulves postage stamps transformed into a sheet of Harry Lorayne postage stamps.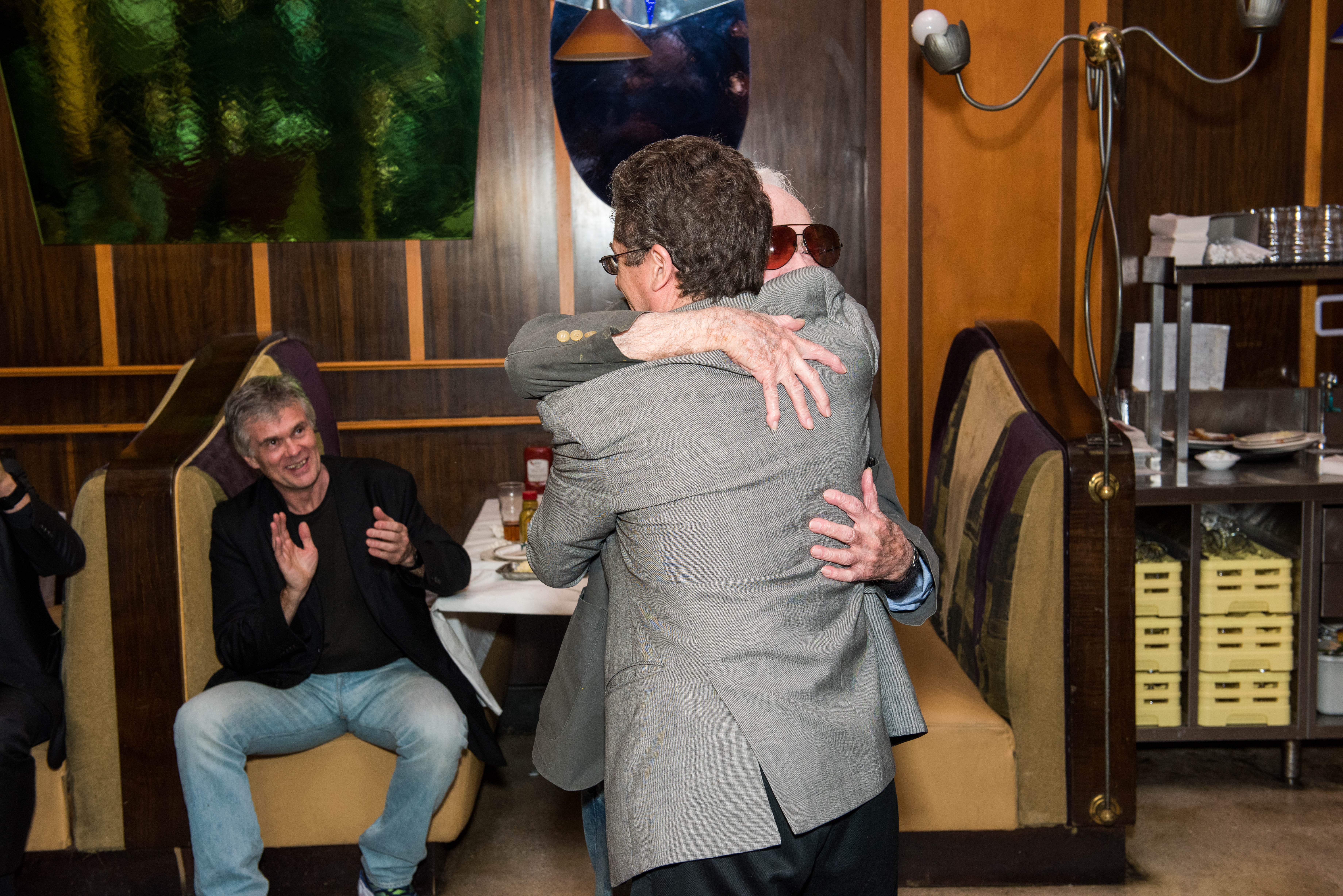 President Barack Obama sent a letter of congratulations on official White House stationery, which I read aloud to the group.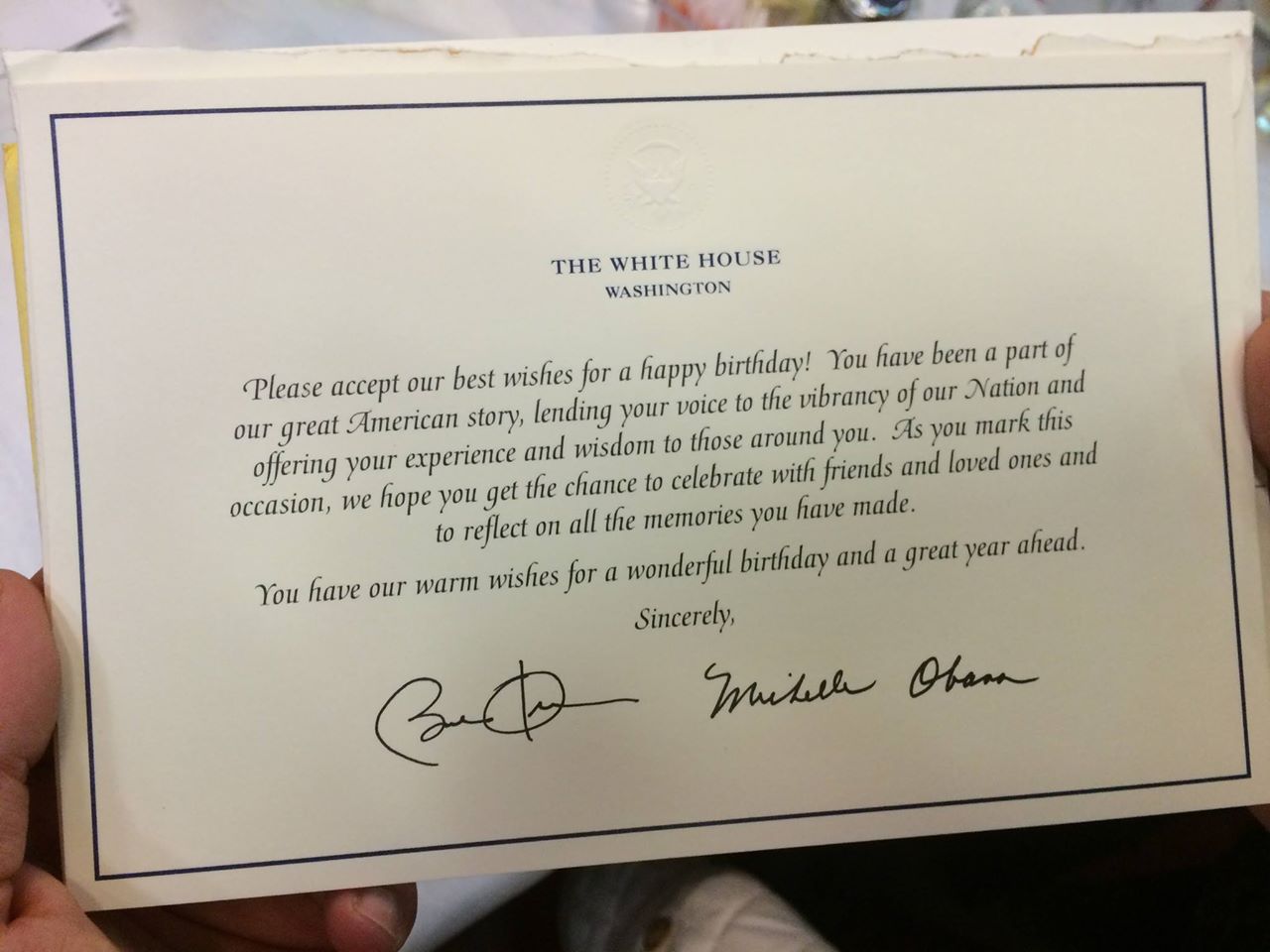 Finally we celebrated by singing "Happy Birthday" to Harry. The song was led by Paul Gordon, who aside from being a major fan of Harry's card magic, is also a professional singer. Paul flew from England to New York City for just one night, to attend this party, before flying home. That's dedication!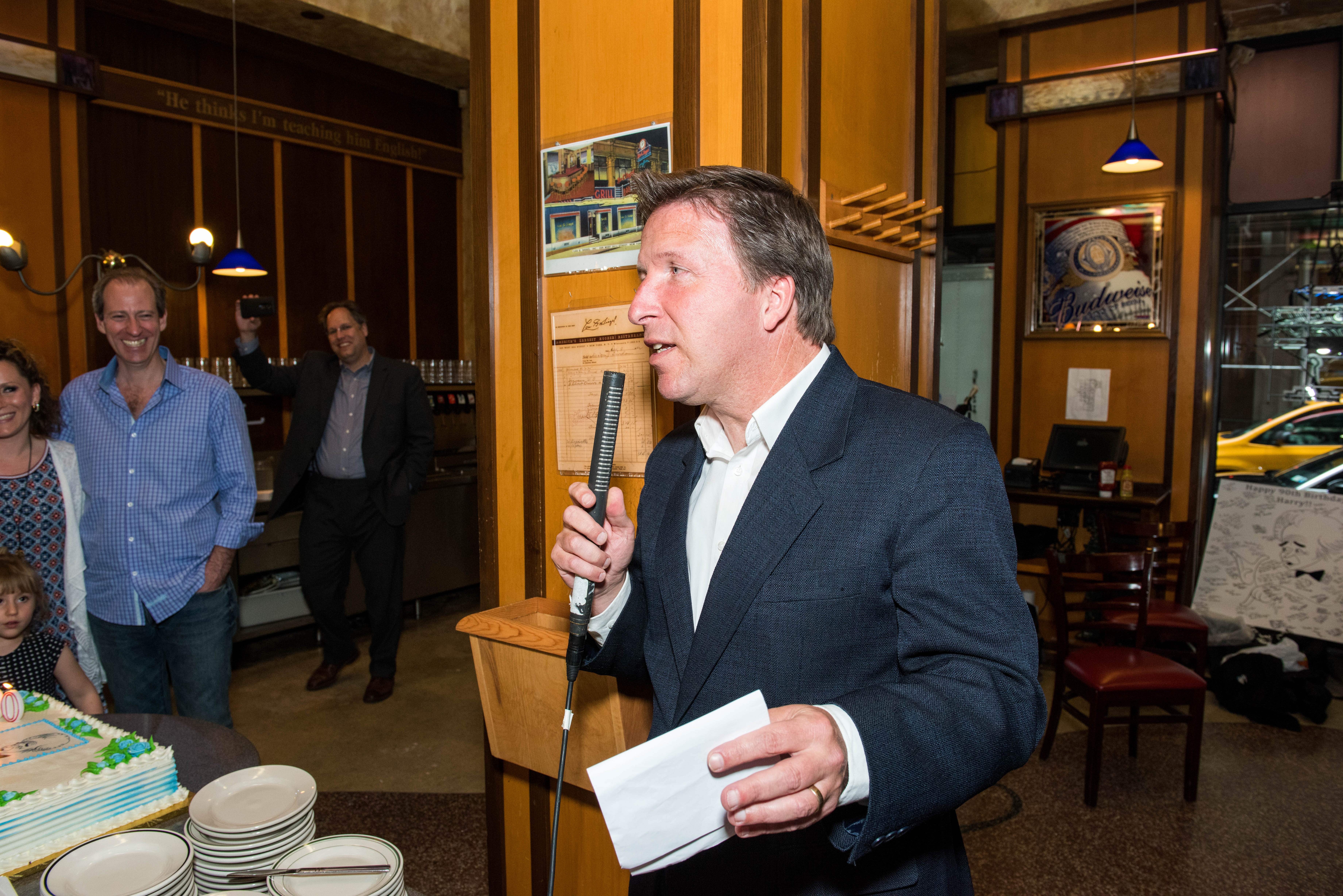 The birthday cake was decorated with Harry's Al Hirschfeld caricature, and two candles spelling out "90." With the help of his adorable granddaughter Vivi, Harry blew out the candles to much fanfare. The waiter handed him a knife to make the first cut. One wiseguy in the crowd yelled out, "It's a HaLo cut!"
At one point during the party I stopped by Harry's table to check in with him. "Are you enjoying yourself?" I asked. He replied, "With this cast of characters, how could I not enjoy myself?!"
Everyone was given a souvenir deck of Tycoon playing cards, wrapped with an off-white paper sleeve imprinted with the Hirschfeld drawing, and the words "Lorayne 90."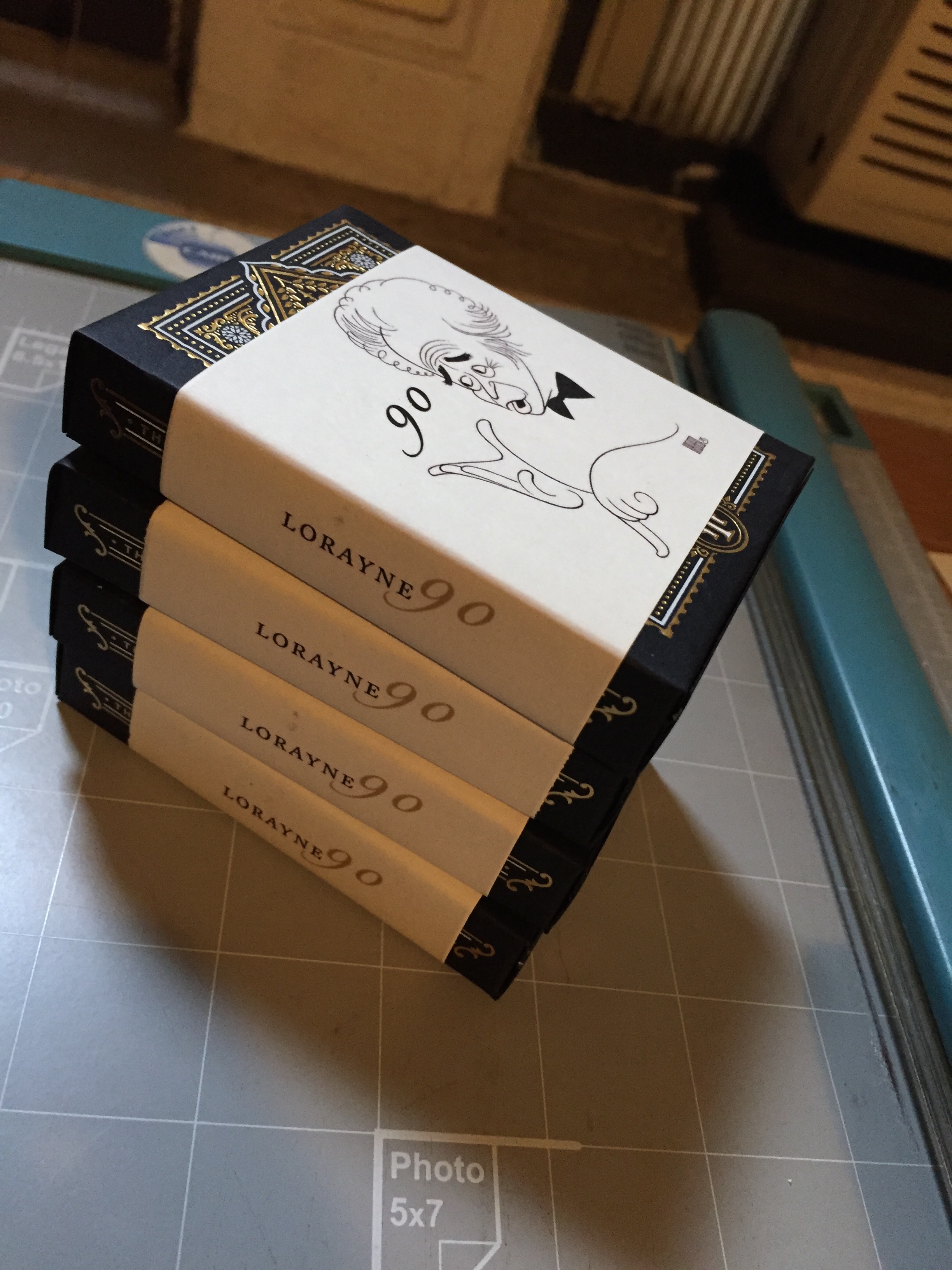 Many people have told me that this was a perfect party. I'm pleased to hear that so many people had a meaningful time gathering for a common goal and purpose. I could not have possibly run the party alone. Alan Frankel brought in his team: Karen & Robert Martinez, Samuel Mitrani, Jeff Dobbins, and Lynn Frankel. I am grateful to Andrew Pinard for designing the party invitation, and Jonathan Bayme for editing the video greetings. This party was truly a labor of love.
Two days later, the New York Post ran an article about Harry's party in the gossip column, Page Six, written by Cindy Adams:
"One hundred magicians sandwiched into Ben's Kosher Deli for card magician Harry Lorayne's 90th birthday. David Copperfield, Penn & Teller and assorted wizards sent video messages. Obama, who has nothing else to do, wrote a congratulations note. One kazam/shazam trick that didn't happen was pulling a rabbit out of a hat. The deli's kosher. They should've schlepped out a pastrami."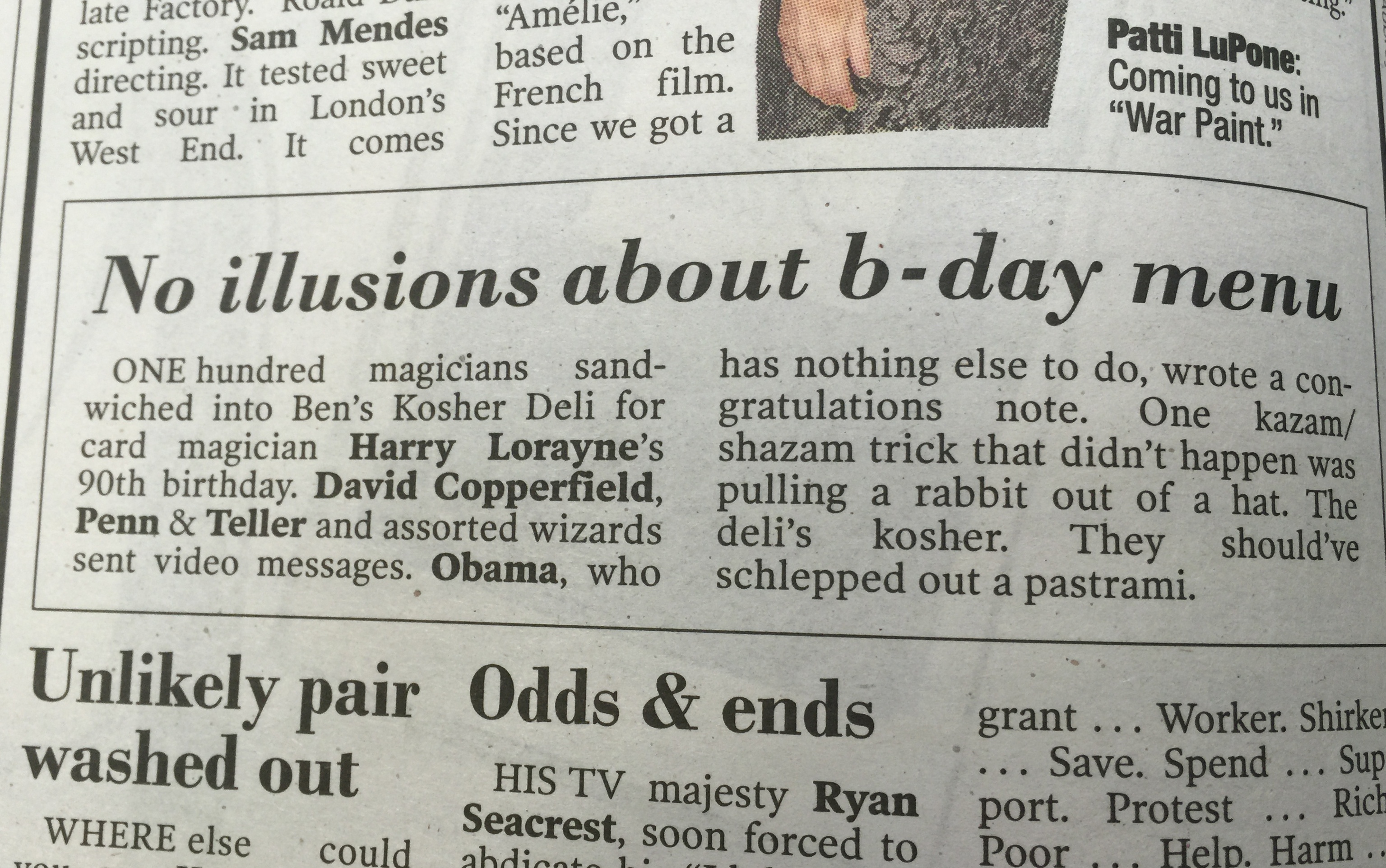 Dai Vernon's 90th birthday was celebrated with great fanfare at the Magic Castle in Los Angeles. Now we east coast magicians have a similar cherished memory – celebrating the 90th birthday of another giant in the world of card magic: Harry Lorayne.