Max Malini's advertising booklet, ca 1926
November 14, 2011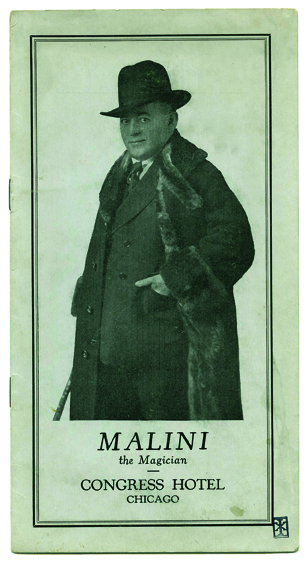 As readers of this blog know, I am somewhat infatuated by Max Malini, the extraordinary magician who entertained celebrities, tycoons and aristocrats. I've modeled my career on his, and have been tracking down Malini stories for years. Many of these stories are chronicled throughout this blog.
I recently acquired Malini's advertising booklet at auction (circa 1926) and was delighted for two reasons simultaneously. First, it is an honor to own this historic memorabilia of a prominent magic figure. The booklet is in very good hands.
Second, the text of the booklet has confirmed that Max Malini stayed and performed regularly at the hotel where I've presented Chamber Magic for the last decade: the Waldorf-Astoria in New York.
In his advertising booklet, he includes four laudatory letters from prominent figures, including President Harding. Here is one of the inside pages, containing personal notes from General Pershing and Vice President Charles Dawes: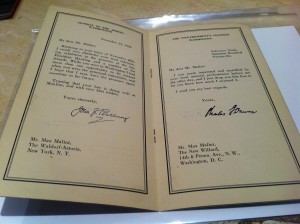 Malini's Washington DC address as listed here is the New Willard Hotel. I presented my show Chamber Magic at the Willard earlier this year. How odd to find evidence that I've been following my hero's trail, eighty-five years later.
And here was another nail in the coffin that surprised me even more still – a separate advertisement that claims Malini would be performing at Carnegie Hall in New York City. Guess where I'll be doing my show on January 12, 2012? That's right: Carnegie Hall. Read info about my upcoming performance HERE.

The advertisement states that Malini is "the conjurer with the smallest hands in the world, but who put magic on the map at the highest price in the world – $3.00 per seat." In 2011 dollars, that equals $45.00 per seat – a respectable price.
If you scroll back to the image at the top of this blog post, you'll see that Malini was staying and performing at the Congress Hotel in Chicago. Last week I was in Chicago for a private performance, so I stopped into the Congress Plaza to see what it looks like now.
Despite its wonderful location and attractive facade, the inside of the hotel has unfortunately "gone to pot." It is the site of the longest hotel strike in the history of America, and considered a disgrace to Chicago.
That's too bad, too, since I wanted to perform in another hotel where Malini had made his mark.
If you're interested in reading about some of the hotels Malini performed at while living in Honolulu, Hawaii (just prior to his death), read one of my favorite blog posts HERE. I personally visited Malini's last home, and stood in the garden where he died.
This article offers a very nice record of the unexpected final resting place of Malini.
For more on Malini, type his name into the search bar of my blog. There are more than ten articles I've written that offer additional stories I've uncovered in my research. I hope you find them as inspirational as I.