Celebrity Visitors at Chamber Magic Beverly Hills
November 4, 2019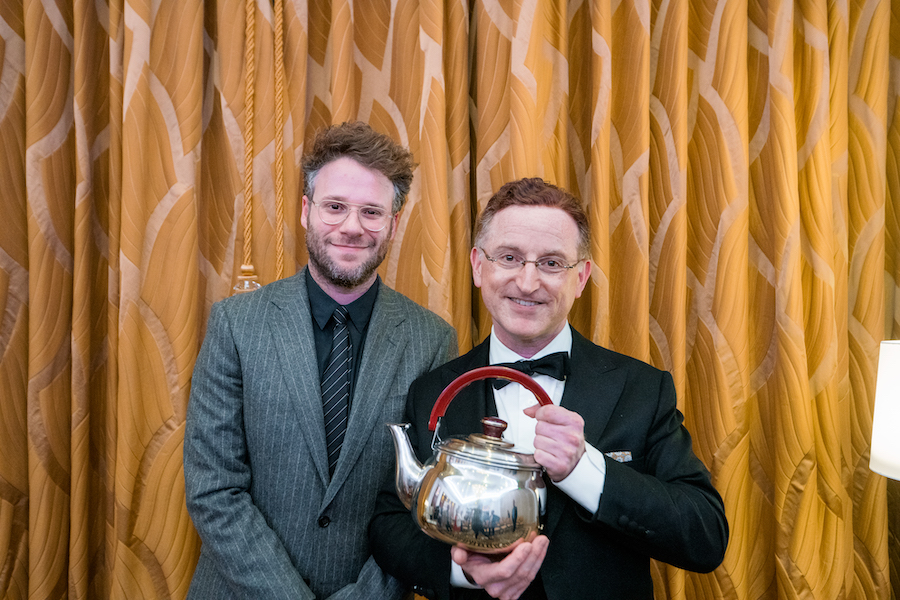 Once a year I take Chamber Magic on the road. This mini-tour always corresponds with the United Nations General Assembly, since many UN delegates stay at my hotel in midtown Manhattan. There is high security everywhere: sharpshooters stationed on the rooftop, K-9 guard dogs, metal detectors, and Secret Service agents on the streets. Honestly it's a giant mess, but a necessary precaution. I'd rather be anywhere else than in the middle of this NYC lockdown.
In September 2019 I flew to Los Angeles for a five-show run at the Waldorf Astoria Beverly Hills. When I hear the words "Beverly Hills," the first thing that comes to mind is celebrities… There were celebrity visitors galore at Chamber Magic, which made the trip even more iconic and memorable.
Seth Rogen and his wife Lauren Miller sat front row center on Friday night. (See photo above) Seth Rogen's laugh is so distinct — everyone in the audience recognized that he was there thanks to his infectious laughter. After the show we discussed working together at a fundraiser for his and Lauren's Hilarity for Charity.
One of the NBA's top All-Star players, Paul George (LA Clippers) attended the same show.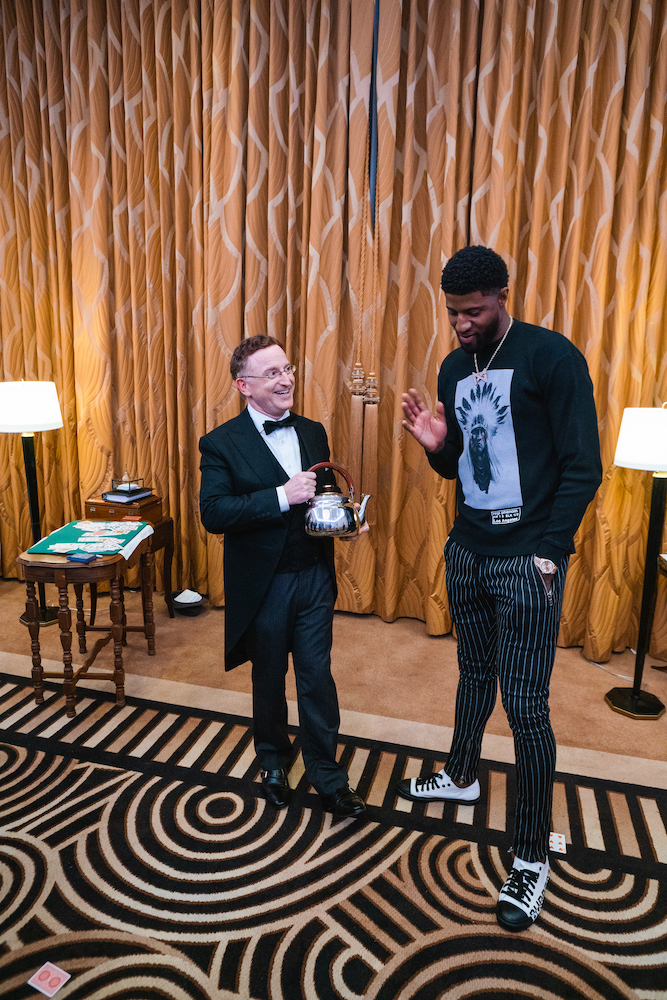 Paul George attended with his CAA agent, and their spouses. I'm not a tall man to begin with, but when I'm side-by-side with a 6'8″ NBA all-star, I look like a little boy. Hilarious.
My funny friend, comedian Russell Peters attended the late show on Friday night. We met earlier this year in New York when we worked together on an upcoming Paramount Pictures film: Clifford the Big Red Dog. Russell headed to India the next day to host the 2019 India GQ Men of the Year Awards. (I think we should be the winners…) Check him out on Netflix and Youtube. Russell is a quick thinker, especially when doing crowd work with his audiences.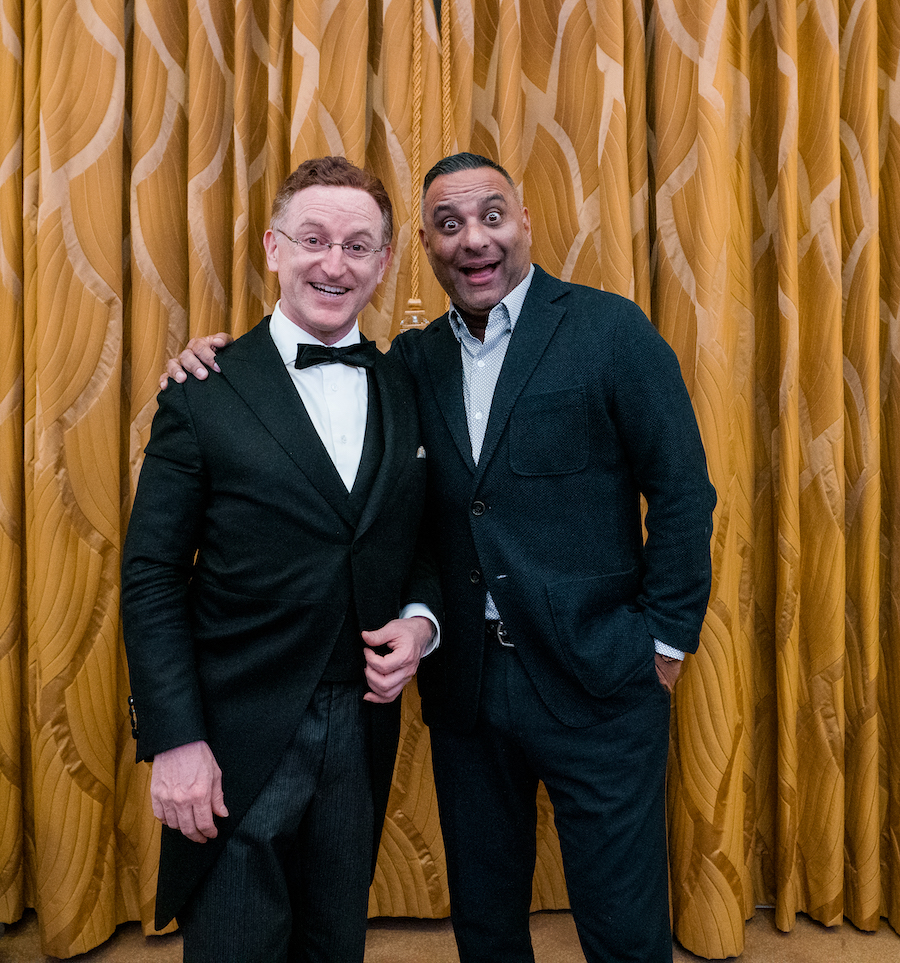 One of the greatest honors of my life: legendary composer John Williams attended Chamber Magic in Beverly Hills. We met earlier this year, at a private dinner with Anne-Sophie Mutter, after their Tanglewood concert together in Lenox, Massachusetts. At that dinner, I performed about 25 minutes of close-up magic, after which John replied: "I know how you did that. You went to the fifth dimension, and then you came back!" We all had a good laugh, but I told him that if he wanted to see my full show, he should try to come when I visited LA later that year. Well, I could not believe my eyes when he actually showed up, sitting in the second row center seat. Like everyone in my generation, we grew up listening to John Williams' music: the themes to Star Wars, Raiders of the Lost Ark, Superman, Schindler's List, E.T., Harry Potter, Jurassic Park, and the Olympics fanfare. You can't achieve more in a lifetime than John Williams has, musically. To my mind he is the Beethoven of our day, spreading his music to billions of listeners around the world.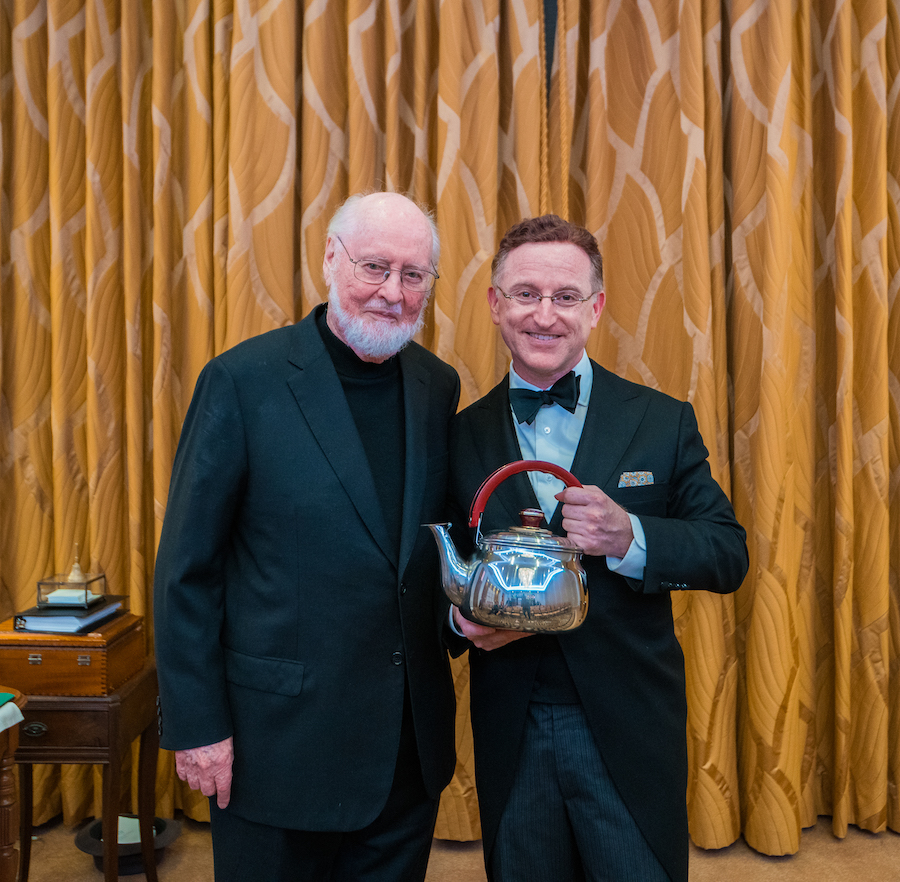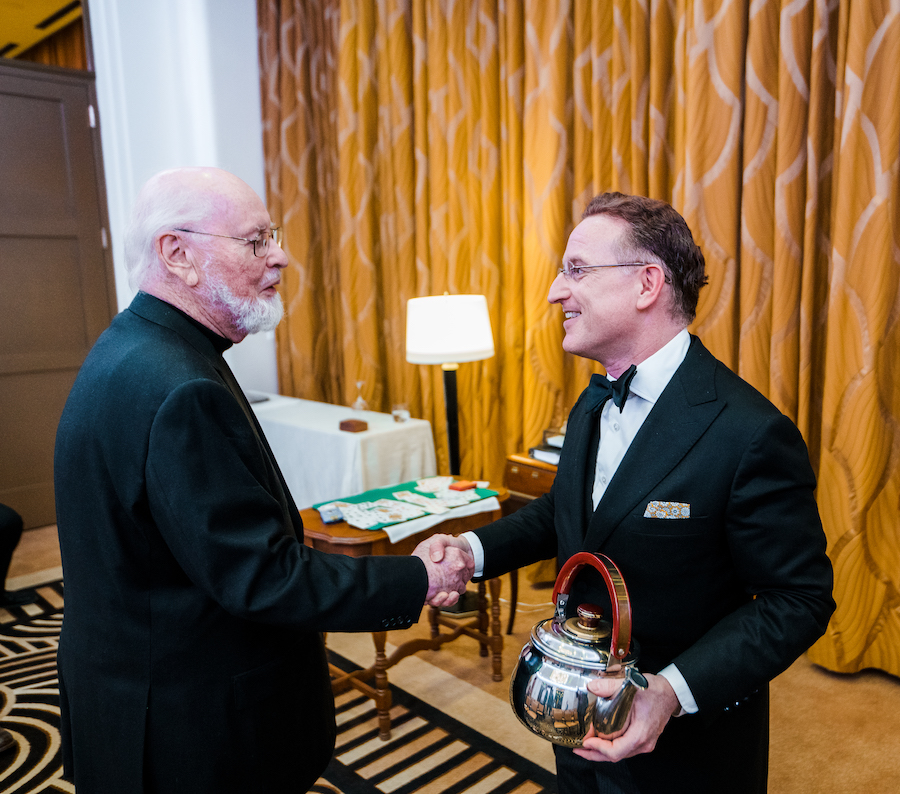 Another NBA star, Kentavious Caldwell-Pope of the LA Lakers attended on Saturday night. I met his wife MacKenzie at the Lotte New York Palace earlier this year and she promised they would visit if I came to California. Lo and behold, it's LeBron James' teammate…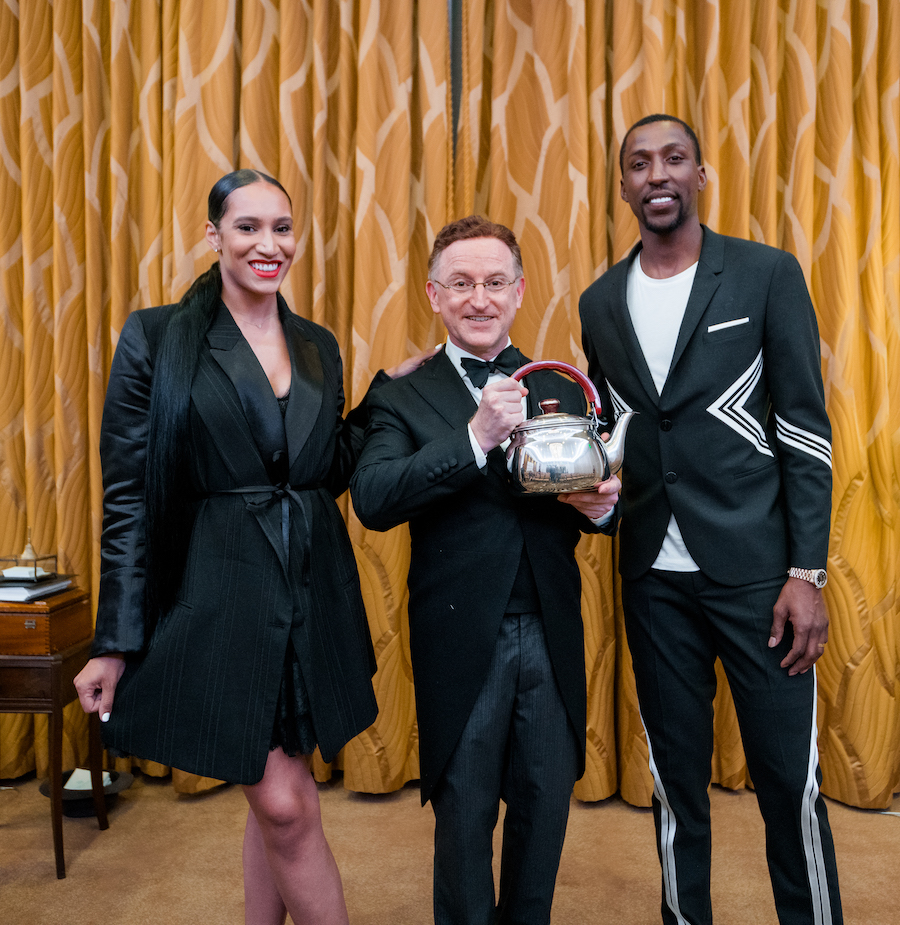 And we had a laugh with my teakettle when he asked for a nightcap after the show was over: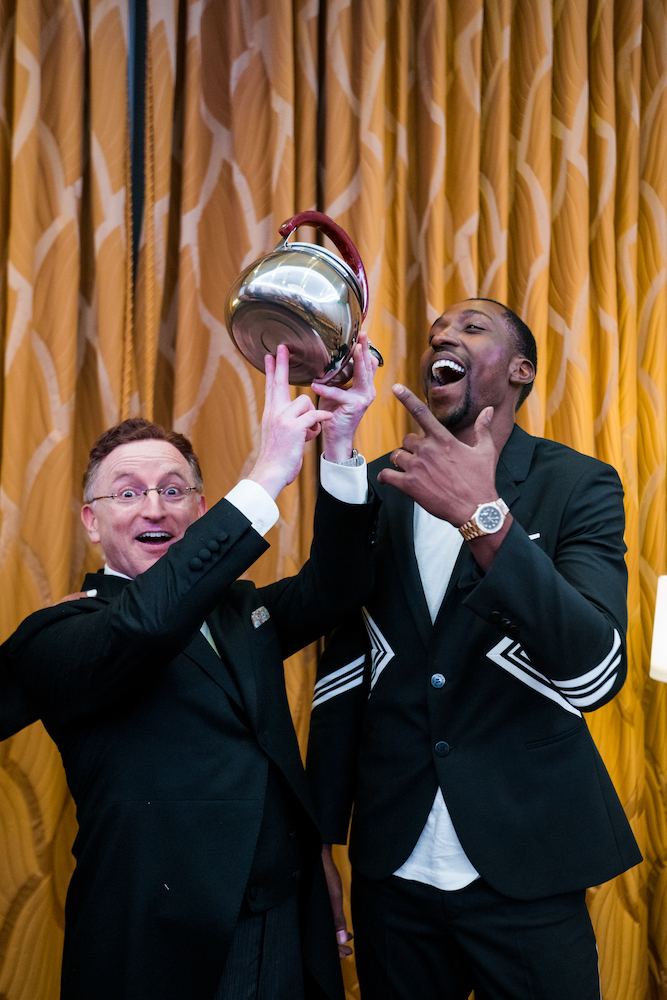 Erika Larsen is magic royalty, and the chairman of the Academy of Magical Arts at the world-famous Magic Castle in Hollywood. We've been trying for years to get Erika into my NYC show, but the timing was never right. When she finally came to the LA performance, she had this to say:
"As you know, I see a lot of magic shows, so for me to really enjoy a show as much as I did yours, is rare. You are likable and charming and you make people feel comfortable. And then you fool them like crazy. Yay!!! The magic is sublime throughout."
Here's a photo of one audience at the Waldorf Astoria Beverly Hills. This is one of my favorite parts of the show, when large groups of people gather around so I'm completely surrounded at every angle. It's a challenge to perform sleight of hand under these conditions since you never know who's looking, and from which direction.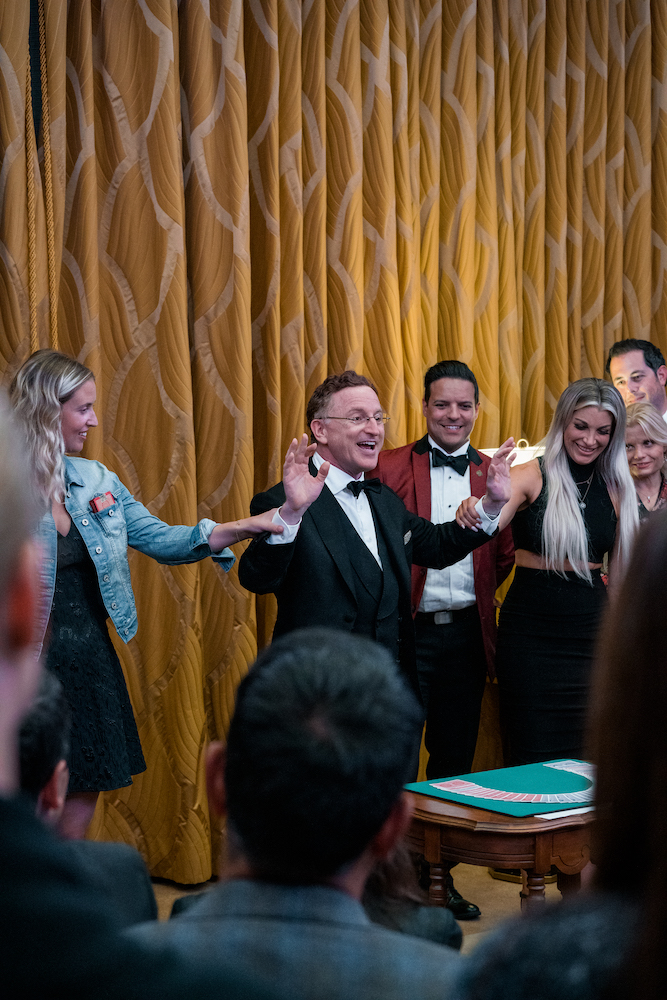 All of the shows were completely sold-out, and played in the ballroom of the Waldorf Astoria Beverly Hills. The staff, management, and hotel owners were incredibly supportive, and helped make this visit (my second) a marvelous success.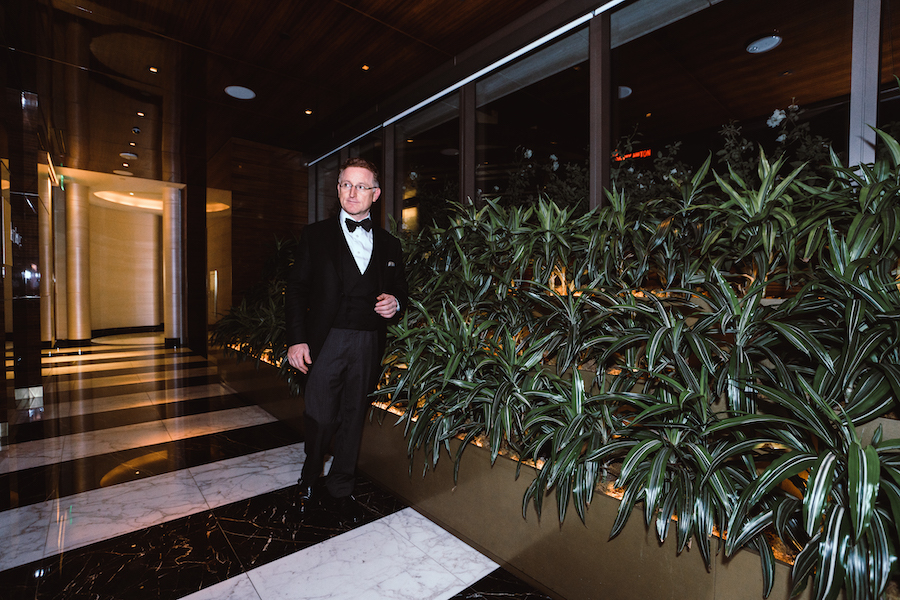 On my off-day, I explored Los Angeles, visiting the Original Farmer's Market. A pancake breakfast with my brother Brian Cohen at Du-par's was especially yummy. Brian runs his own vintage clothing store, Vintage on Hollywood, which is like a museum dedicated to the finest vintage clothes that money can buy. His collection of Hawaiian aloha shirts is second-to-none. Movie stars regularly shop at his store, and Hollywood costume directors often visit for inspiration.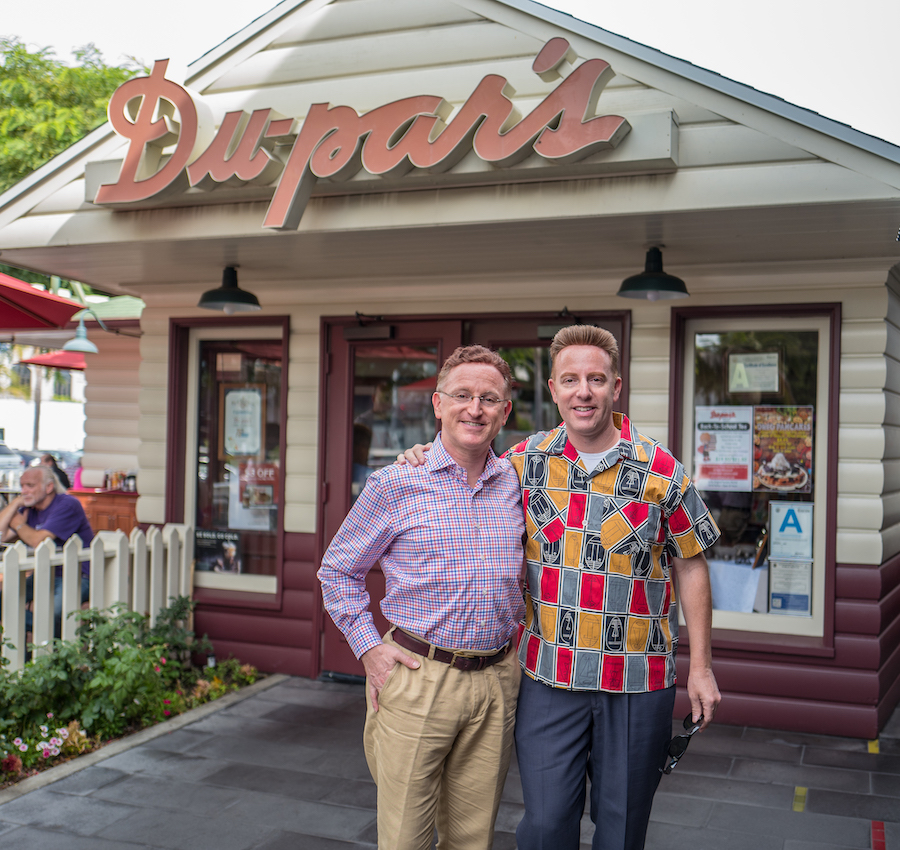 I also drove downtown to visit the famous Bradbury Building, highlighted in the climactic scenes of Blade Runner.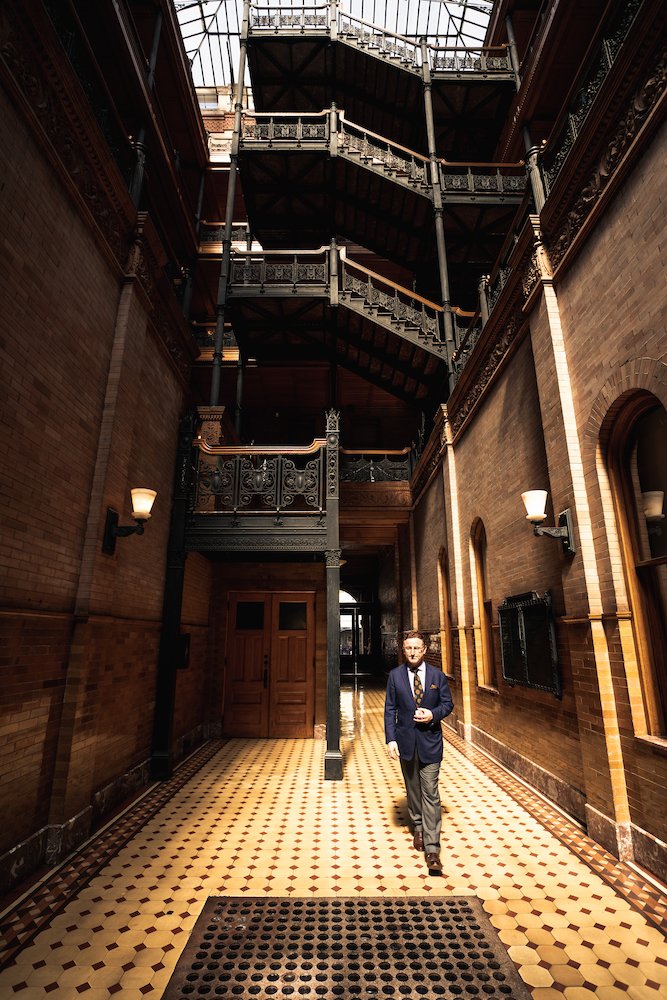 On top of all this, I visited the Magic Castle twice with my friend Steve Barnes, the director of the Castle's Junior Program. We had a blast poking around the clubhouse, seeing shows together, and bumping into old friends. I almost forgot to mention that Pop Haydn and his wife attended Chamber Magic, and Pop gave me a great line to use in my show. That was a very welcome suggestion, coming from a true pro like him.
Todd Karr also invited me to his historic mansion, which is a true escape from the modern world. We had a blast talking magic, and then eating take-out pastrami from Canter's Deli. Oy!
Thank you, Los Angeles! The trip was an overwhelming success, and I can't wait to return.