Review of new Max Malini book in M-U-M magazine
June 3, 2022

It is a modern classic and I believe it will be classed as the magic book of the decade.
Society of American Magicians M-U-M magazine
June 2022
Book Review by Marc DeSouza
If I were looking for a sensationalist headline for this book it would be "Obsession + Pandemic = Incredible Magic Book." And that would not be far from the truth.
Steve Cohen has been obsessed with Max Malini for decades. His interest came through the writings of Dai Vernon and Ricky Jay. In the ensuing years, Steve searched incessantly for any information he could find on Malini. He uncovered much that had not been unearthed before, much of it thanks to the Internet. But his research went far beyond that.
First, I believe that Steve is the perfect person, if not the only person, to write this book. It is not merely a recitation of dates and factoids. It feels like a living, breathing tome. He has not only done the research, he has performed many of Malini's favorite routines. He has researched them and uncovered multiple methods for many of them. He has also spoken to others who have performed some of Malini's effects to get their views and experiences with them. He has also obtained information that questions some of the previous writings on Malini.
If it were not for the pandemic, I doubt we would have seen this book. Steve has a very busy career as The Millionaires' Magician, with a steady schedule of public and private performances. Having no venue to perform in allowed him the luxury of time to create this amazing vanity project. Malini is a legendary performer whose life and magic deserved a great tribute. With all due respect to Dai Vernon, Lewis Ganson, and Harry Stanley, their volume pales in comparison. This is well over 500 pages and screams quality. The design of the entirety is sumptuous. It appears to be a period piece from the cover and binding, to the text in period font, but with beautifully reproduced photographs. This is a book to be fully appreciated over time. I must make special mention of Steve's writing. I'm not sure what I was expecting, but his text is wonderfully descriptive when required, and really gives Malini a voice throughout. You come away feeling like you know much about the man, as well as the performer.
The book opens with biographical information. Much of it we've heard before, but there is so much new information to be gleaned from these pages. There are wonderful anecdotes sprinkled throughout this section and the ones that follow. There are recollections from magicians, journalists, and statesmen alike, culminating with a letter from Charlie Miller, a man far closer with Malini than Vernon. And that's just the first 100 pages.
The majority of the remainder of the book is about Malini's magic and performances. Steve begins with a chapter on impromptu magic, an area that Malini truly capitalized on. There are things that had been previously printed, but the author uses the analysis of all methods and his own experience to reveal the most likely way Malini performed them. I could talk about each trick, but you owe it to yourself to read them. I will say that some of the highlights for me include the Ring on Stick, Sugar Cube Assembly, and the Brick from Hat. One key point in this and the following chapters is that of simplicity. Malini's effects are, for the most part, very direct and uncluttered. Some of them can be found in beginner's books, but Malini's personality and technique elevate them to strong performance pieces. His methods are straightforward and uncomplicated. Cohen's photo-illustrated descriptions of this material are first rate.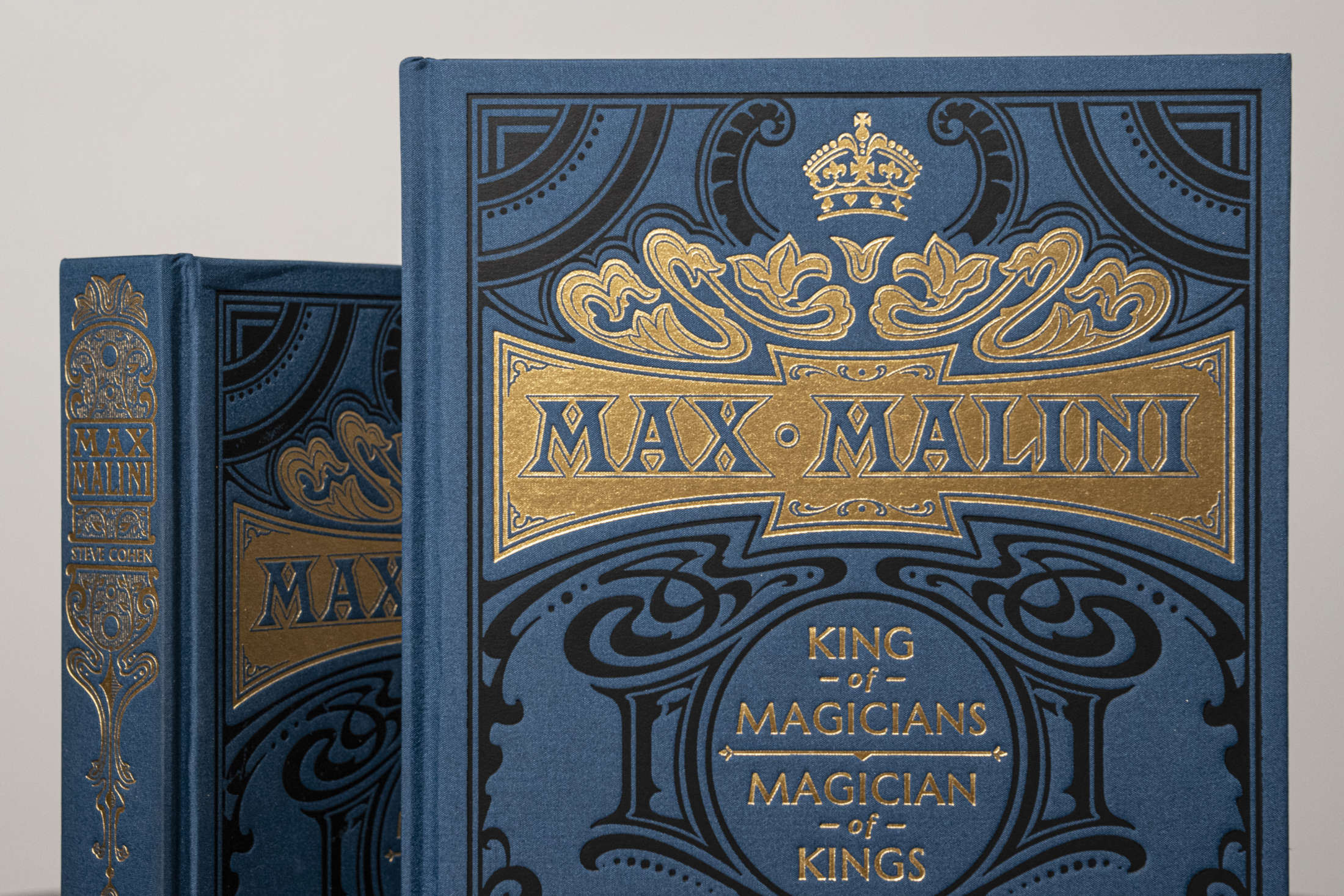 The next chapter is about his "Card Magic." Malini was renowned for his card work and we get to learn many of the techniques as well as some of his finest routines. There is so much to study and we can see how Malini created incredibly strong, commercial card magic. Many of these laid the groundwork for so many routines used by top professionals to this day. He made good use of The General Card, Card on Ceiling, and the Multiple Selection routine. Pay particular attention to Malini's method of forcing cards. It is emphasized throughout this and the next section that it is not so much a force but giving the cards to the participants. Such was Malini's bold and effective manner.
This chapter is followed by one on "Platform Magic." His entire stage show is described and broken down, routine by routine. Again, so many current magicians are performing much of Malini's repertoire and you get to see not only the source but analysis by some of today's finest performers of that material. Included is commentary by Bob Sheets, the foremost performer of the Blindfolded Card Stab, the late David Alexander's Egg Bag Routine, and Bob Stencel's Rope Cut. Other highlights include the Magnetic Fingertips, The Lamp Chimney Silk Vanish, and Bills in Lemon and Egg. Surprisingly, we also have descriptions and discussions on classic "Chinese Magic" such as the Giant Bowl productions and Linking Rings that he included in his full evening shows for a time. This is a grand departure for a man who made his reputation by performing an entire show without visible props, ostensibly borrowing everything he used. This chapter closes with a discussion of his perennial closer, The Eggs and Glasses. This is not a magic effect per se, but a juggling stunt that would still garner a huge ovation today. I believe this chapter is worth the price of the book.
The book closes out with some further biographical information, including several obituaries, the transcript of a talk given by his son Oziar, a selection of newspaper articles from the world over, and a timeline, putting all of this into place.
If you are a lover of magical history, you will love this book. If you love reading stories of larger than life performers, you will not want to miss out on this one. If you simply love great magic, buy this book now. When I heard Steve was writing it, I couldn't wait to read it. Now that I've read it, I can say that every aspect of it exceeded my expectations. It is a modern classic and I believe it will be classed as the magic book of the decade.