Max Malini in Japan and Hawaii
May 28, 2019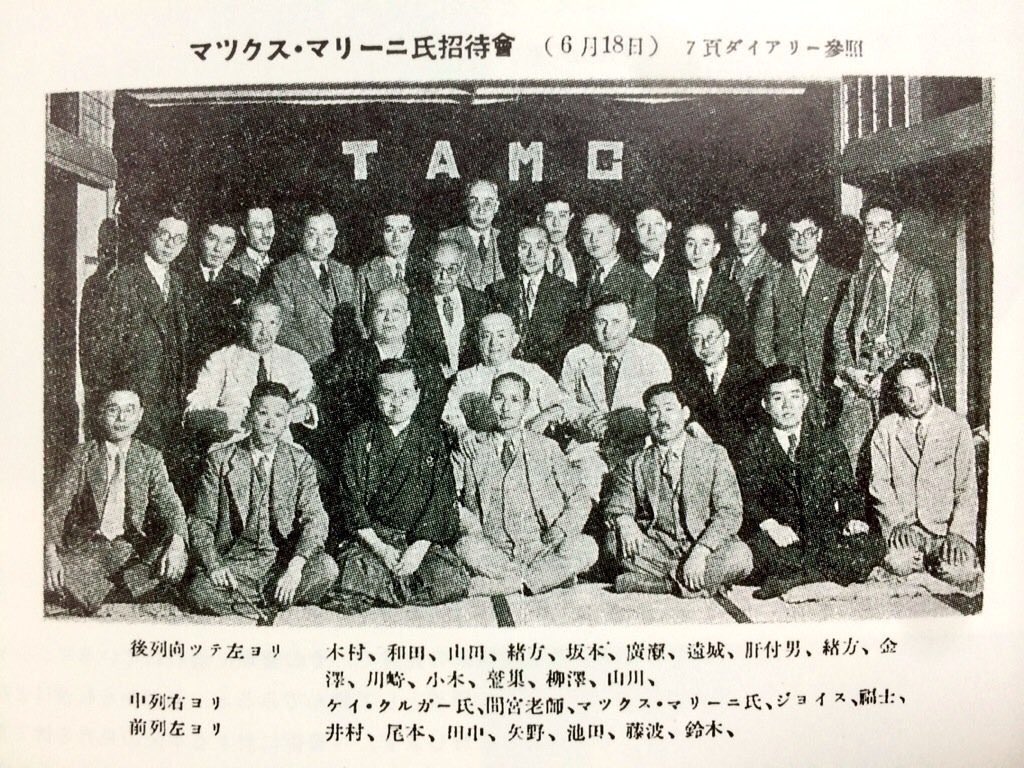 Sometimes I stumble across new findings about my hero, Max Malini. While I knew Malini had visited Japan on five occasions, I had never seen any photographic evidence of his performances there. That changed earlier this week when a Japanese magician named Yohei Morishita posted the above group photo on Twitter. He located the photo in a 1933 newsletter published by the TAMC (Tokyo Amateur Magician's Club).
At the center of the photo, we can clearly see Max Malini posing with his many Japanese fans. According to Max Maven, the late Shigeo Takagi saw Malini perform in Tokyo when he was a boy. Perhaps at this very event! In 1989 I performed and lectured for the TAMC during my first visit to Japan, at the invitation of Shigeo Takagi. There must be some sort of circular coincidence at play here…
The following photo depicts Max Malini and his first wife Lizzy in 1913, two years after their marriage, posing in front of a teahouse in Yokohama. (Photo originally published in Learned Pigs and Fireproof Women, by Ricky Jay, page 89)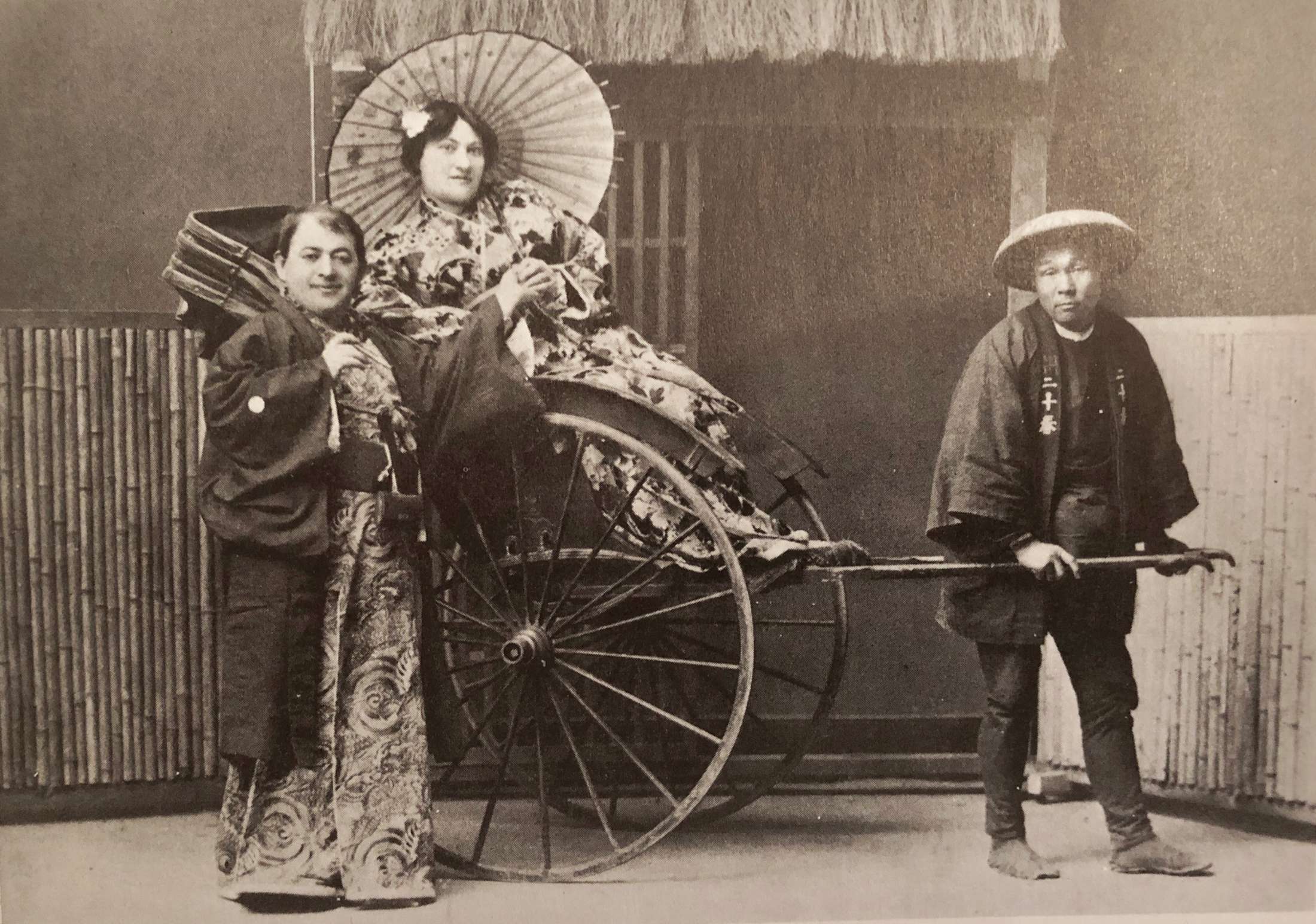 The same Twitter account – @jugemu3 – also posted several Japanese language advertisements and articles about Max Malini's appearances in Hawaii and San Francisco. I've taken some time to translate these Japanese clippings into English.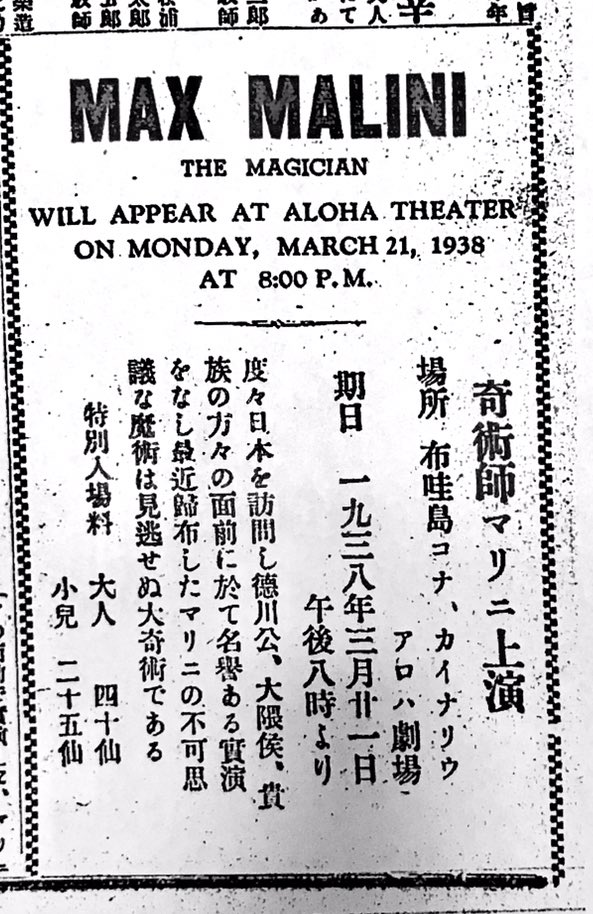 MAX MALINI The Magician
Will appear at Aloha Theater on Monday, March 21, 1938
at 8:00P.M.
Location: Aloha Theater, Kainaliu, Kona, Hawaii Island
Date: March 21, 1938 at 8:00 P.M.
During his numerous visits to Japan, Mr. Malini has had the honor of entertaining Prince Tokugawa, Marquess Okuma, and various members of Japanese nobility. He has recently arrived in Hawaii to present his mysteries. Do not miss this incredible wizardry.
Special Ticket Prices:
Adults: 40 cents
Children: 25 cents
Here is a current photo of the very same Aloha Theater: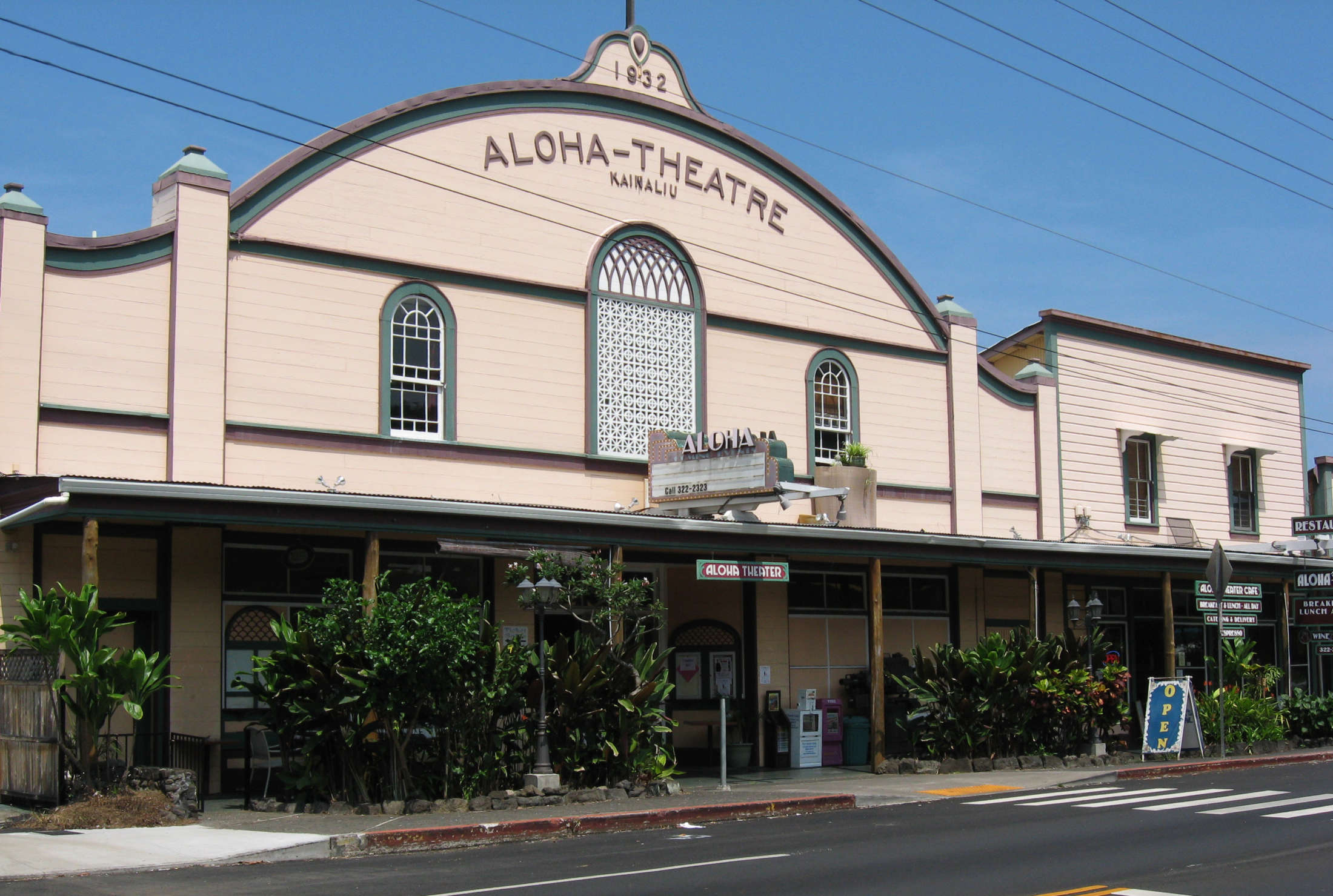 And an interior view. Note how close the front row of seats is located to the stage. Malini's act would be right at home in this 298-seat theater.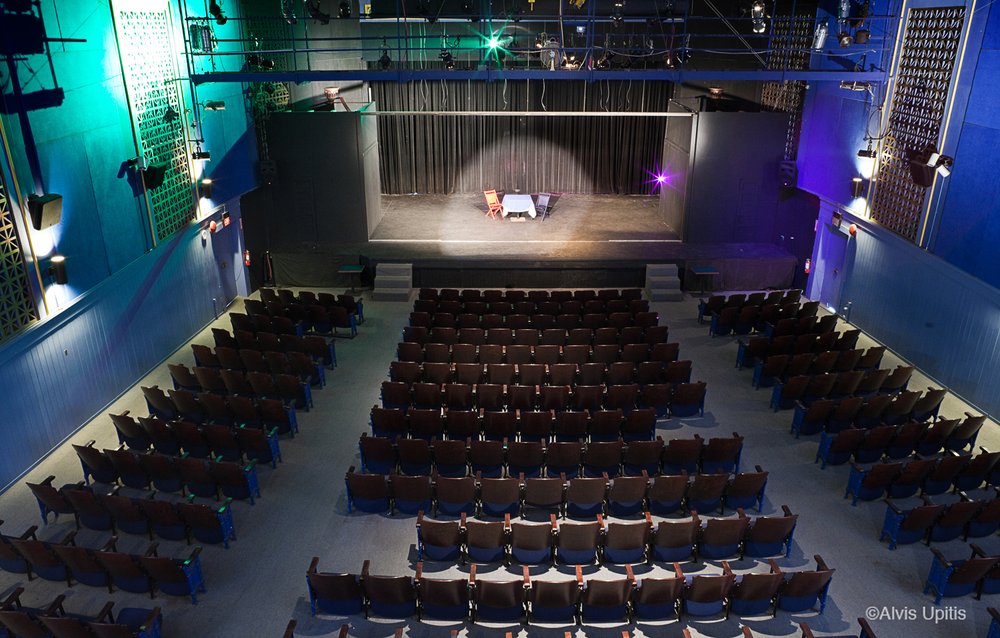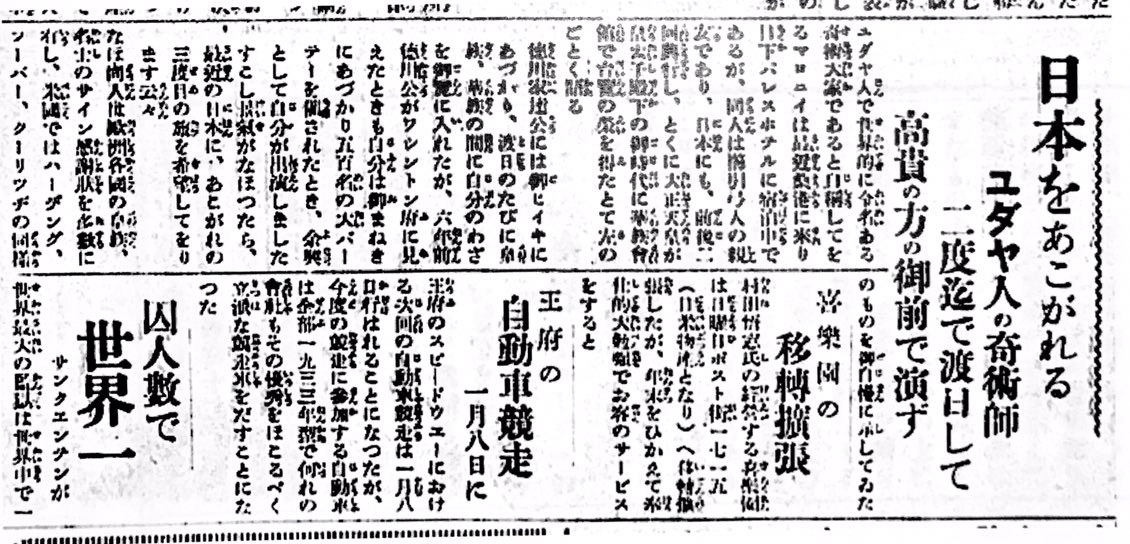 The Jewish Magician who Admires Japan
Has entertained nobility during two prior visits to Japan
Jewish magician Max Malini, the self-proclaimed magic authority who has performed around the globe, recently arrived in San Francisco and is currently residing at the Palace Hotel. Mr. Malini is a close friend of Mr. Kushibiki, and has previously visited Japan on two occasions. He has had the honor of performing at the Rokumeikan mansion for Prince Taisho, prior to being crowned Emperor. In an interview, Malini provided some more details of his career, provided below.
"I am honored that Prince Tokugawa Ietatsu adores my show, and each time I visit Japan he invites me to perform for the Imperial family and members of the noble class. When Prince Tokugawa saw me perform in Washington, DC, he invited me to entertain at a grand party with five hundred guests. When the economy improves, I look forward to returning to Japan for a third visit."
Mr. Malini has received numerous hand-signed recommendation letters from notable figures including European heads of state, and United States Presidents Warren Harding, Herbert Hoover, and Calvin Coolidge.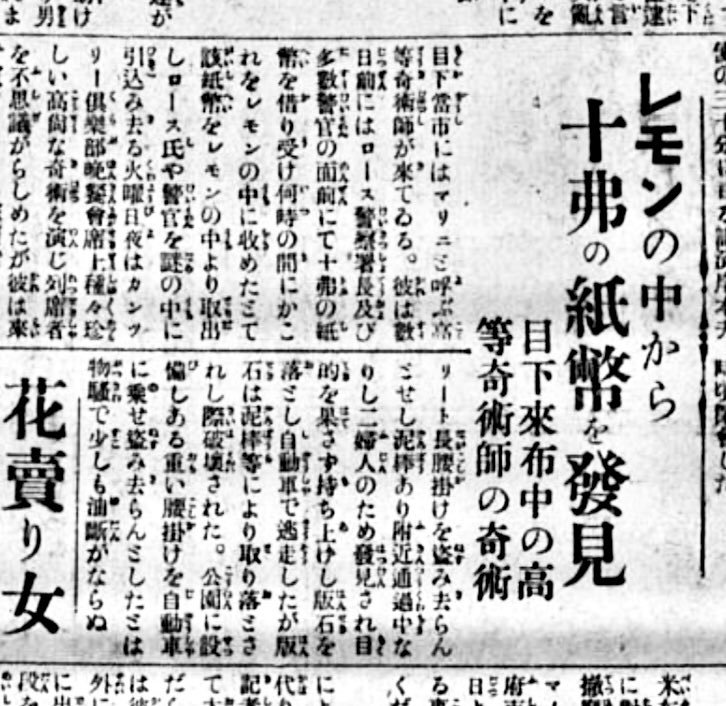 A $10 Bill Discovered Inside a Lemon
Magic Trickery Performed by High Class Magician Currently Visiting Hawaii
A high class magician named Malini is currently visiting our city. Several days ago he appeared before Police Chief Ross and several police officers, borrowing a ten dollar bill and instantly transporting it to the inside of a lemon. Upon removing the borrowed bill from the lemon, he left the attending officers completely puzzled. This past Tuesday night at the Country Club, he further surprised audience members with a variety of baffling magic tricks.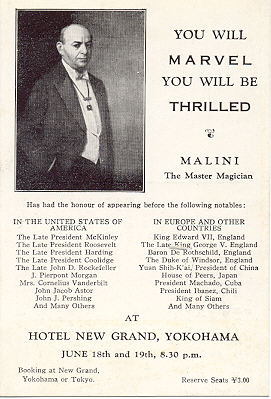 Finally here is a promotional postcard that announces Malini's public performances at the Hotel New Grand in Yokohama, Japan.
I am one of the few people who fall into the Venn diagram of "magicians who read Japanese" and "historians focusing on Max Malini." I hope that my efforts in translating these articles today serve some researchers in the future. Also, a big thank you to Yukishige Kadoya for assisting with some of the older Japanese terms that are not commonly used in modern Japanese writing.