Max Malini Memorabilia Collection
November 29, 2018

In his landmark book, Learned Pigs and Fireproof Women, Ricky Jay devoted a chapter to my favorite magician Max Malini. When I heard the news that Ricky had died (or as he might have put it "joined the silent majority"), I recalled that my initial exposure to Malini and his escapades were contained in that book. If not for Ricky Jay's initial spark, my career might have veered in a different direction.
Over the years I have collected some rare and unusual pieces of Max Malini memorabilia. In much the same way that Ricky Jay inspired me, I hope that my findings can introduce more people to this curious man. Enjoy a sample of my Max Malini collection.
First, an eight-page booklet (circa 1926) advertising Malini's services as a magician. In this booklet, he includes four laudatory letters from prominent figures, including President Harding, General Pershing and Vice President Charles Dawes. Three of the letters are addressed to Malini care of the Waldorf Astoria New York. The fourth letter was addressed to him at the New Willard hotel in Washington DC. These addresses hold a special place in my heart. My show Chamber Magic ran at the Waldorf Astoria for over sixteen years, and the venue for my Washington DC shows was also the Willard! When I saw this advertising booklet, the references to these two exact hotels compelled me to own it. I felt as if I were chasing his shadow.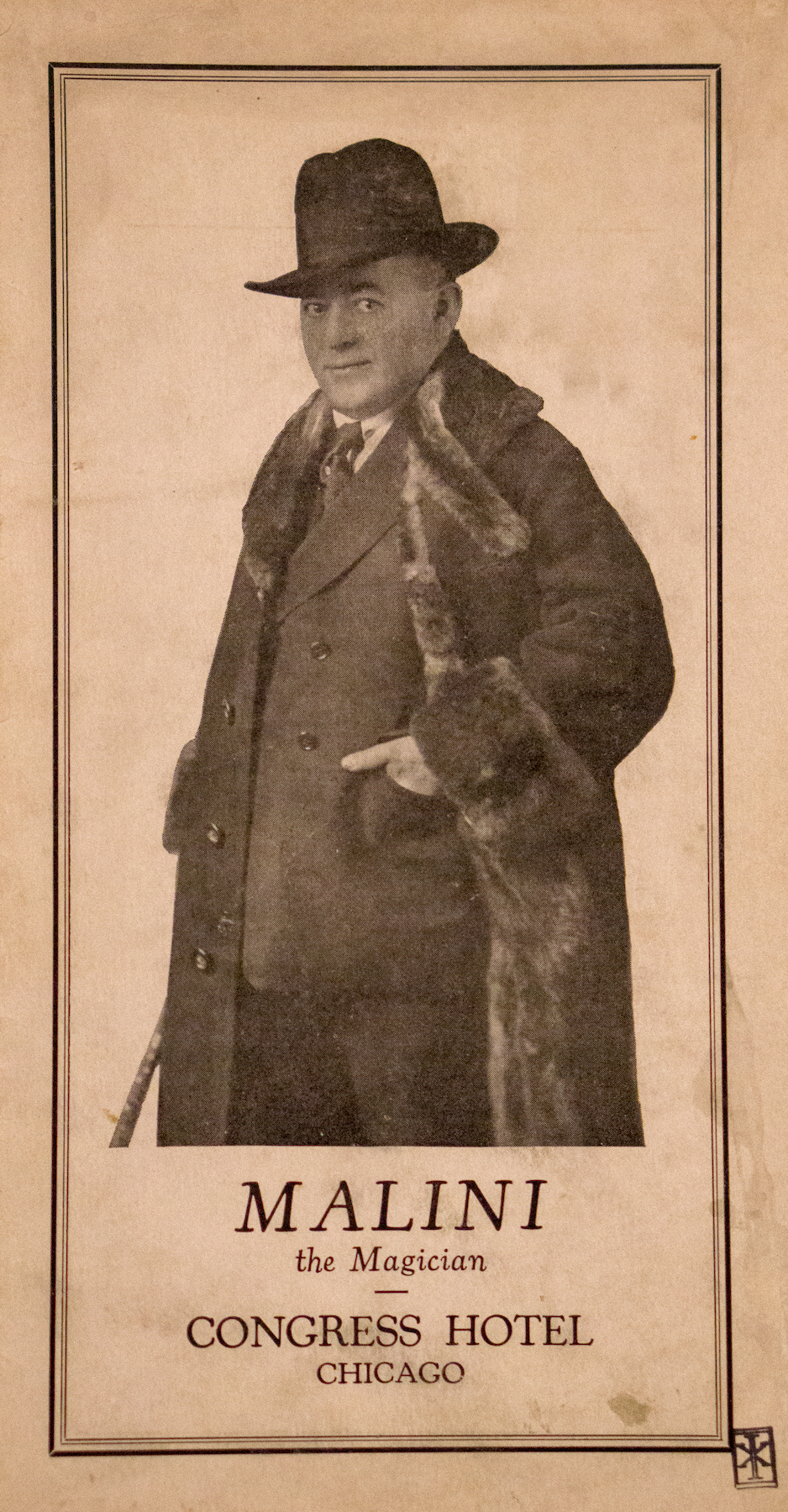 Interior pages: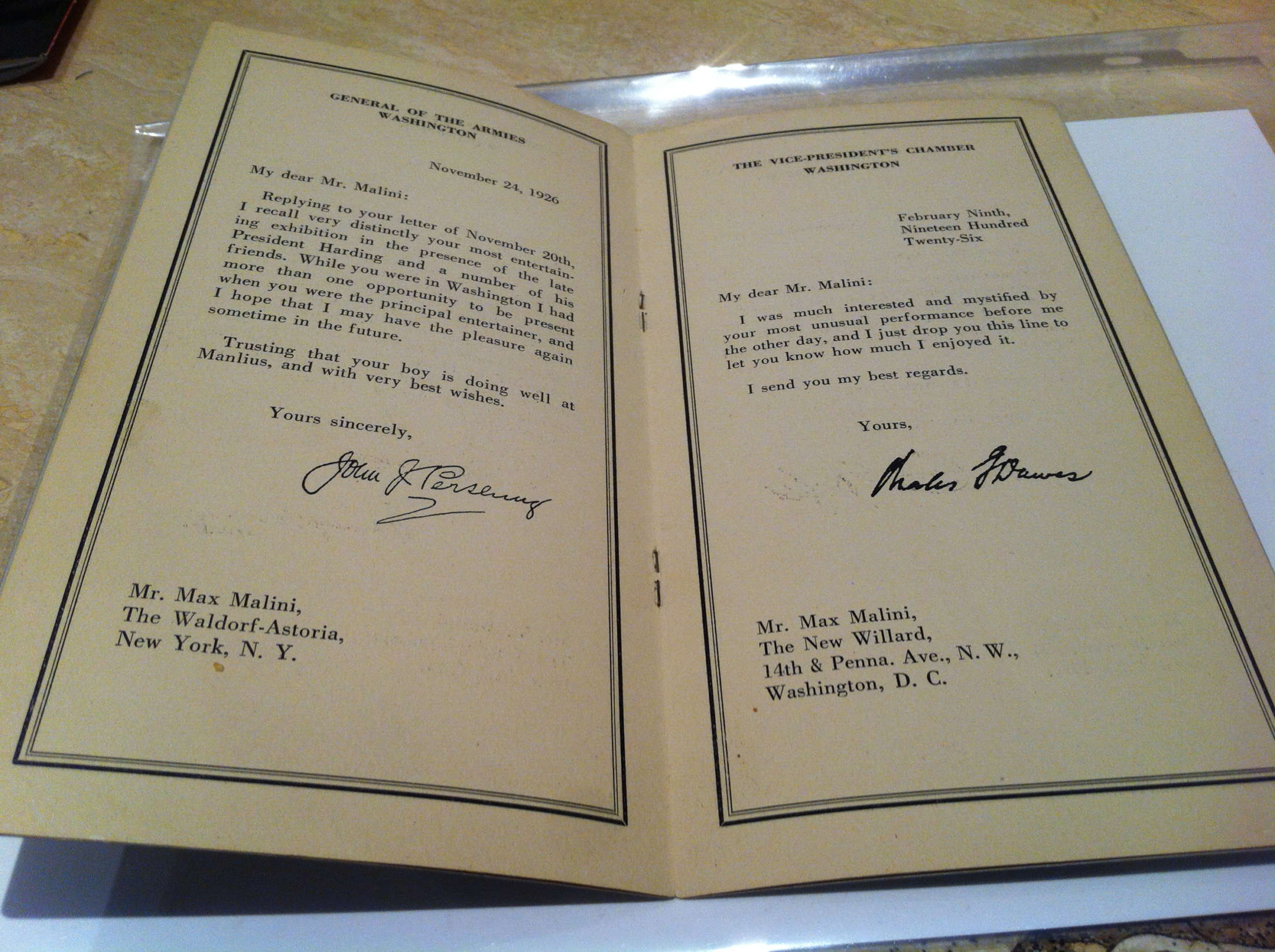 Enrico Caruso drew the following illustration of Malini, and it has emblazoned various iterations of Malini's advertising cards. I now have two of these cards in my collection, one listing his performance dates at the Ritz-Carlton Atlantic City. The other one has the dates and hotel cut out by scissor. I have seen a third one of these advertising cards in Ken Klosterman's collection, and his lists the Waldorf Astoria New York as the show venue. I like to think that my card used to say the Waldorf too, before it was snipped up.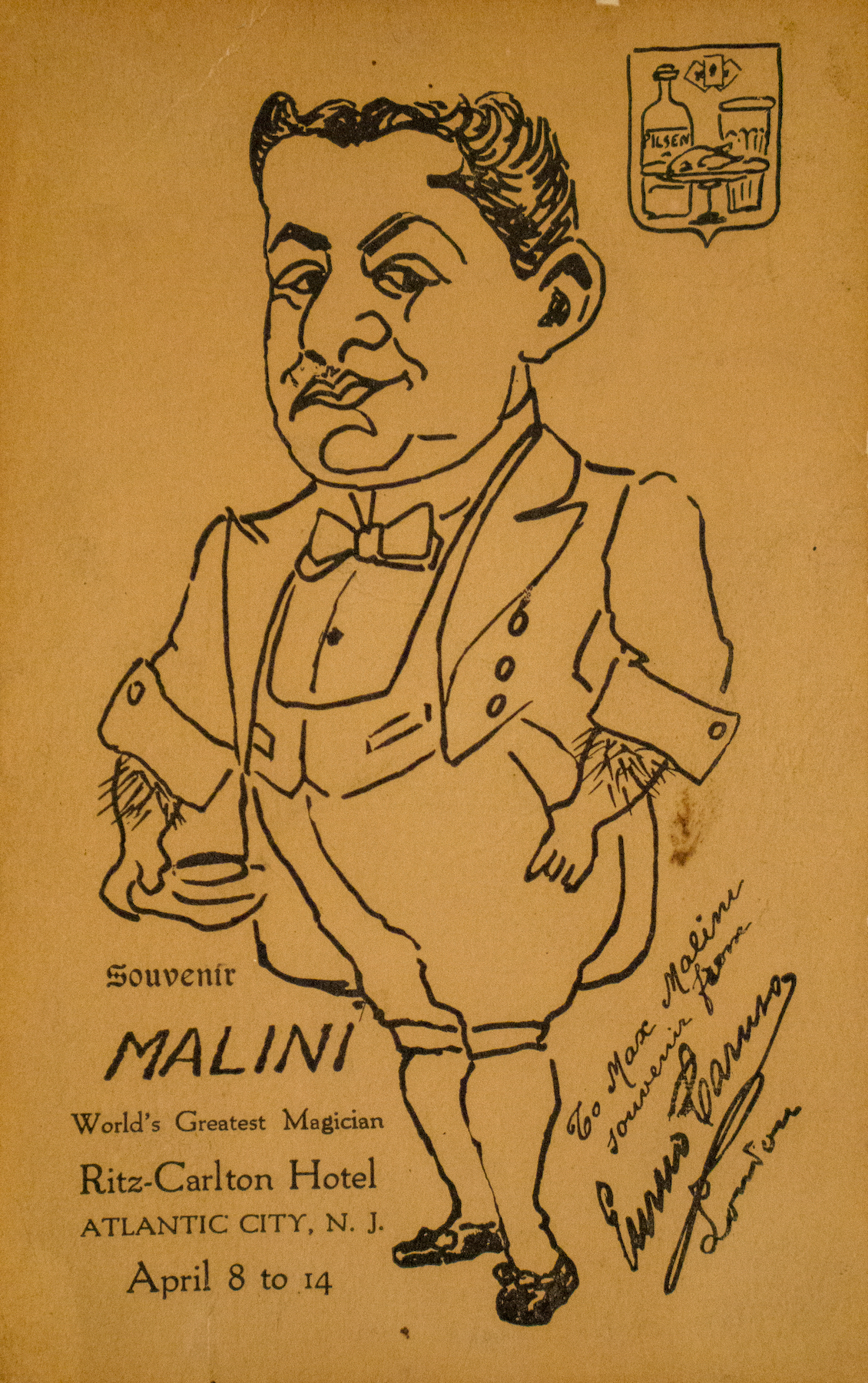 The following portrait of Malini is hand-signed by him. I have been told that this portrait used to hang on the wall at his son Oziar's house. I had it reframed with a stylized gold frame that captures the opulence of Malini as he wears the bejeweled pendant presented to him by the King of Siam.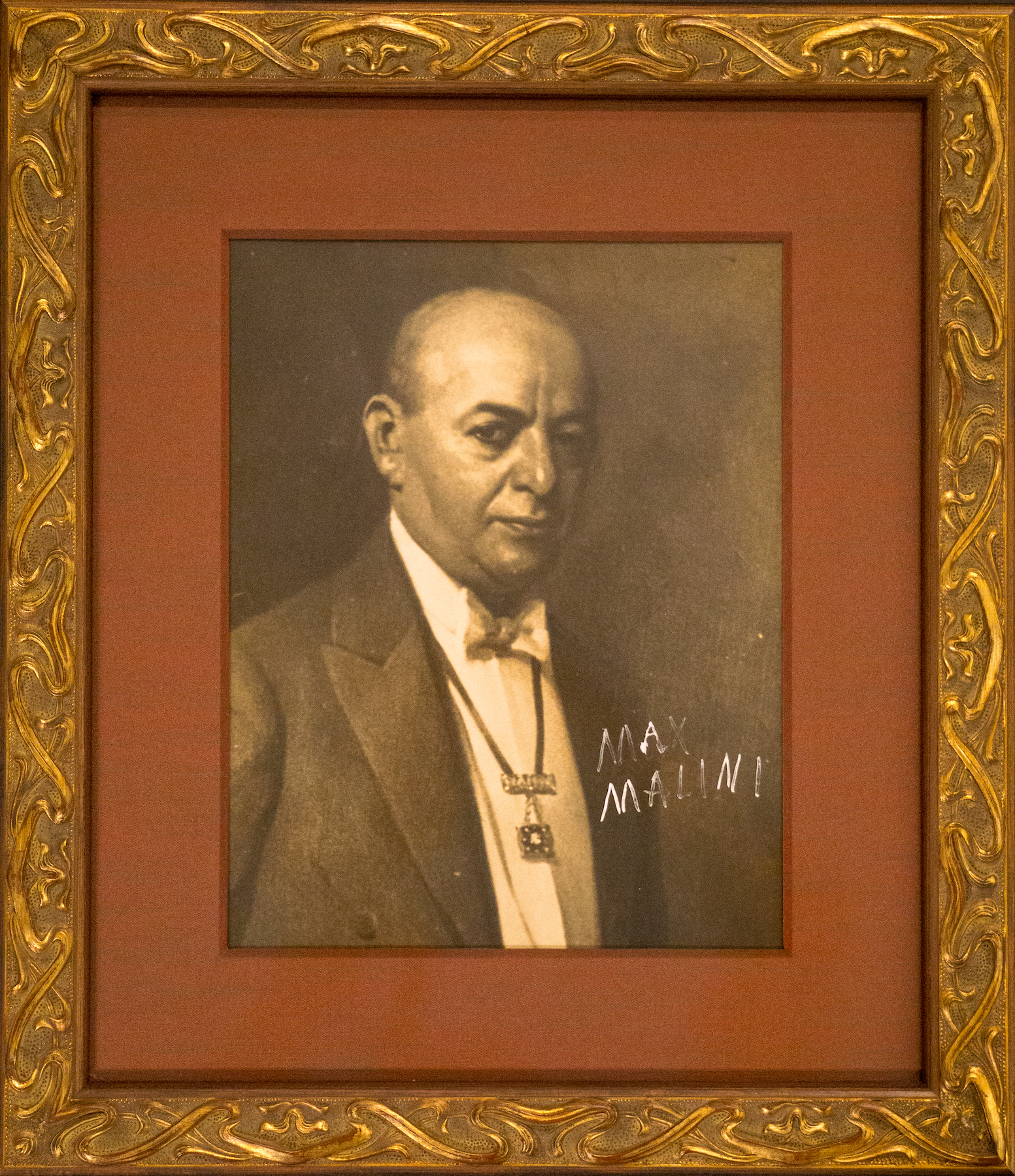 The following hand-drawn illustration of Malini is one-of-a-kind. To my knowledge, it was never reproduced or used to advertise Malini's shows. The artist signs his name as Ludo. It is unclear whether Malini commissioned this illustration, or (more likely) if he so delighted Ludo with his sleight of hand that the artist reciprocated by drawing this caricature gratis.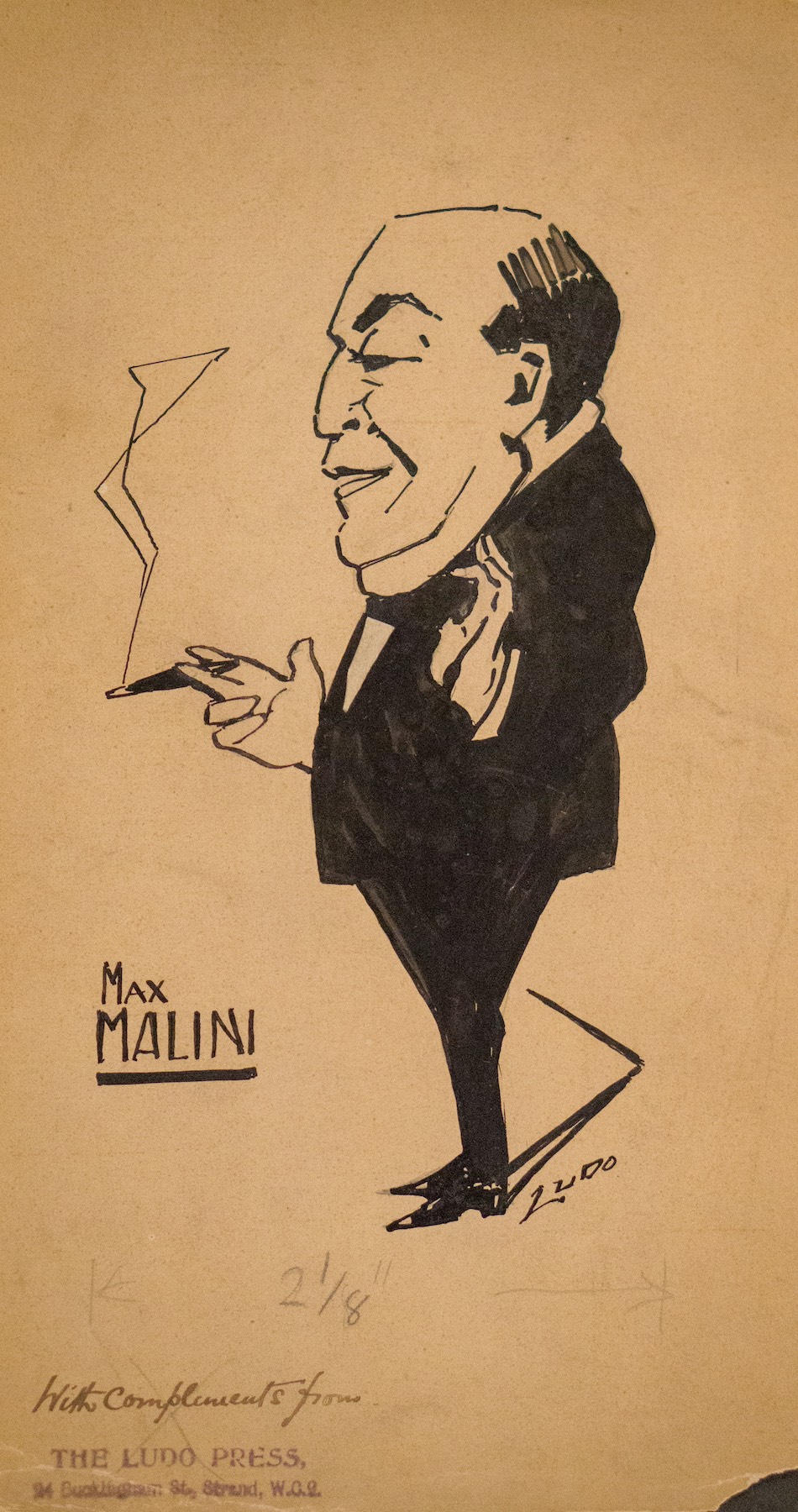 Here is another one-of-a-kind Malini artifact. This illuminated address was hand-presented by The Magicians' Club to Max Malini on October 18, 1922 when he was leaving England. All of the officers signed the certificate, and it is rare to see the autographs of so many notable magicians from that era in one place. Signatures include: Will Goldston, Horace Goldin, and Chung Ling Soo.
I enjoy collecting items that Malini actually held. By the very nature of this certificate, it most certainly was handed directly to Malini, perhaps at the culmination of a banquet with club members at the Hotel Cecil, a common gathering place for this group. Malini held it in his own hands, and likely packed it in a suitcase to bring home to the United States.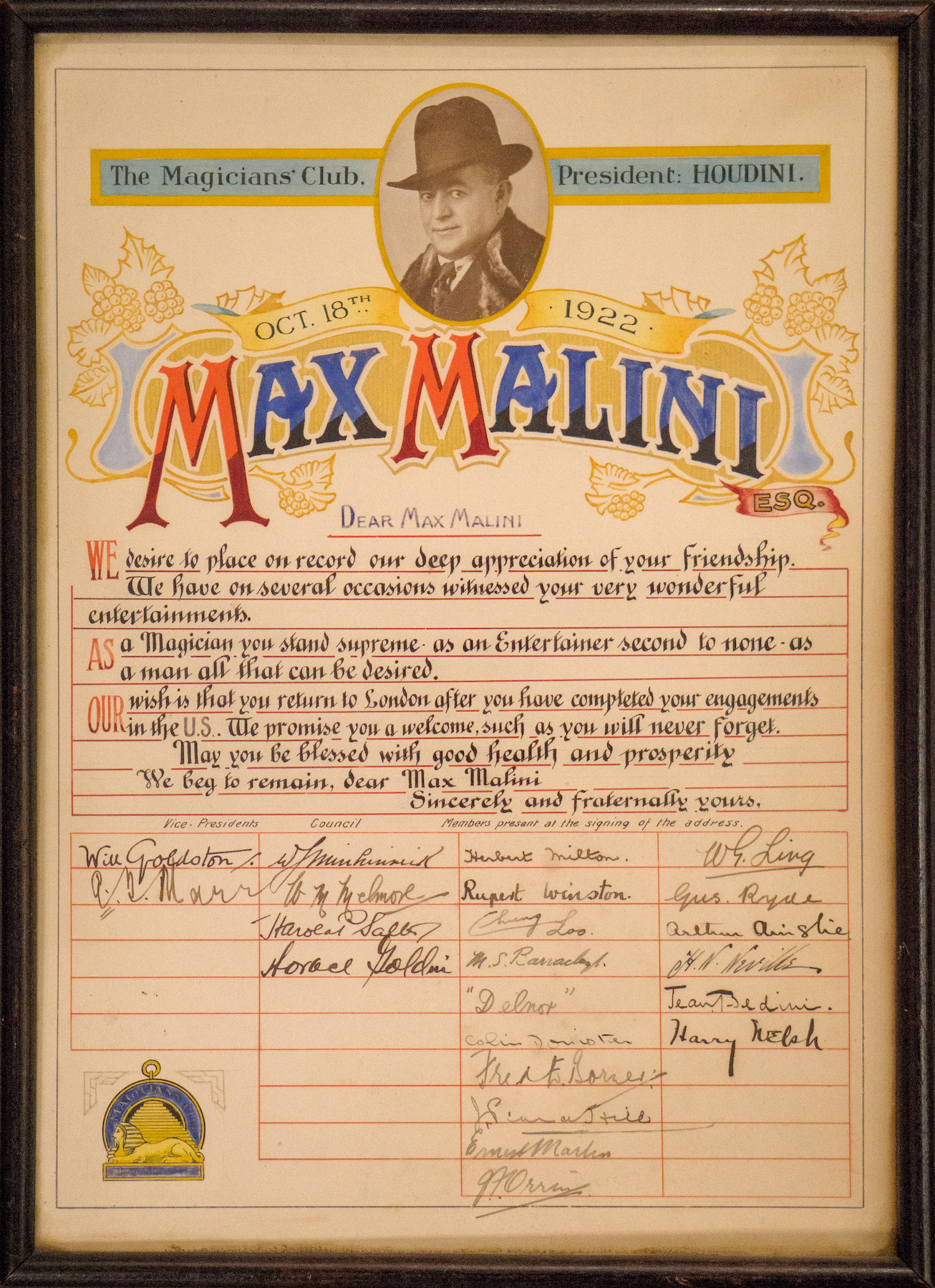 This bridge-sized playing card was given to me as a gift from a noted magic collector. It had been affixed in a private scrapbook for seventy-five years before I became its caretaker. With the knowledge that Malini actually used this card in a trick, I carry it as a good-luck charm in my wallet at every show.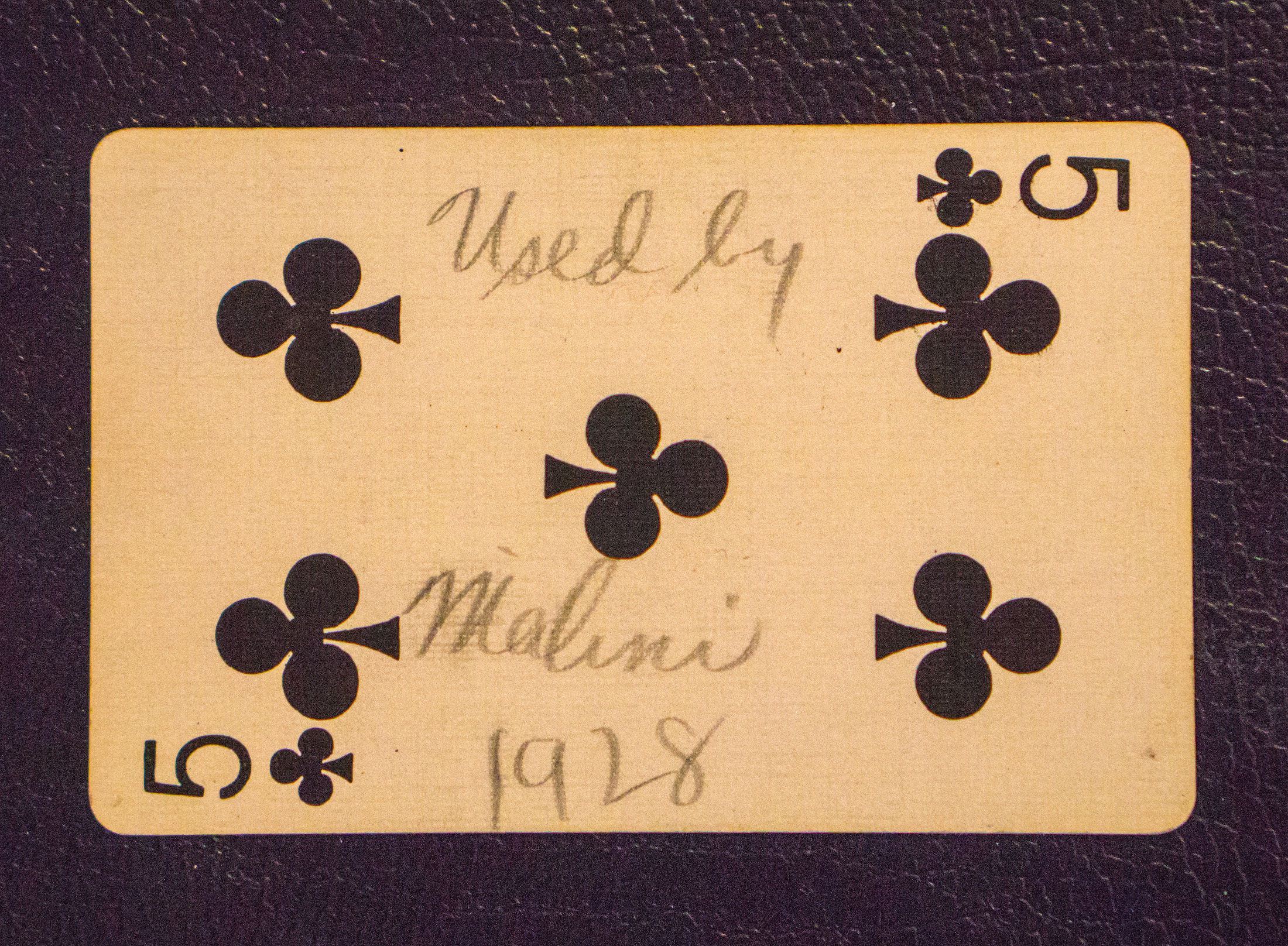 I have seen numerous examples of this show ticket in the collection of other magicians. In fact, I wonder if the number 200 indicated on my ticket means that there were 200 people (or more) in attendance that night in Oakland? Who knows how many of these tickets might still be floating around. Regardless, the Hotel Leamington was completed six years prior in 1926, and was considered an architectural masterpiece. Opulent social gatherings for wealthy residents of Oakland were held at the Leamington, so it was naturally a good fit for Malini's show.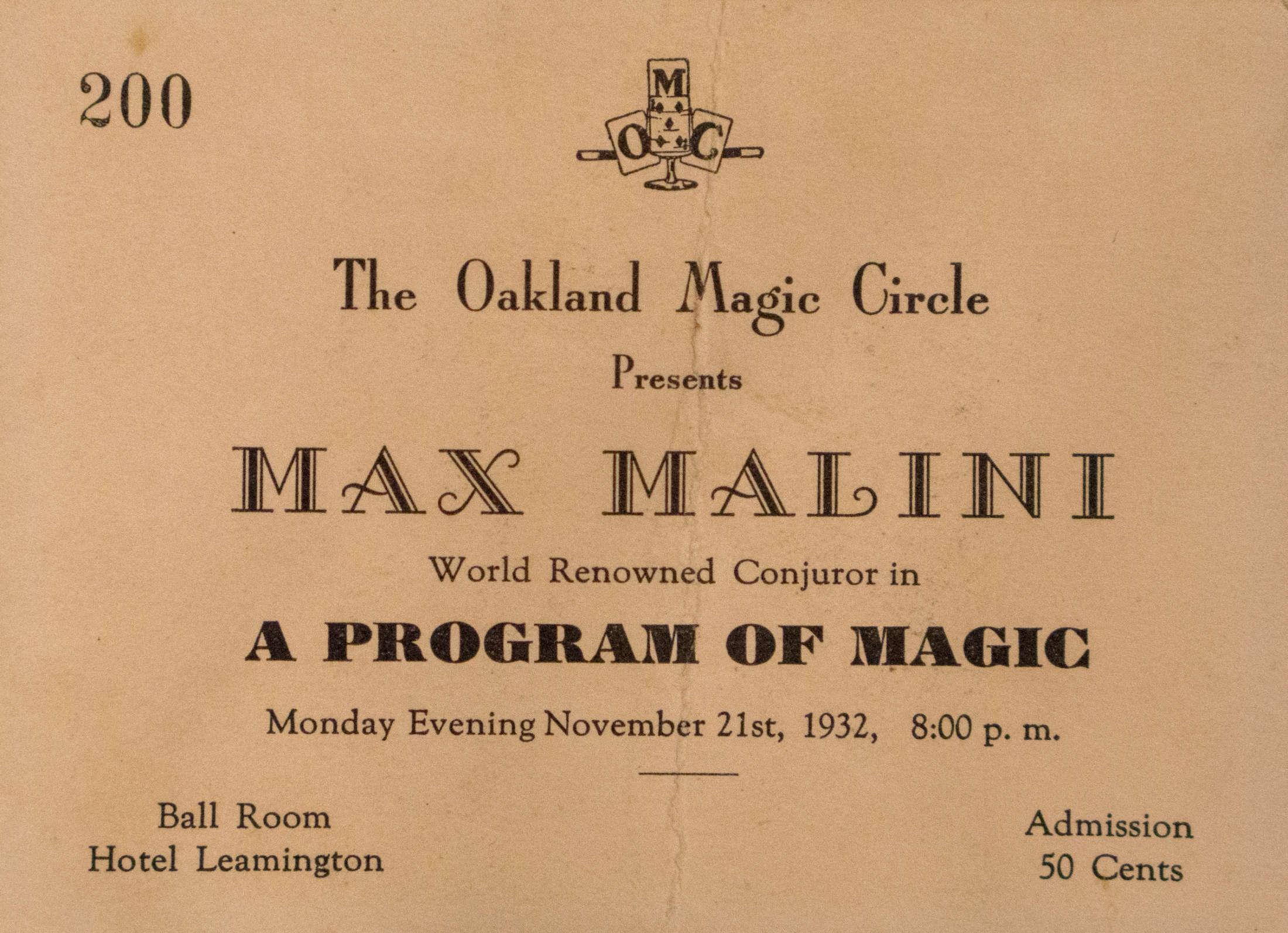 This signed portrait of Malini and his son Oziar was shot by the celebrity photographer George Moffett, and is inscribed by Malini to (I believe) his magician friend, Nate Leipzig. Malini's spelling was known to be horrible.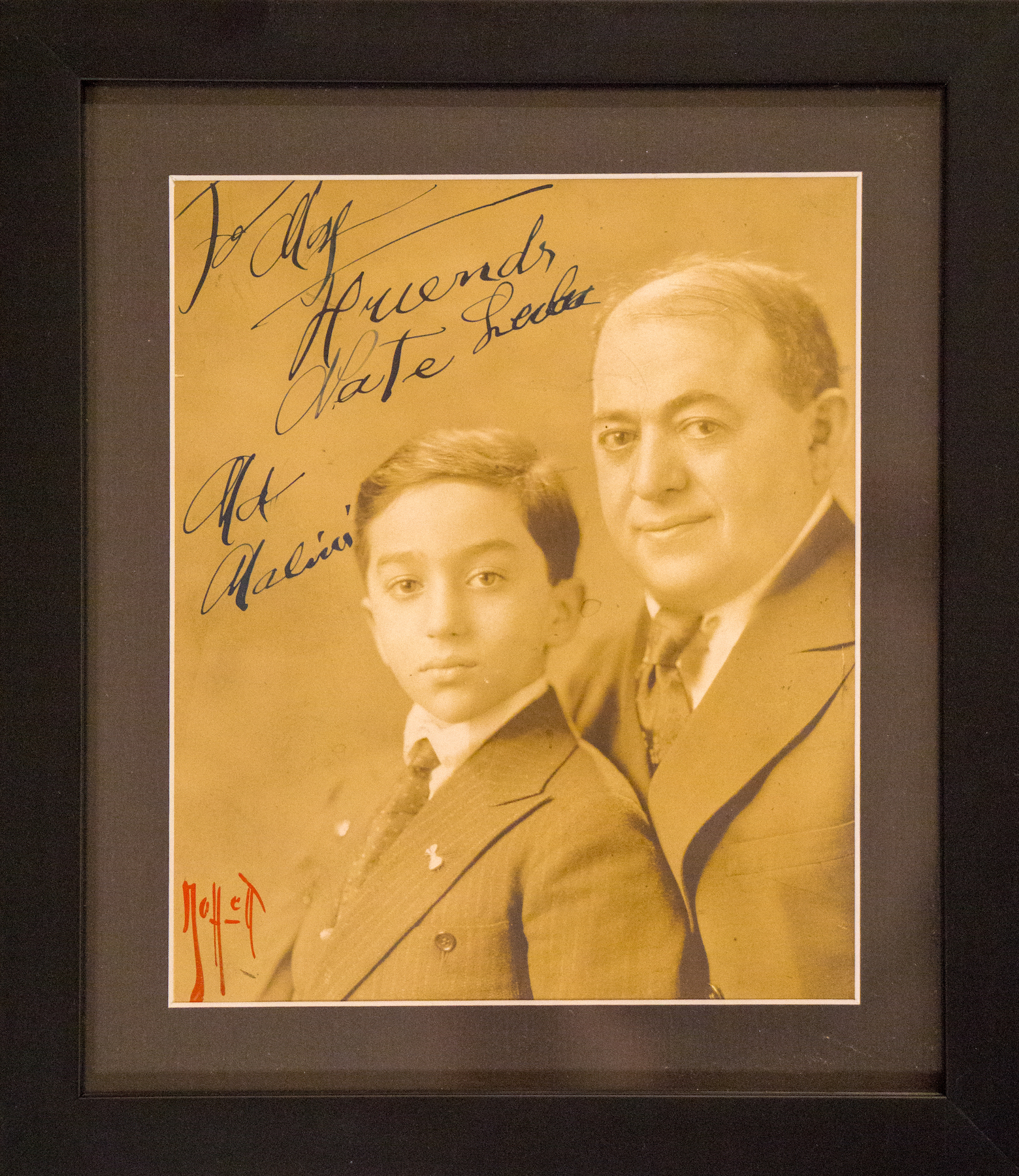 The newest addition to my Malini collection is this 1936 advertising postcard, promoting his show in Honolulu, Hawaii. At this point in his career, he was managed by Charles Margelis, the noted manager of famous Russian dancer Ivan Bankoff. Both Malini and Margelis had many personal friends in Hawaii.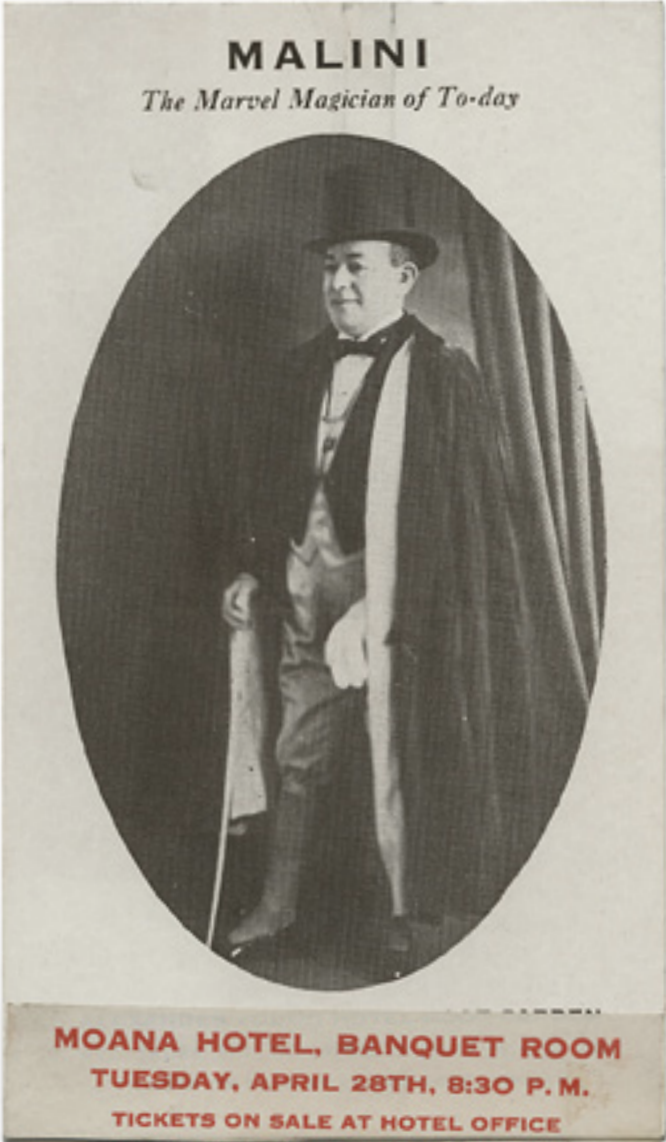 Finally, here is another advertising booklet containing most of the same endorsement letters found in the Congress Hotel booklet. The difference here is that the cover has been signed in fountain pen by Malini. Once again, we know that Malini actually held this booklet, so that relationship increases its value to me personally. My hero held this, and so did I.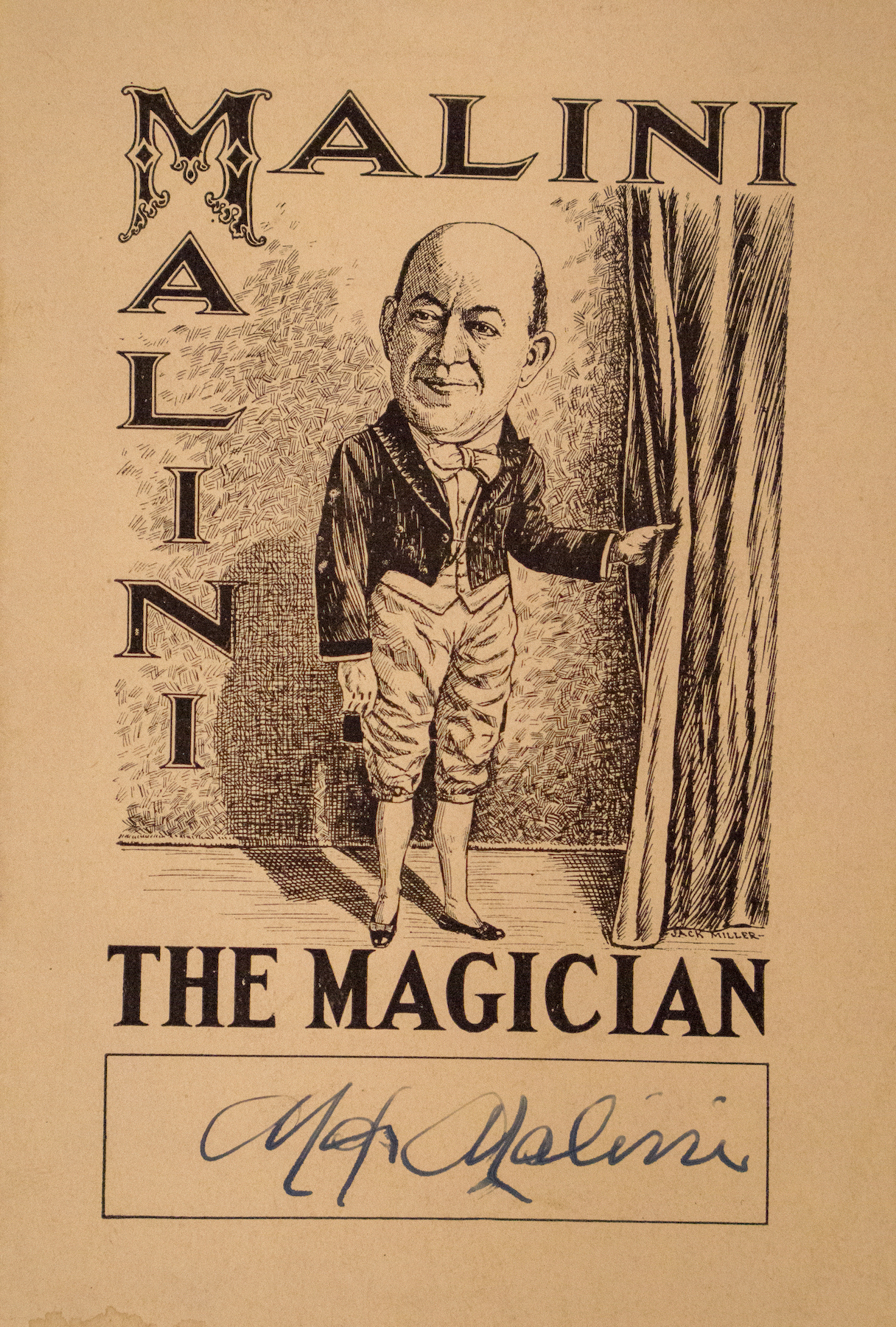 I recently visited Malini's grave at the Waldheim Jewish Cemetery outside of Chicago. It's an unmarked plot, so I placed a brick and hat to show respect. Malini was known for his brick and hat trick, often substituting in a large block of ice.
His wife Lizzie Katz is buried next to him. It's a mystery why Malini's grave is unmarked… most likely due to strict Jewish law prohibiting the burial of cremated ashes.
Much of my career was inspired by Max Malini. He performed at the Waldorf Astoria New York, and I followed in his footsteps. This visit to his grave was moving and deeply memorable.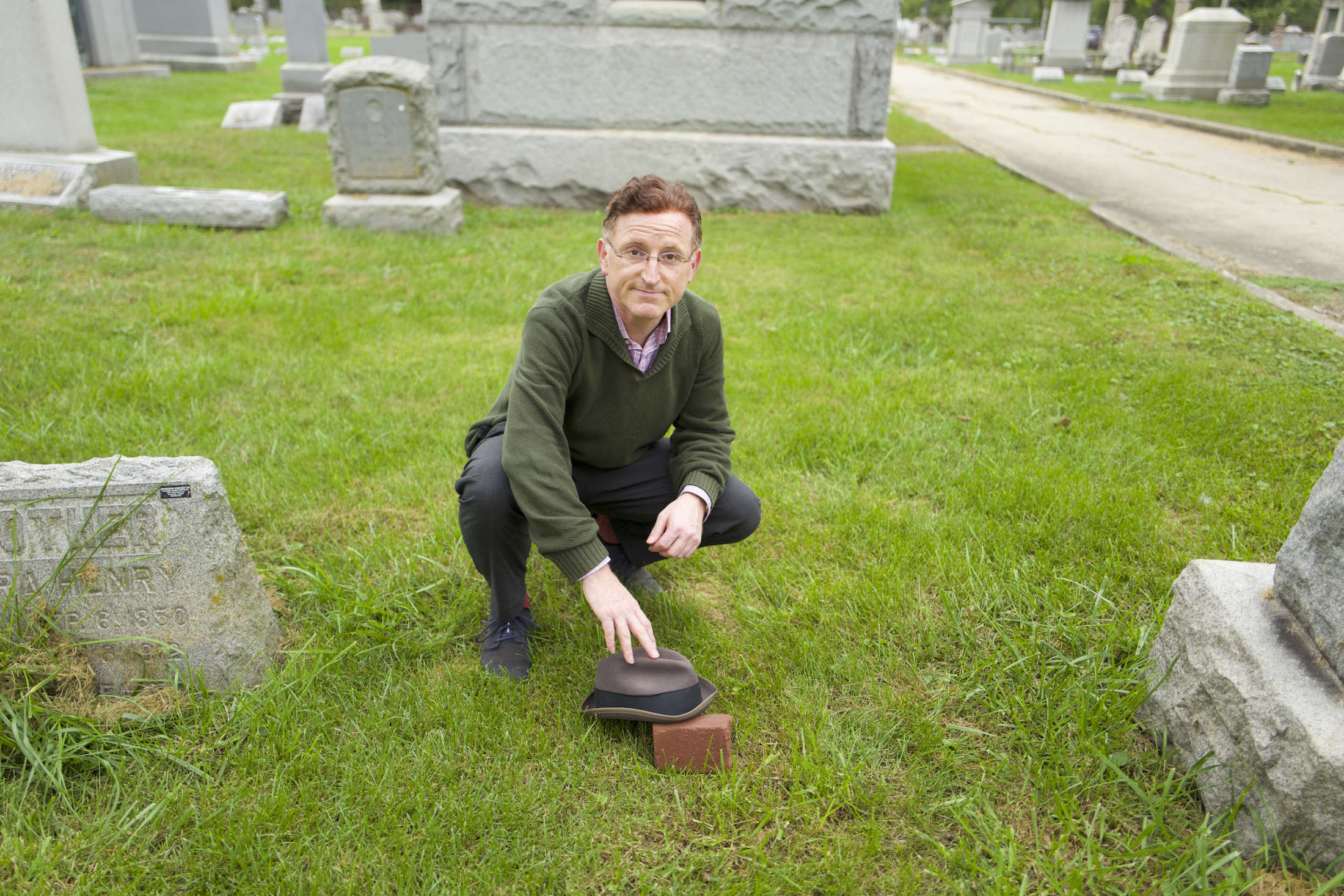 As Ricky Jay regaled readers with fascinating stories of Malini's adventures, I would like to wrap up this post by including links to some of the research I've done.
Magic Mentor Monday – an overview of Malini's role as a mentor
Max Malini and Two-Gun Cohen – pay attention to the story about Koh-i-noor pencils
A Visit to Max Malini's House in Honolulu – a photo essay of my visit to Malini's final home, thanks to Curtis Kam
Max Malini San Francisco Newspaper Article – gives a glimpse as to how Malini marketed himself. He would roll into town, perform for dignitaries, and invite a newspaper reporter along.
I have more, but this should intrigue readers enough to want to do some research on your own. Enjoy the journey.
And R.I.P. Ricky Jay.