Magician to the Rich
October 10, 2005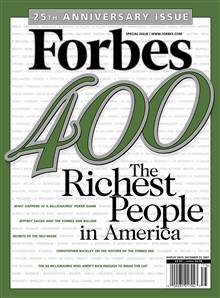 Steve Cohen knows lots of neat tricks, like how to get hired by people with deep pockets.
On a recent night at the Waldorf Towers Hotel in Manhattan Steve Cohen was casting a spell over the room. Primped up in a tux and horn-rim glasses, Cohen, 37, sidled up to a few people and asked if they'd lend him some one-dollar bills. After teasing the guys and flirting with the girls, he crumpled up the bills in his fists and, when he opened his hands, out came a few hundreds. He calls the trick "Instant ROI."
Cohen made $1 million last year turning tricks like this at the homes and corporate events of America's richest people. He's been flown in private jets all around the country, from Aspen to Cape Cod, playing at the homes of Forbes 400 members Martha Stewart (where he made three spools of thread pop out of a loaf of bread), New York City Mayor Michael Bloomberg and Reebok founder Paul Fireman (where he miraculously pulled some freshly torn-up $20 bills–intact–from the toe of a sneaker). His fee: $10,000 to $25,000.
Cohen was raised in the posh Westchester County town of Chappaqua, N.Y., where he was taught the secret arts by his great-uncle, who was inspired by none other than Harry Houdini. When he was 10, Cohen performed his first paying gig, working a kid's birthday party. After he studied psychology at Cornell, "there were some lean years, just like every entertainer getting their start."
In 2001 Cohen persuaded the Waldorf to give him a suite to perform in every Friday night. The shows created word of mouth among the well-off who frequent the grandiose hotel, and Cohen's career began to flourish. People still pay $75-$100 each to see him perform weekly at the Waldorf. "Event planners come and immediately book me for their corporate entertainment," he says. He spends one week per month on the road.
Cohen is putting together a new show that highlights some of the custom tricks he has performed privately for the ultrarich and powerful. The only catch: "Don't ask me how I do it." We wouldn't think of it.