NYC Mayor Officially Proclaims Oct 6 As "Chamber Magic Day"
October 6, 2017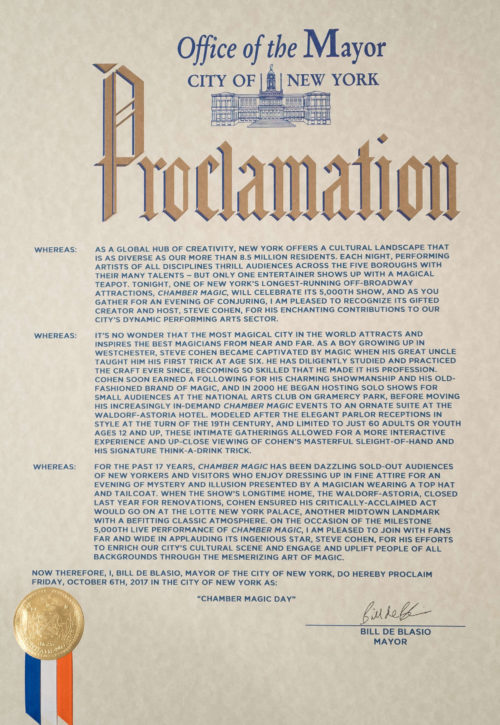 Tonight marks my 5000th performance of Chamber Magic, and I'm not the only one thrilled to celebrate. The NYC Mayor's Office issued a proclamation that today, October 6, 2017, is officially "CHAMBER MAGIC DAY" in the City of New York. Thanks Mayor Bill de Blasio!
Here is the text of the mayoral proclamation:
OFFICE OF THE MAYOR
CITY OF NEW YORK
PROCLAMATION
Whereas:
As a global hub of creativity, New York offers a cultural landscape that is as diverse as our more than 8.5 million residents. Each night, performing artists of all disciplines thrill audiences across the five boroughs with their many talents — but only one entertainer shows up with a magical teapot. Tonight, one of New York's longest-running off-Broadway attractions, Chamber Magic, will celebrate its 5,000th show, and as you gather for an evening of conjuring, I am pleased to recognize its gifted creator and host, Steve Cohen, for his enchanting contributions to our city's dynamic performing arts sector.
Whereas:
It's no wonder that the most magical city in the world attracts and inspires the best magicians from near and far. As a boy growing up in Westchester, Steve Cohen became captivated by magic when his great uncle taught him his first trick at age six. He has diligently studied and practiced the craft ever since, becoming so skilled that he made it his profession. Cohen soon earned a following for his charming showmanship and his old-fashioned brand of magic, and in 2000 he began hosting solo shows for small audiences at the National Arts Club on Gramercy Park, before moving his increasingly in-demand Chamber Magic events to an ornate suite at the Waldorf-Astoria hotel. Modeled after the elegant parlor receptions in style at the turn of the 19th century, and limited to just 60 adults or youth ages 12 and up, these intimate gatherings allowed for a more interactive experience and up-close viewing of Cohen's masterful sleight-of-hand and his signature Think-a-Drink trick.
Whereas:
For the past 17 years, Chamber Magic has been dazzling sold-out audiences of New Yorkers and visitors who enjoy dressing up in fine attire for an evening of mystery and illusion presented by a magician wearing a top hat and tailcoat. When the show's longtime home, the Waldorf-Astoria, closed last year for renovations, Cohen ensured his critically-acclaimed act would go on at the Lotte New York Palace, another midtown landmark with a befitting classic atmosphere. On the occasion of the milestone 5,000th live performance of Chamber Magic, I am pleased to join with fans far and wide in applauding its ingenious star, Steve Cohen, for his efforts to enrich our city's cultural scene and engage and uplift people of all backgrounds through the mesmerizing art of magic.
Now therefore, I, Bill de Blasio, Mayor of the City of New York, do hereby proclaim Friday, October 6th, 2017 in the City of New York as:
"CHAMBER MAGIC DAY"
Signed,
Bill de Blasio
Mayor