20th Anniversary Show on March 20
February 26, 2020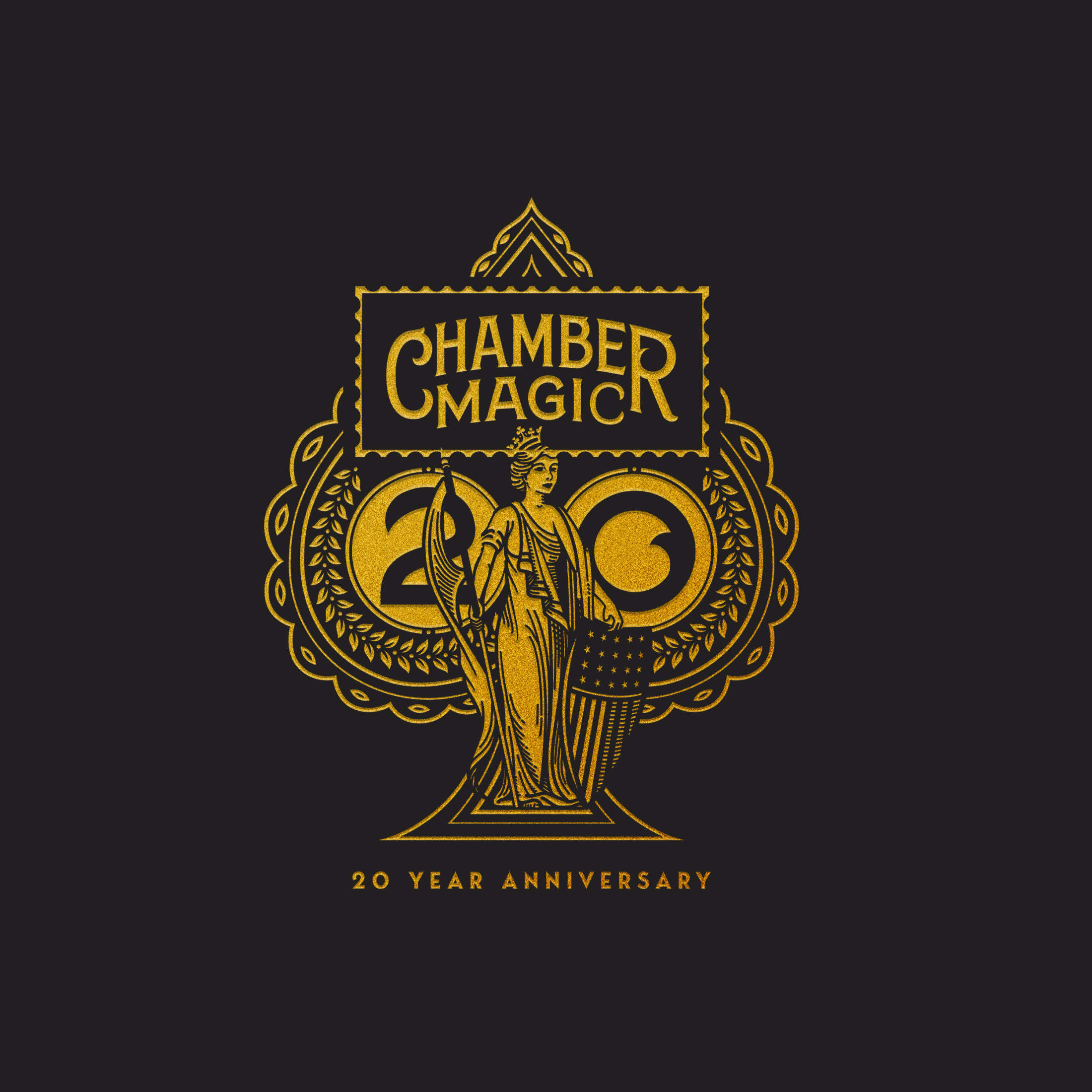 "Mind-bogglingly good. It may well be the city's best-kept insider entertainment secret. Chamber Magic is a must-see if visiting—or simply living in—the Big Apple." – Forbes
STEVE COHEN'S CHAMBER MAGIC
CELEBRATES ITS 20TH ANNIVERSARY ON
MARCH 20, 2020
Anniversary Celebrations Include:
A COLLABORATION WITH MADISON AVE STORE

Featuring a commemorative POCKET SQUARE designed by Cohen, and an in-store WINDOW DISPLAY at Madison Avenue and 45th Street
THE PUBLICATION OF CONFRONTING MAGIC
A new coffee table BOOK by Steve Cohen celebrating 20 years of Chamber Magic
With a Foreword by Academy Award winning director GUILLERMO DEL TORO
Published by

THE UNVEILING OF A NEW PORTRAIT BY ARTIST
DONATO GIANCOLA
To be presented to Cohen at the March 20th performance of Chamber Magic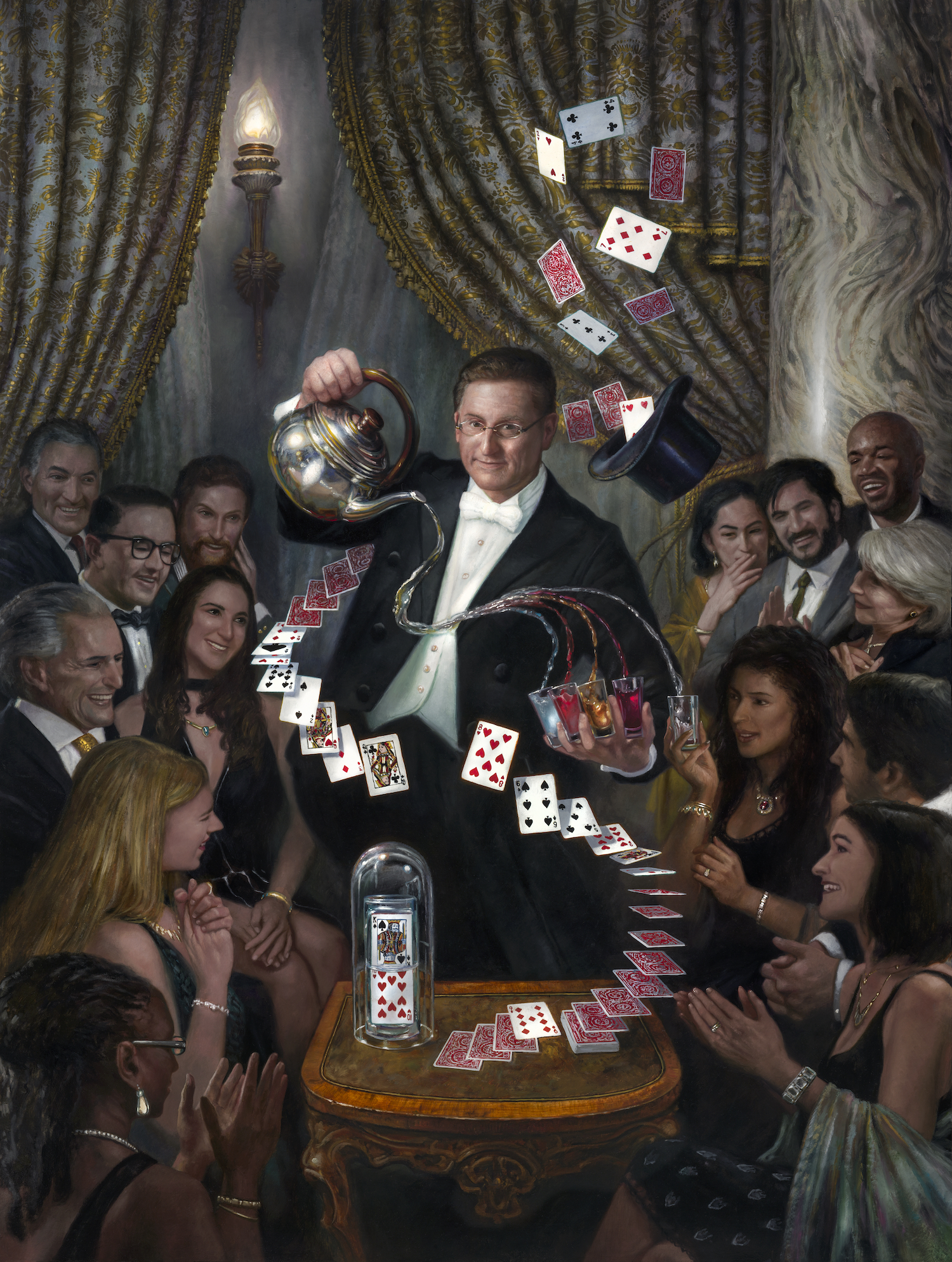 A NEW COCKTAIL CREATED BY
LOTTE NEW YORK PALACE
Inspired by Cohen's famous
THINK-A-DRINK
Available now at the Lotte New York Palace's TROUBLE'S TRUST

EVERY AUDIENCE MEMBER ATTENDING ON MARCH 20th AND MARCH 21st TO RECEIVE A SPECIAL EDITION DECK OF TYCOON PLAYING CARDS, A COMMEMORATIVE COIN, AND A CUSTOM PAUL STUART POCKET SQUARE HANDKERCHIEF
(February 29, 2020 – New York, NY) Steve Cohen is proud to announce the 20th anniversary of his show, Chamber Magic. Performed weekly in an elegant salon at the legendary Lotte New York Palace hotel, Chamber Magic features conjuring, mind-reading, sleight of hand, and an astonishing trick called Think-A-Drink. Cohen, the Millionaires' Magician, baffles his guests with magic up close as he recreates parlor entertainment that characterized Manhattan in the early 20th century.
Chamber Magic began performances in 2000 at a Greenwich Village apartment before moving to The National Arts Club. In 2001 Cohen took up residence at the Waldorf Astoria for sixteen years. In 2017, Cohen transferred the show to the Lotte New York Palace, where he performs five shows every weekend. Chamber Magic will play its 5,608th performance on March 20, 2020, the show's 20th anniversary.
"At every show, hands go up when I ask repeat visitors to identify themselves. Some have attended four or five times, with new generations of family members. Using magic and storytelling, I try to connect with audiences on a personal level so they feel that they know me."
To celebrate the 20th anniversary, every guest attending a performance on March 20 and 21 will receive a special anniversary deck of playing cards, a commemorative coin, and a custom Paul Stuart pocket square handkerchief that Cohen designed for the occasion.
Paul Stuart will also be designing a special window display to celebrate the 20th anniversary. The store on Madison Avenue and East 45th Street will feature the window for two weeks in March.
Cohen will also unveil a special portrait by the artist Donato Giancola at the 9pm show on March 20.
Cohen is also thrilled to announce the release of his latest book, Confronting Magic. This 200-page coffee table book contains personal stories, photographs, and commissioned artwork Steve has collected and assembled over the past twenty years, celebrating the magic the show has brought to New York. Published by Assouline, the foreword is written by Academy Award winning director Guillermo del Toro and is set to be released on October 1, 2020.
The Lotte New York Palace will celebrate Chamber Magic's anniversary with a special cocktail, named after Cohen's popular trick, Think-A-Drink. Served at one of the hotel's bars, Trouble's Trust, this cocktail features Nolet's Silver Dry Gin, Bulleit Bourbon, Earl Grey Tea, Crème de Violette, Lemon, Rosemary, Muddled Blackberry, and is served in a custom-made teapot.
At Chamber Magic, guests are invited into a salon at the Lotte New York Palace, dressed to impress in cocktail attire. The adults-only audience for each performance is limited to 60 people, guaranteeing each guest an intimate view of every mystifying maneuver.
Previous guests include Guillermo del Toro, David Copperfield, Seth Rogan, Hilary Duff, Sutton Foster, John Williams, William Goldman, Teller, Warren Buffett, Buzz Aldrin, Renée Zellweger, Frank Oz, Stephen Sondheim, Queen of Morocco, Gerard Butler, Jason Segal, Hank Azaria, Michael Chabon, Alex Lacamoire, John Leguizamo, Derren Brown, Derek DelGaudio, Peter Sagal, and more.
Tickets for Chamber Magic are available now at ChamberMagic.com. The performance schedule is as follows: Fridays at 7pm and 9pm; and Saturdays at 2pm, 7pm, and 9pm.
ABOUT STEVE COHEN
Steve Cohen has delighted and mystified audiences all over the world. His audiences, now totaling more than 500,000 guests, include a who's-who of celebrities, royalty, and other notables.
Cohen has been featured on The Late Show with David Letterman and in publications such as Variety, Forbes, and The New York Times. As a testimony to his success, October 6, 2017 was officially proclaimed "Chamber Magic Day" by the city's mayor, Bill de Blasio.
Cohen earned a psychology degree from Cornell University and studied at Waseda University in Tokyo. He holds the esteemed rank of Member of the Inner Magic Circle with Gold Star, awarded by The Magic Circle in London. His book, Win the Crowd, in which he explores the power of suggestion and how it can help people in their everyday lives, has been published in seven languages.
ABOUT LOTTE NEW YORK PALACE
Lotte New York Palace, New York City's largest luxury hotel on the corner of 50th & Madison, was acquired by Lotte Hotels & Resorts on August 28, 2015. Previously, the property, with the help of Jeffrey DeBeers and HOK's Amy Beckman, completed a $140 million redesign in the fall of 2013. The renovation transformed the property's premier rooms and suites in The Towers, a hotel-within-a-hotel. Additional upgrades included new lobbies, specialty suites and restaurants and bars including Trouble's Trust, The Lobby Lounge, Rarities and Pomme Palais. In addition to 30,000 square feet of updated event space, The Palace is home to private spaces located in the historic Villard Mansion that feature 19th century interiors and are ideal for lavish weddings, events and dinners. VILLARD, the hotel's signature restaurant, serves breakfast Monday through Friday from 6:30 AM to 11:30 AM and Saturday and Sunday 7:00 AM to 12:00 PM; guests can enjoy brunch on Saturday and Sunday from 12:00 PM to 2:00 PM, as well. The all-new Gold Room Bar located within VILLARD will serve modern interpretations of classical, hand-crafted cocktails in addition to light fare and elevated bar bites Saturday and Sunday from 4:00 PM to 10:00 PM. With 909 rooms and suites, The Palace is known for unparalleled splendor, spectacular views, spacious rooms and exquisite service. Located across the street from St. Patrick's Cathedral and only steps from Rockefeller Center — the hotel's world-renowned courtyard incorporates motifs from several 15th-century Italian cathedrals and has served as the entranceway to the historic Villard Mansion since 1882. Lotte New York Palace gracefully blends the landmark Villard Mansion with a contemporary 55-story tower. Guests can reserve accommodations online at www.lottenypalace.com or contact reservations at (1-800-697-252) or via email: reservations@lottenypalace.com.
ABOUT PAUL STUART
Headquartered in New York City, Paul Stuart, Inc. was founded by Ralph Ostrove and named for his son Paul Stuart Ostrove. The store has remained in its original location since opening in 1938. The company designs exclusive collections of men's and women's tailored clothing, sportswear, footwear, and accessories.
Additional stores are located in Chicago on East Oak Street and LaSalle Street, and a third boutique in Washington, D.C.'s City Center shopping district. The company operates additional stores in more than 50 locations throughout Japan. Paul Stuart is privately held by Mitsui & Co., LTD company of Japan.
ABOUT ASSOULINE
Founded by Prosper and Martine Assouline in Paris twenty-five years ago, Assouline is the first luxury brand on culture. The brand's story began with the desire to create a new, contemporary style of book, using the couple's experienced eye for visually rich stories and compelling narratives.
Guided by their passion for knowledge, culture and travel, the Assoulines have since expanded their vision to fifteen hundred titles in six main collections and have curated some of the world's most aspirational private libraries. Throughout the last quarter of a century, the brand has established a family of international boutiques in prominent places across the globe, with each location contributing to their vast collection of titles, as well as their personal curations of rare books and objects—creating the perfect cabinets de curiosités.
With a distinguished team of creative talents and exceptional producers—which include the founders' sons, Alexandre and Sebastien —the brand continues to reinvent the notion of true luxury. Assouline's roster of collaborators include some of the world's most respected artists, photographers, writers, designers and more, who together, help tell a story. Assouline now celebrates twenty-five years of their unparalleled signature style and elegant savoir faire, which continues to globally redefine modern publishing.